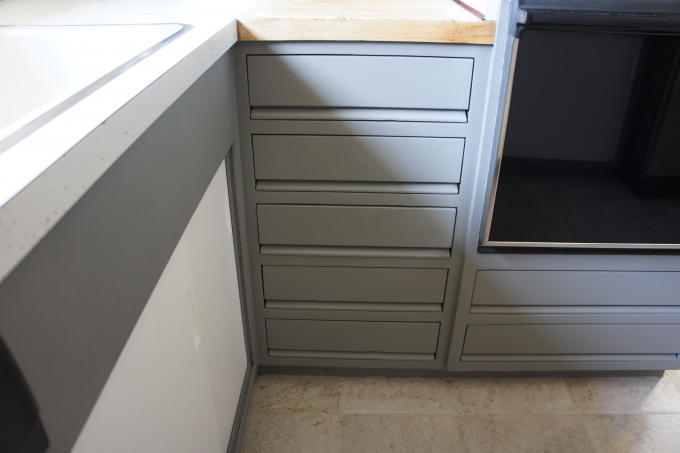 We've been working on our kitchen, to make it more functional in small ways.  Recently, we installed IKEA soft-close drawers while maintaining the original fronts.
To back up a bit:  our home includes the original kitchen, dating back to when it was built in 1960.  It's cute, and clearly designed for one person to work in, with what must have been some innovative home design of the era.  You can see more of it here.  Here's what the insides of the drawers looked like before: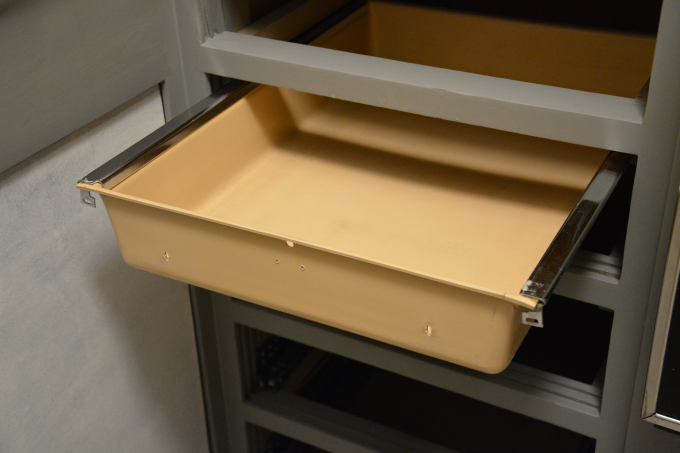 The original drawers are plastic shells with metal edging, that slide along wooden routed "tracks".  Wooden tracks are a theme in these homes, as I imagine they were cheap to fabricate and seemed to be used everywhere.  (If this sounds familiar, you can read also about how we updated our closet doors to use modern metal tracks.)
This project was fairly simple as we were able to purchase IKEA kitchen drawers which were a perfect fit to the originals.  After playing around with a single drawer as a prototype, we forged ahead with a full set of drawers to replace our five.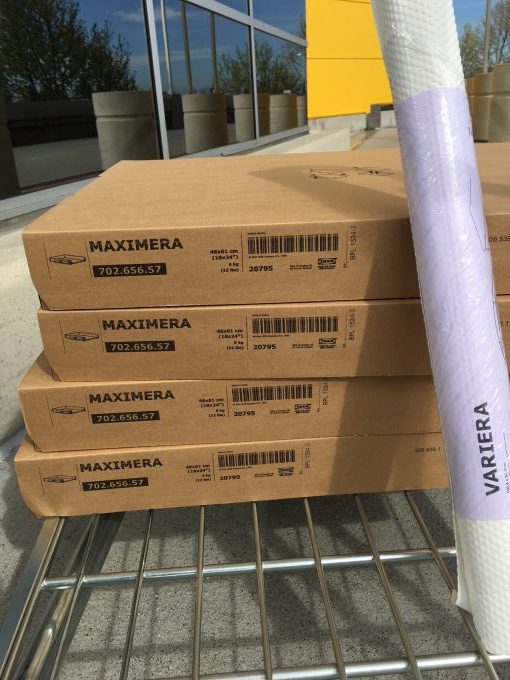 (Yes, there are only four here– we already had our prototype drawer working at this point.)
First up, minimal demo:  We removed the old drawers but kept the wooden tracks in place.  I used a hammer to pop out these little vertical supports to make room for the new glides.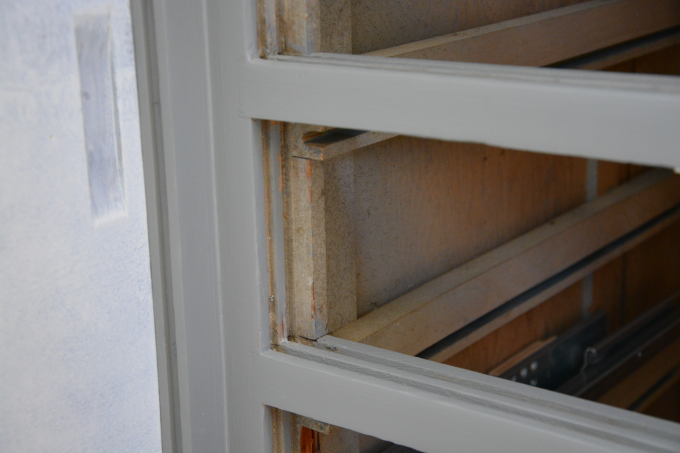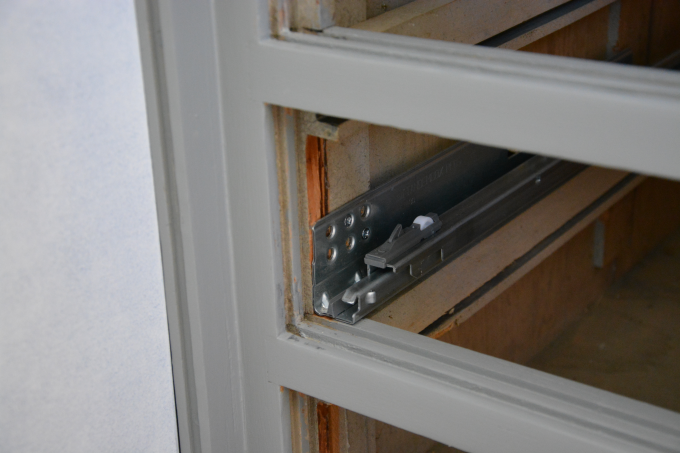 The first set of screws goes directly into the existing vertical brace from the old drawers.  We used a bit of wood about halfway along the glide to fill up the void between it and the cabinet wall.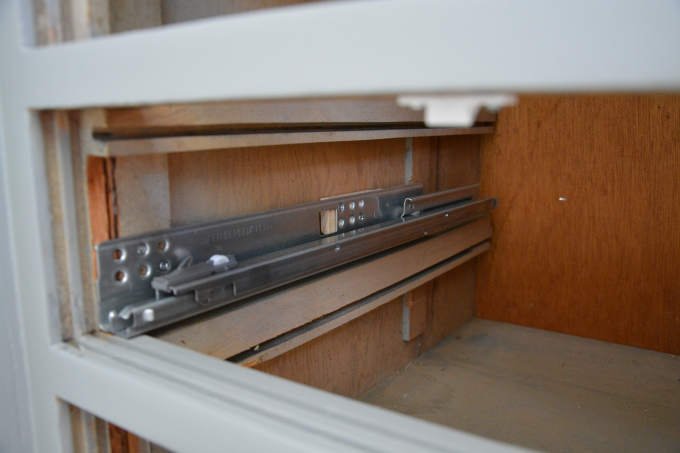 The key to making these glides work well was to make sure everything was perfectly lined up and level.  IKEA cabinets come with pre-drilled spots to install drawers within their cabinet boxes.  An Eichler kitchen cabinet obviously does not.  Any time we rushed and didn't use our spirit level to account for every possible degree of freedom, the drawers did not slide well.  Once we achieved an obsessive level of measuring and leveling, everything proceeded very … what for it …  smoothly.
Eventually, we got it going in very satisfying assembly-line fashion.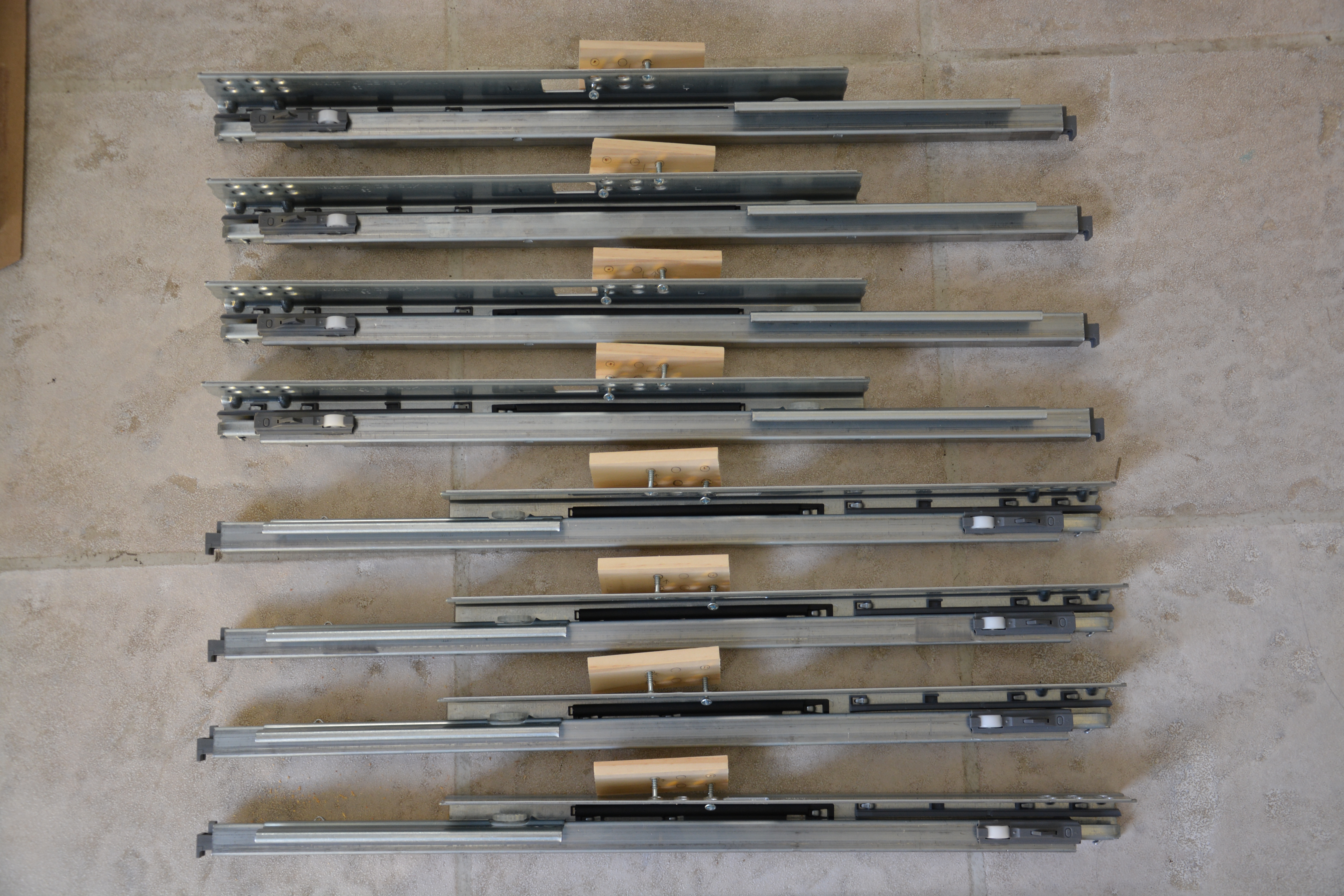 And finally, all the glides in: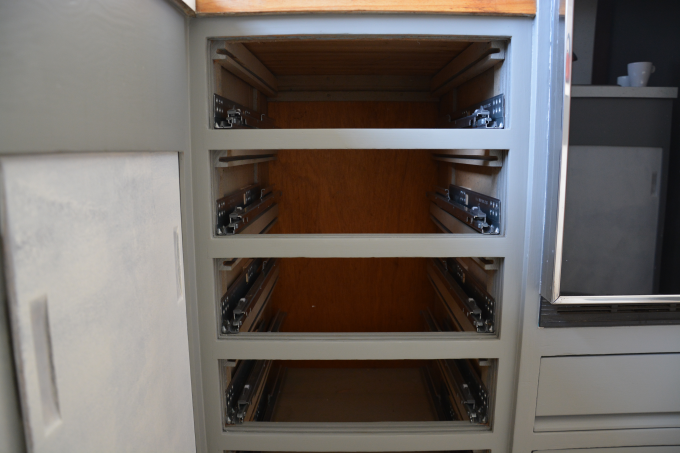 Next, we had to be a bit inventive to get the original Eichler drawer fronts attached to the new drawers.
Enter the 3M picture-hanging strips!
We stuck these to the ends of the hardware used to attach standard IKEA drawers, lined up one of the original drawer fronts, then pressed hard and removed the whole drawer together with the front attached.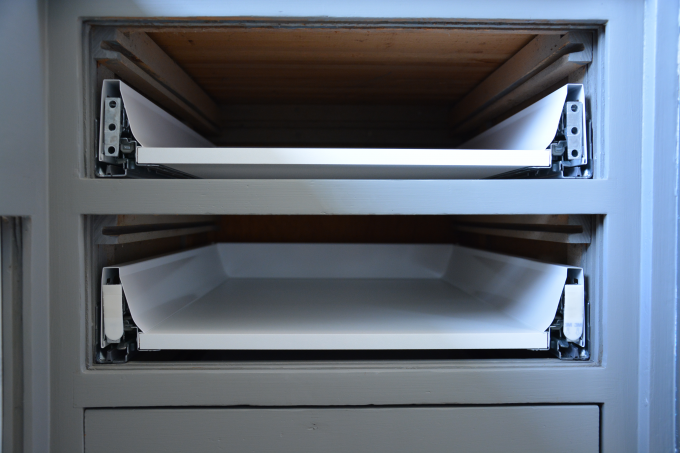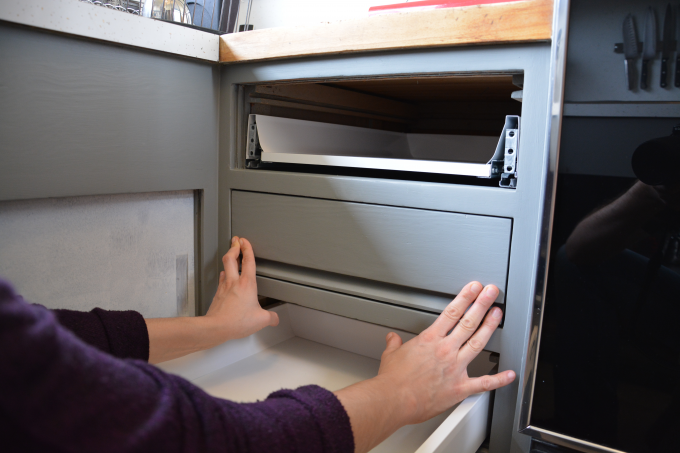 That's me pressing hard to make sure the front stuck to the drawer.
Once the drawer and front were removed, we could separate the front from the drawer with its mounting hardware still attached.  IKEA instructions for how to disengage the hardware are included with the drawers.  Basically you stick a screwdriver in that hole on the side (pictured below) and the front should pop right off.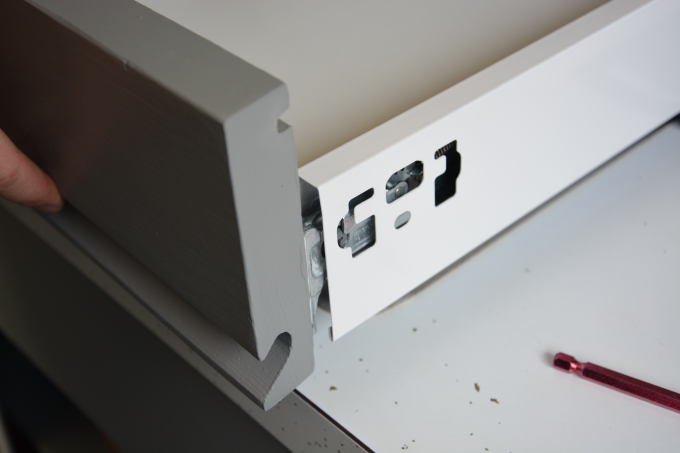 Then we were left with the hardware still attached to the front (usually).  Like so: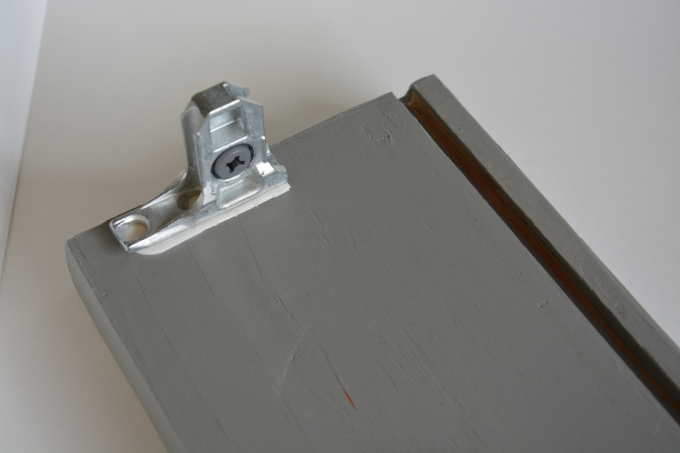 This way, we could mark exactly where to drill by poking a sharp pencil or nail through the 3M strip while it was in place.  After attaching the mounting hardware to the front, we just snapped the front back together with the drawer.
What we used:
IKEA MAXIMERA drawers 18″ wide x 24″ deep
wood screws (in place of IKEA's short stubby cabinet screws)
scraps of wood to brace the glides against the cabinet sides
A spirit level (absolute must-have for this project!)
Electric drill
3M picture hanging strips
All told, installing these took us maybe two evenings, with an initial day of prototyping, and cost $150 for all of the IKEA drawers.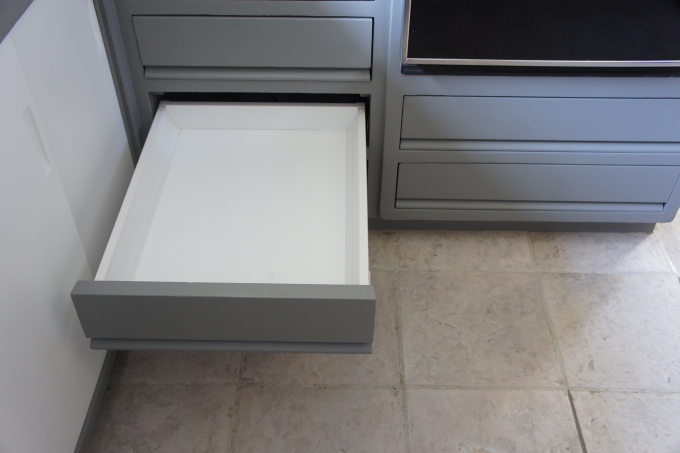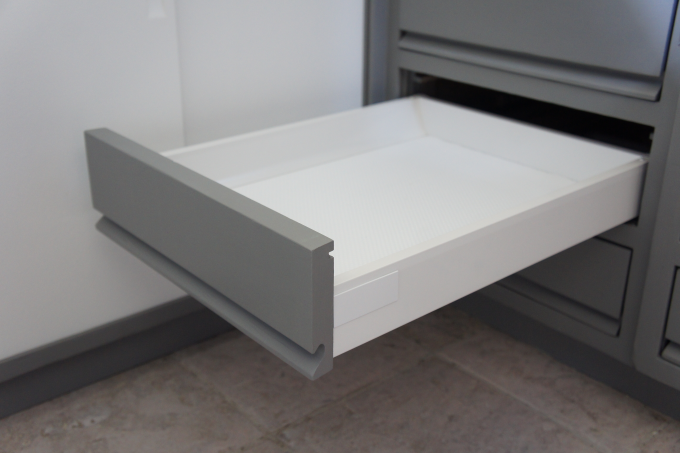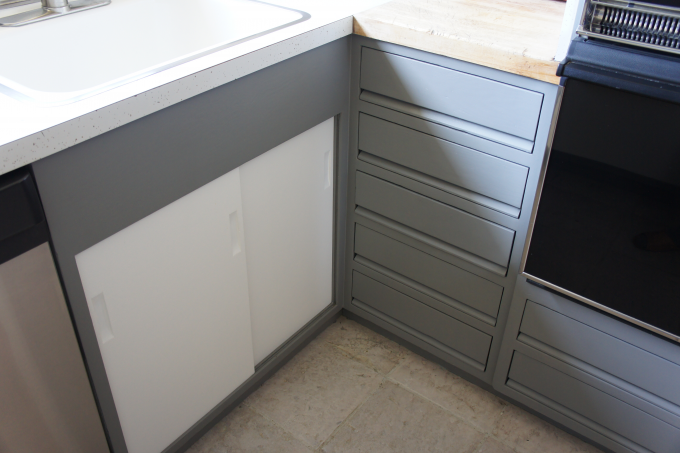 Aren't they beautiful?  (Also please disregard the very unbeautiful floor there– it's going away… soon.)
Definitely one of those invisible upgrades, but one that still makes me giddy whenever I reach for something and the drawer just glides open.  All the way open!  And then whooshes closed.  I may have opened and closed them repeatedly for the first week after installation.
This is not a sponsored post.
Save
Save
Save
Save
Save
Save
Save
Save
Save
Save
Save
Save
Save
Save
Save
Save
Save