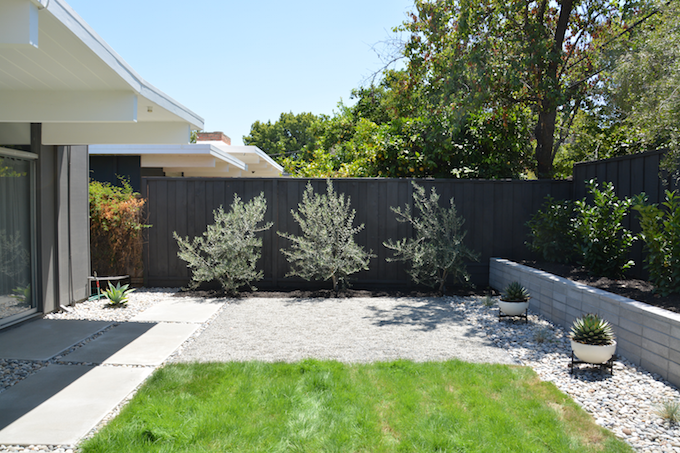 As part of our landscape remodel, we were faced with a challenge:  what to do with the weather-stained fence which spanned our entire back yard.
The Before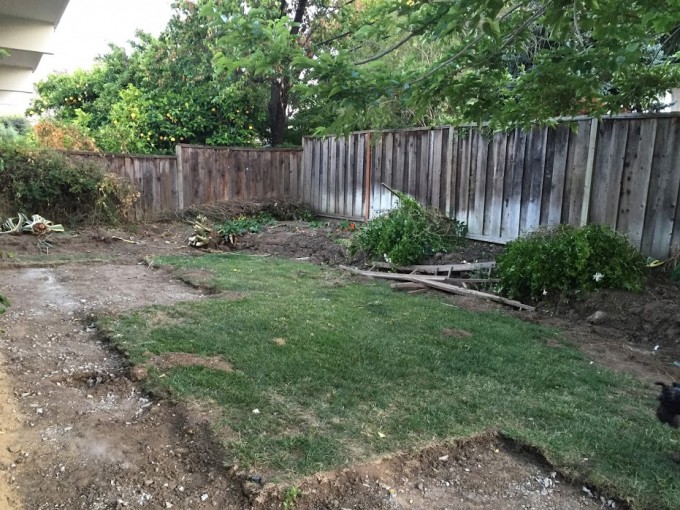 Replacing it was a non-starter unfortunately, so we opted to straighten it, mend it in a few places, and paint or stain.  We'll have a large hedge in front of it eventually, once our plants fill in.
For the paint, we wanted something not too thick, not too black, not too blue, not too brown… the perfect charcoal grey that wouldn't smother the wood grain of the fence.
Colour Options
We tried a few samples.  The big swatch on top is Benjamin Moore's 'Black Tar'; Clark & Kensington's 'Black Chiffon' in the top right corner.  The other option was Benjamin Moore's 'Midsummer Night' (middle of the three in the swatch on the left) with more of a brown tint.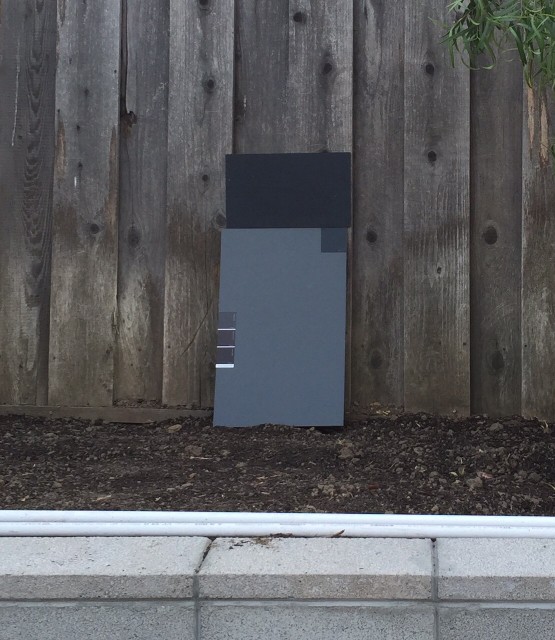 After staring at these for far too long (in all lighting conditions) and finding them either too blue or too brown, I reached out to Andy at fogmodern who mentioned that they custom-mixed their own grey for their fence (because they are DIY ninjas) and also pointed me to one of Hunter's landscape projects at Redneck Modern.
What We Chose
Thanks to Hunter, we decided on Cabot Solid Wood Stain in Burnt Hickory, which checked off so many boxes for us.  It's grey.  It dries to a matte finish.  It's not thick paint.  It's very Eichler.
Cabot Stains were originally used on Eichler siding, allowing the grain of the wood siding through.  (You should totally check out the endorsement by Joe Eichler in these great vintage ads over at Eichlerific.  How could we say no?)  We found them at a few Kelly Moore paint stores in the Bay Area.  The stain is like a thinner paint and it covers like a dream.  We used only one coat for our fence and are very happy with it.
Our landscape contractor gently power-washed the old fence, so as to not knock it over, and we gave it a few days in the hot California sun to dry out.  We also replaced part of the side fence, so it was great to unify everything.  Then we painted it ourselves.  It felt SO good to get our hands dirty again after all the landscape construction!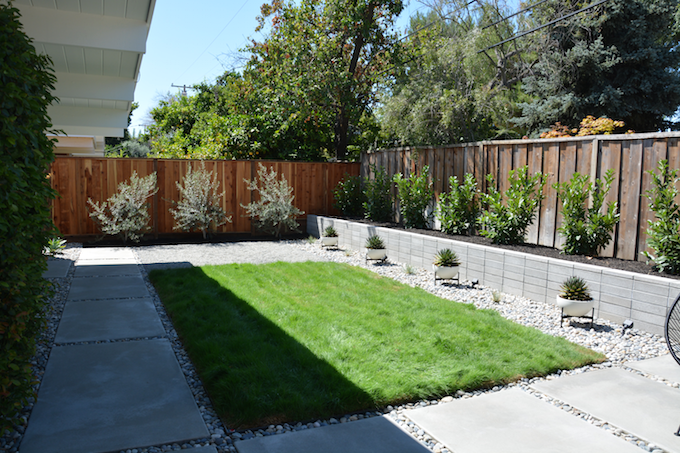 The colour is just what I was looking for:  neutral in bright sunlight and almost black in shadow.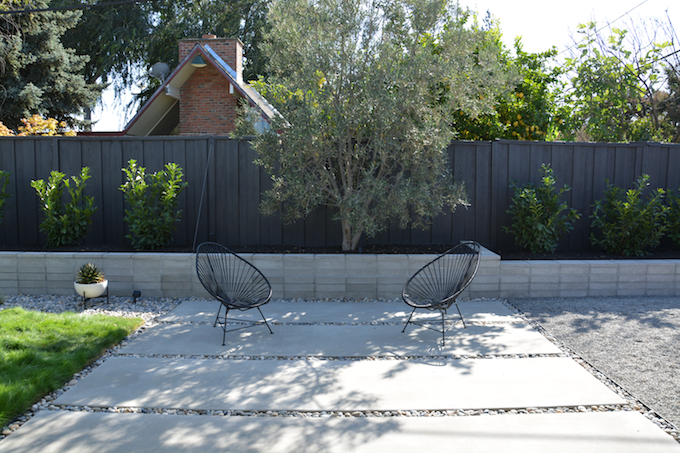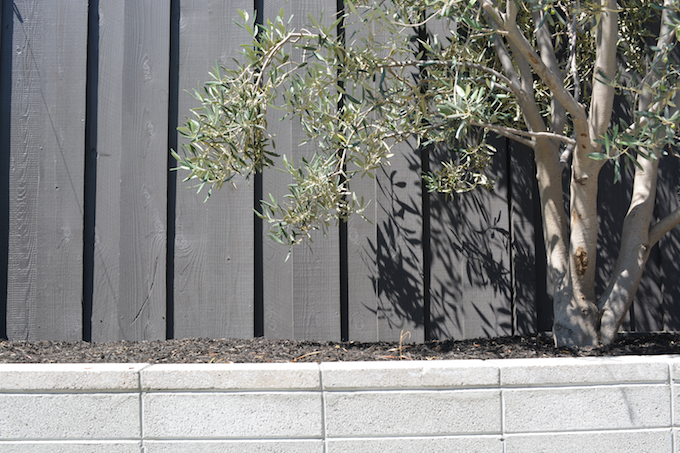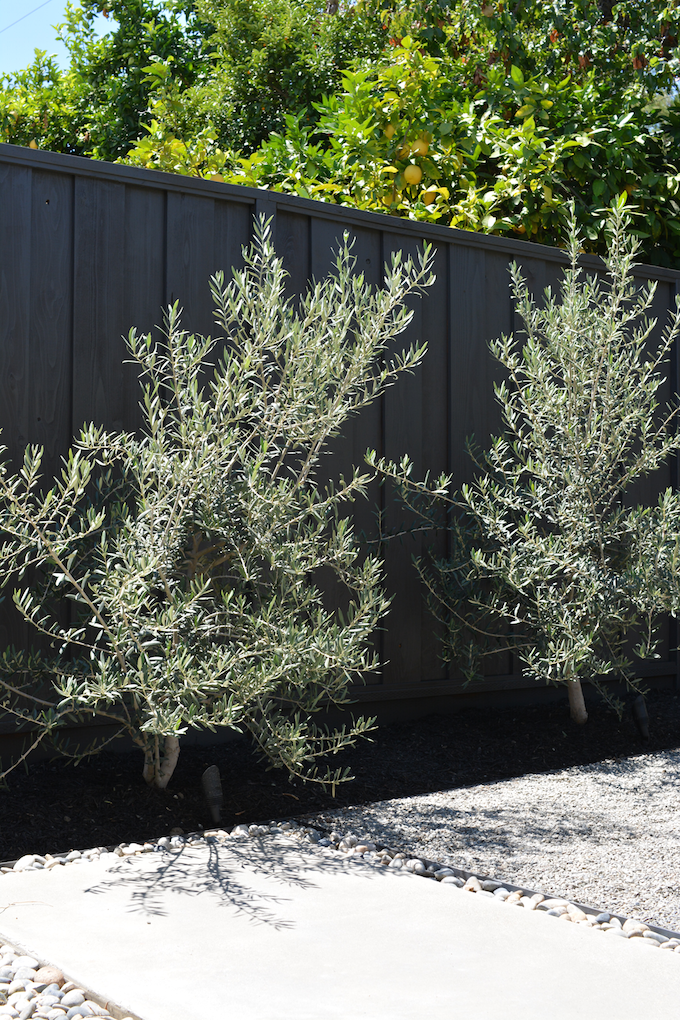 And, because this wouldn't be my blog without an appearance by our dog, Winston:  I noticed that it looks like we colour-matched the fence paint to his fur.  He disappears against this backdrop.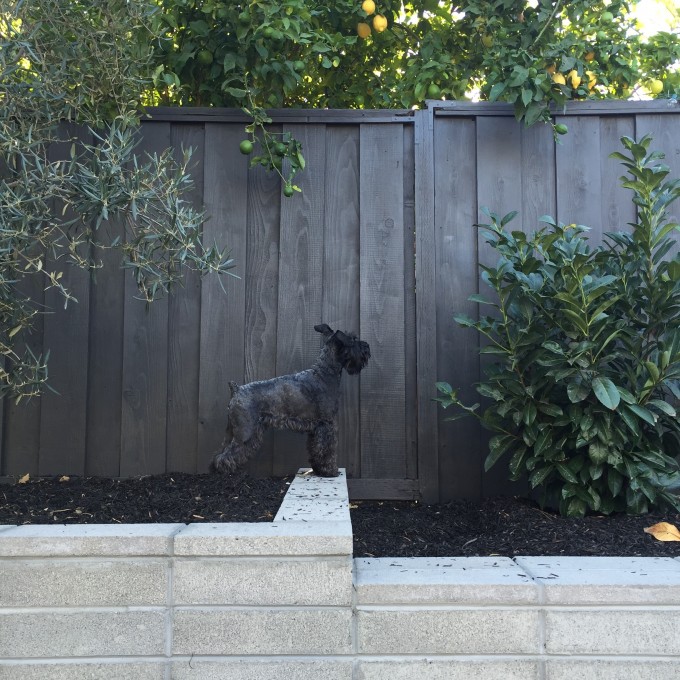 We're still hoping that we will be able to replace the fence completely someday– as you can see from our metal L-bracket fix above, it is hanging in there quite literally– but we're pretty happy with how it's looking now.
Resources:
This is not a sponsored post.