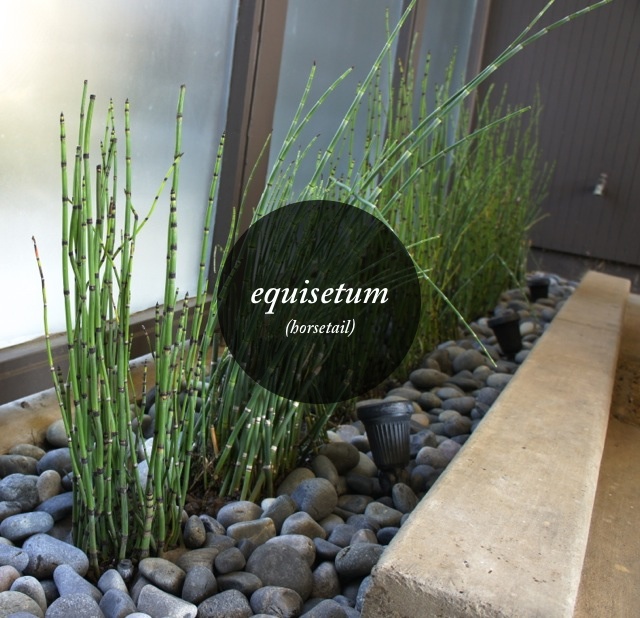 Hey all! How was your weekend? Hope you all had a lovely Mother's Day. After calling my mom at midnight on Saturday (she's nine timezones ahead of me right now), mine ended up being all about this little patch of horsetails just outside our atrium, at the front door.
After years of looking at the same sad, lonely-looking horsetails and mystery ground cover, I decided to rip the ground cover out and add more horsetails to give the original plants some company. I'm learning that more is better in landscaping too, as in, more of the same thing. For impact! So this weekend, I decided to go all out and get the plants, pebbles, and landscaping fabric. We got all fancy, yes, we did!
Learning #1: horsetails are known by their genus Equisetum. They're one of those 'living fossil' plants. And they run like bamboo. I do find them popping up in the atrium, so planting more is probably fool-hardy. We'll see.
Learning #2: those beach pebbles weigh a TONNE. If you ever want to take on a project like this, make sure you have an extra set of hands to help lift the bags those suckers come in. And you'll need more than you think. We used about 4 1/2 bags for this small space (maybe 2×6 feet).
It was nice to improve our curb appeal just a little. Or maybe it's just front-door appeal? It's nice to come home to either way. It also temporarily satisfies my dream to re-do our landscaping all around the house. I'd love to do something more angular and modern, and have been scouring the interwebs for ideas.
Raw steel, grasses, succulents, cacti, agaves, architectural pottery, pristine new pavers, and hanging chairs. WANT. Ugh.
A complete re-do is a long term project that I'm working on, as I'll need a professional to do it. Terraforming on a larger scale than this weekend is beyond my physical powers. For now, I'll enjoy my horsetails when I come home at the end of the day.