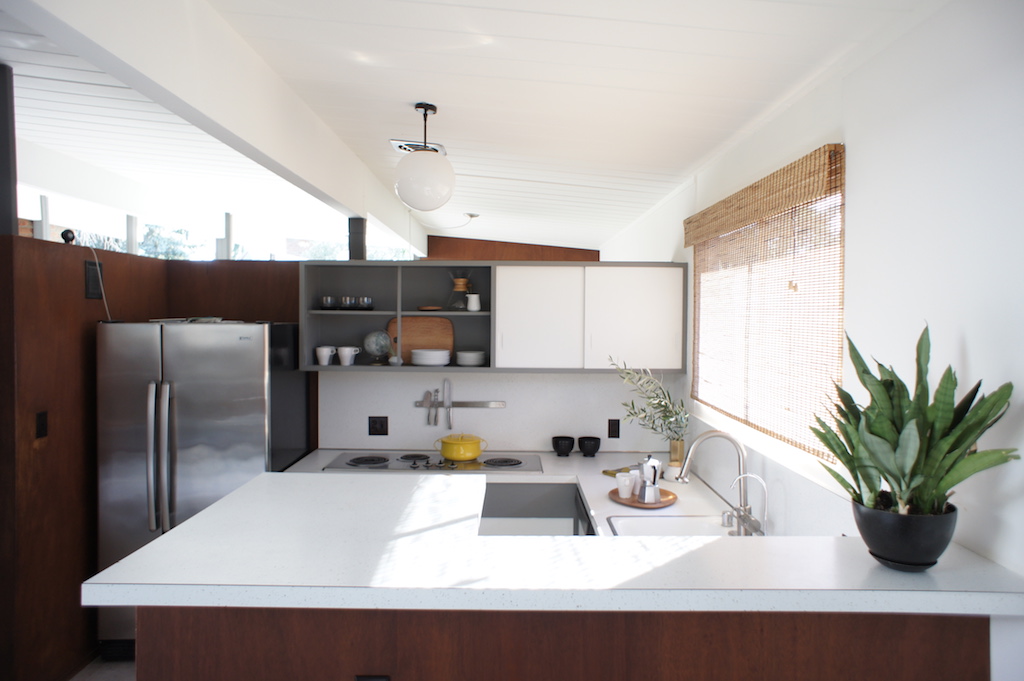 We're back to work after the break, and I'm back to a bit of blogging.  2016 was a busy year, and started with this refresh of our Eichler kitchen.
After last year's holiday visit to family in Canada, we came home to find termites in our kitchen.  There was termite dirt coming out from under the counters, where the stove is located.  We opened it up.
The horror.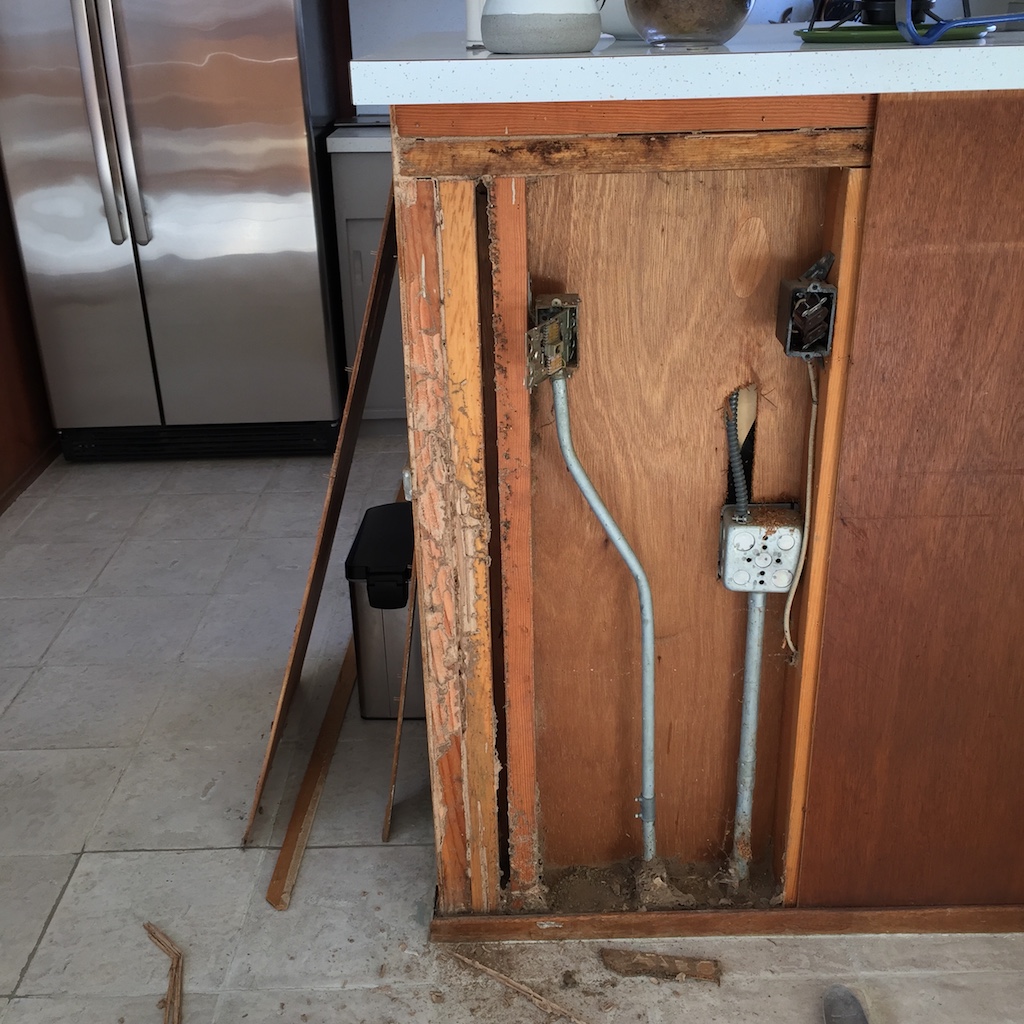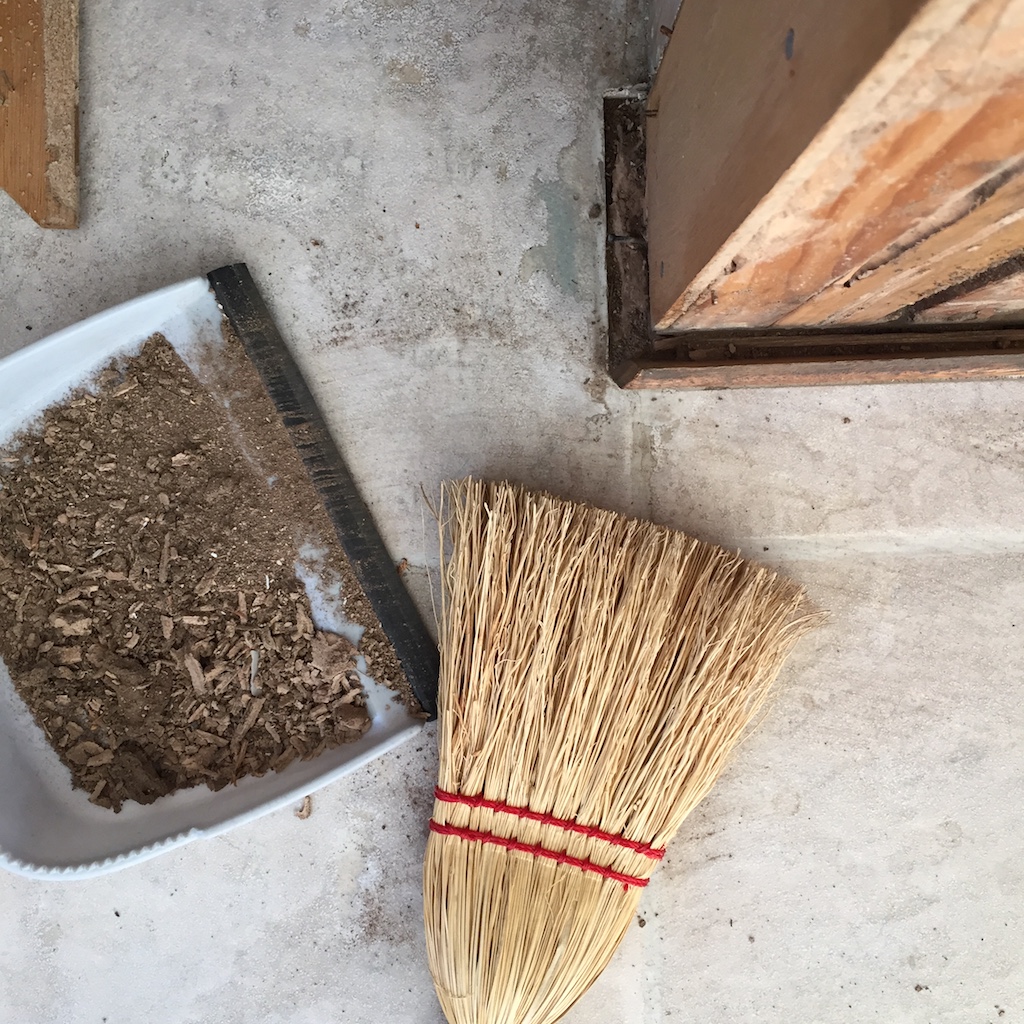 You could HEAR the termites.  And they were angry.  We cleaned out the mess, and removed the paneling.  After professional treatment, our kitchen peninsula was down to the studs.
Thanks to this initial destruction, we decided this was a good time to also fully strip the kitchen and re-paint, something I had been itching to do since we bought the place.
Time to strip
Once we committed ourselves to removing all the paint (50 years' worth, with all kinds of colour trends), we searched for the best chemical paint strippers to make the task as easy as possible.
We experimented with two different products:  Dumond Peel Away and CitriStrip.  (I should add, this is not a sponsored post.)
Peel Away is amazingly effective.  The manufacturer advertises its use for restoration of intricate moldings and woodwork, so I really wanted to try it out.  I figured it would be ideal for removing all the paint from the tracks of our poor sliding-door cabinets.  It definitely delivered on that front.
After one application, I could peel up ALL the paint layers, including the gray Zolatone (an original Eichler finish).  After washing off the residue with water, the wood was completely bare: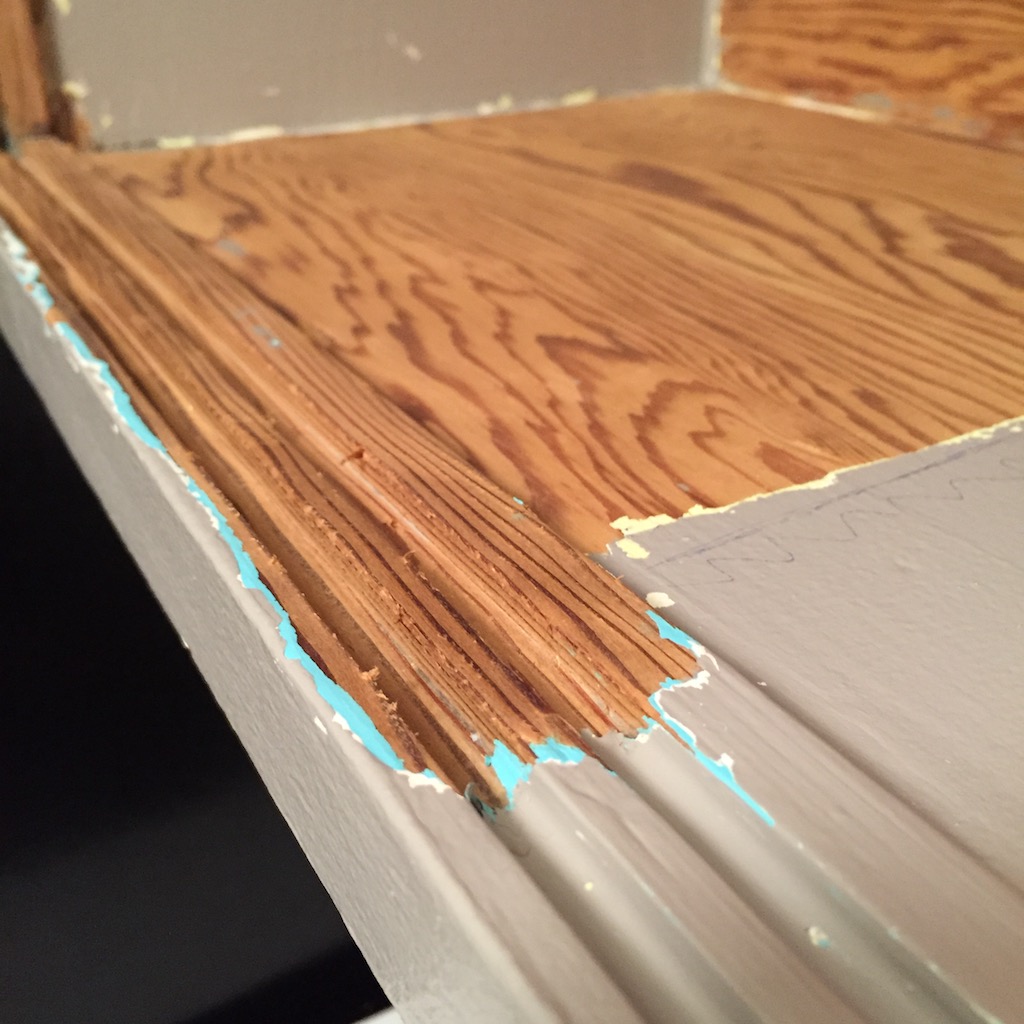 It's scary-effective.
After trying it out, I'd only use Peel Away if you need to really strip many layers off all in one go AND in only a small area.  It's pricey, it uses special paper (of which you get a limited quantity), and requires you to neutralize the surface afterward (which was annoying).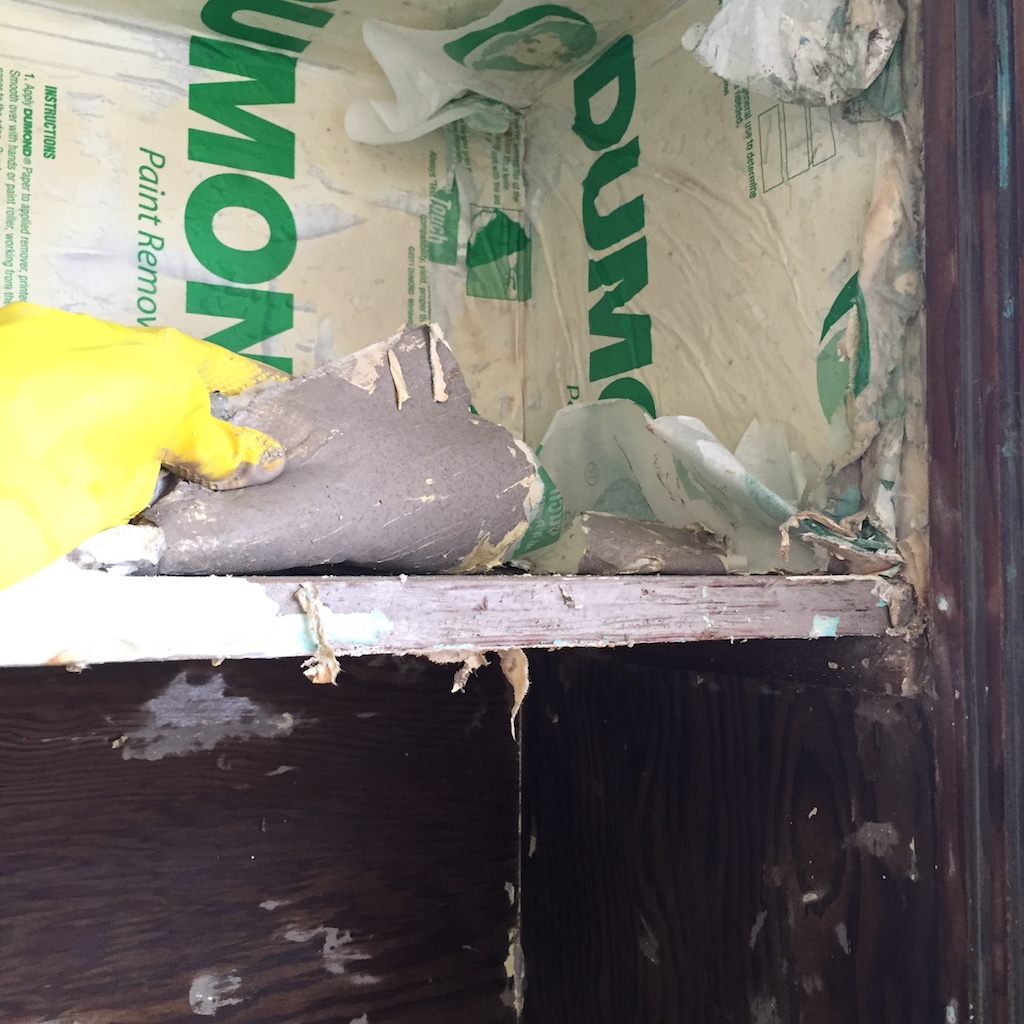 It also darkens wood significantly, so it's only suitable for surfaces that would be repainted anyway.  Finally, it's really powerful and corrosive– I wore a lot of protection when working with it.
CitriStrip was much simpler (and a lot less intimidating) to use.  It did take two applications to get both the top layers of paint and Zolatone off of the wood, but I was very happy with it.  It was our go-to for the entire kitchen.
After the stripping and testing out different paint colours, we took a few evenings to paint everything, and let it cure for a week.
Before and After
With apologies for the poor resolution, here's what the kitchen looked like on the day we moved in, almost six years ago (!)  Kind of beige-y and non-descript as far as the cabinets go.  And we could NOT move some of those sliders, the paint was so sticky.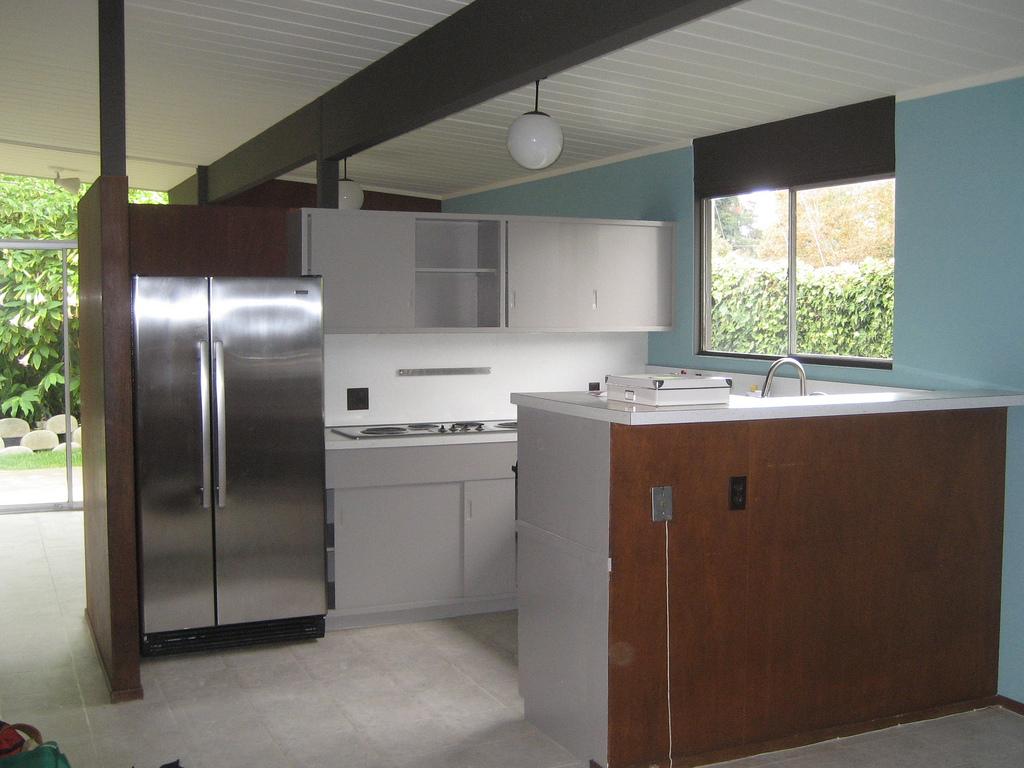 And now: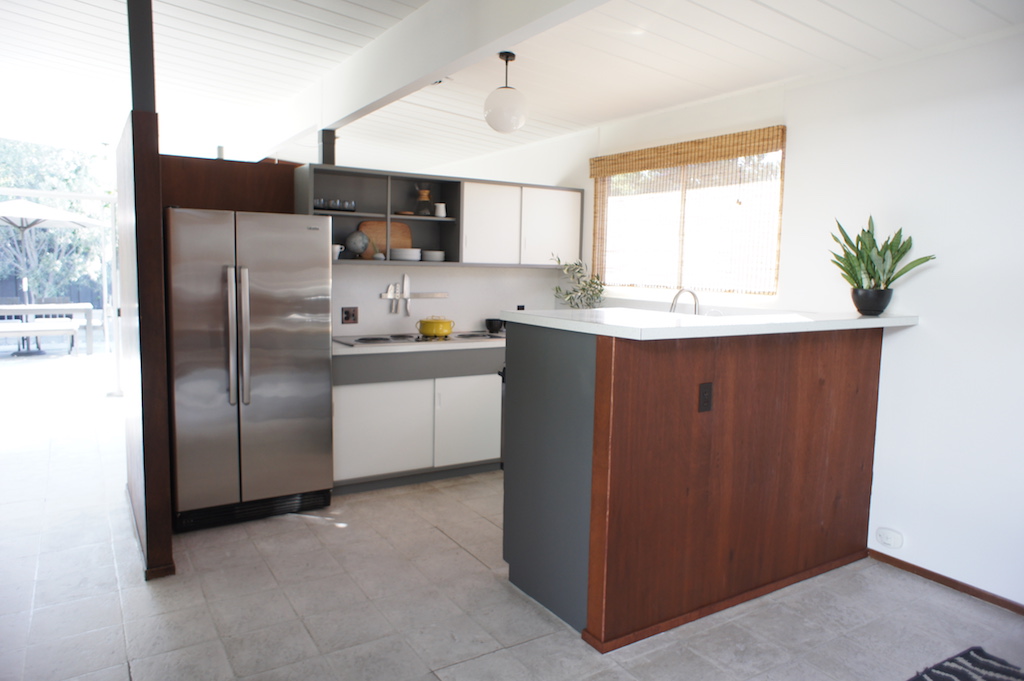 The contrast of the white doors and the grey cabinets feels more Eichler to me.  It's feeling a bit too white, what with the white beams and ceiling, so I may still mix it up.  (Don't tell David.)
You'll notice from the 'before' shot the telephone line extension that ran down the front of the paneling.  We removed it and relocated the outlet to the inside of the counter.  So our beloved landline lives on, albeit more discreetly.  We also scored some fresh paneling for free, thanks to a donation from our nice neighbours (and fellow Canadians)– thank you, V&E!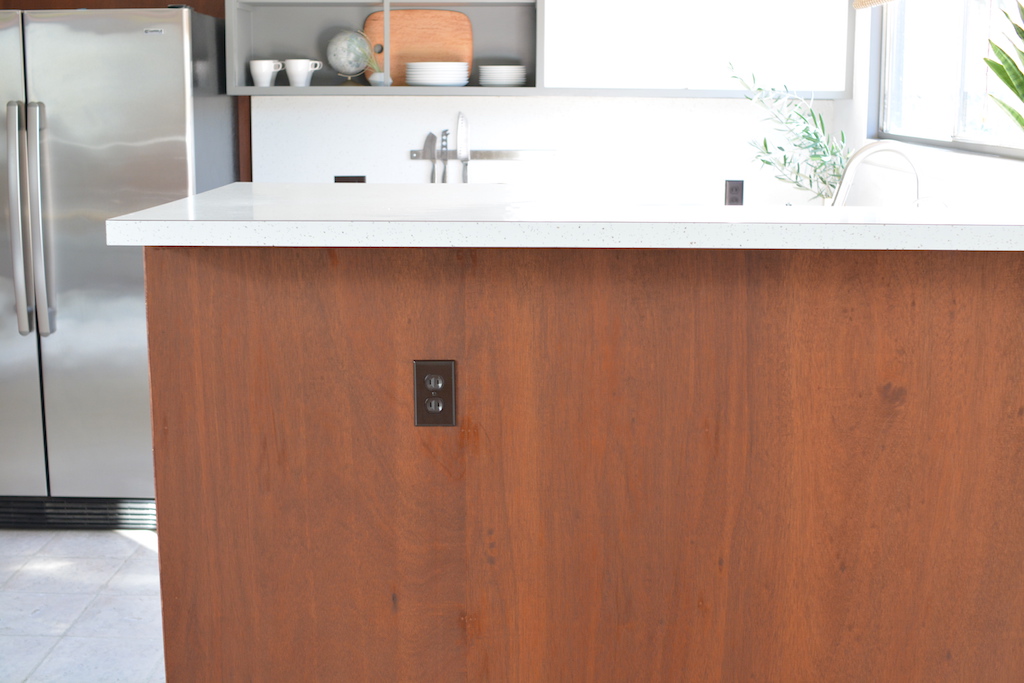 You'll notice we didn't put back all of the sliding doors in our upper cabinets.  This was an adaptation due to the original state of the kitchen– once we (literally) chiseled those doors out, we used all open shelving for many years.  Now we have both closed and open storage, which is nice for displaying some of our prettier items.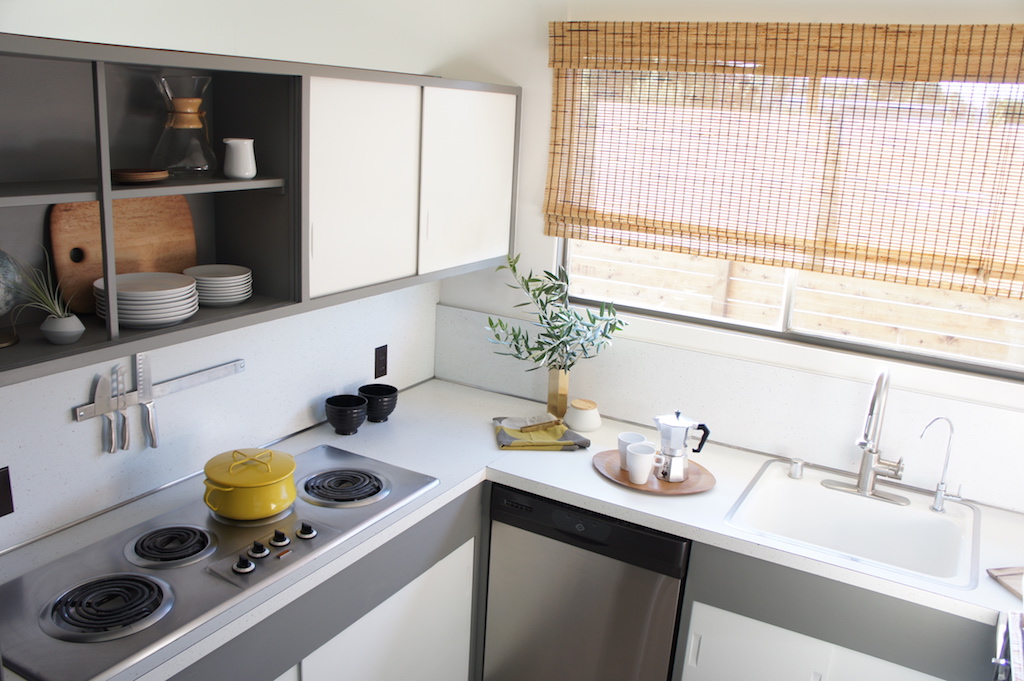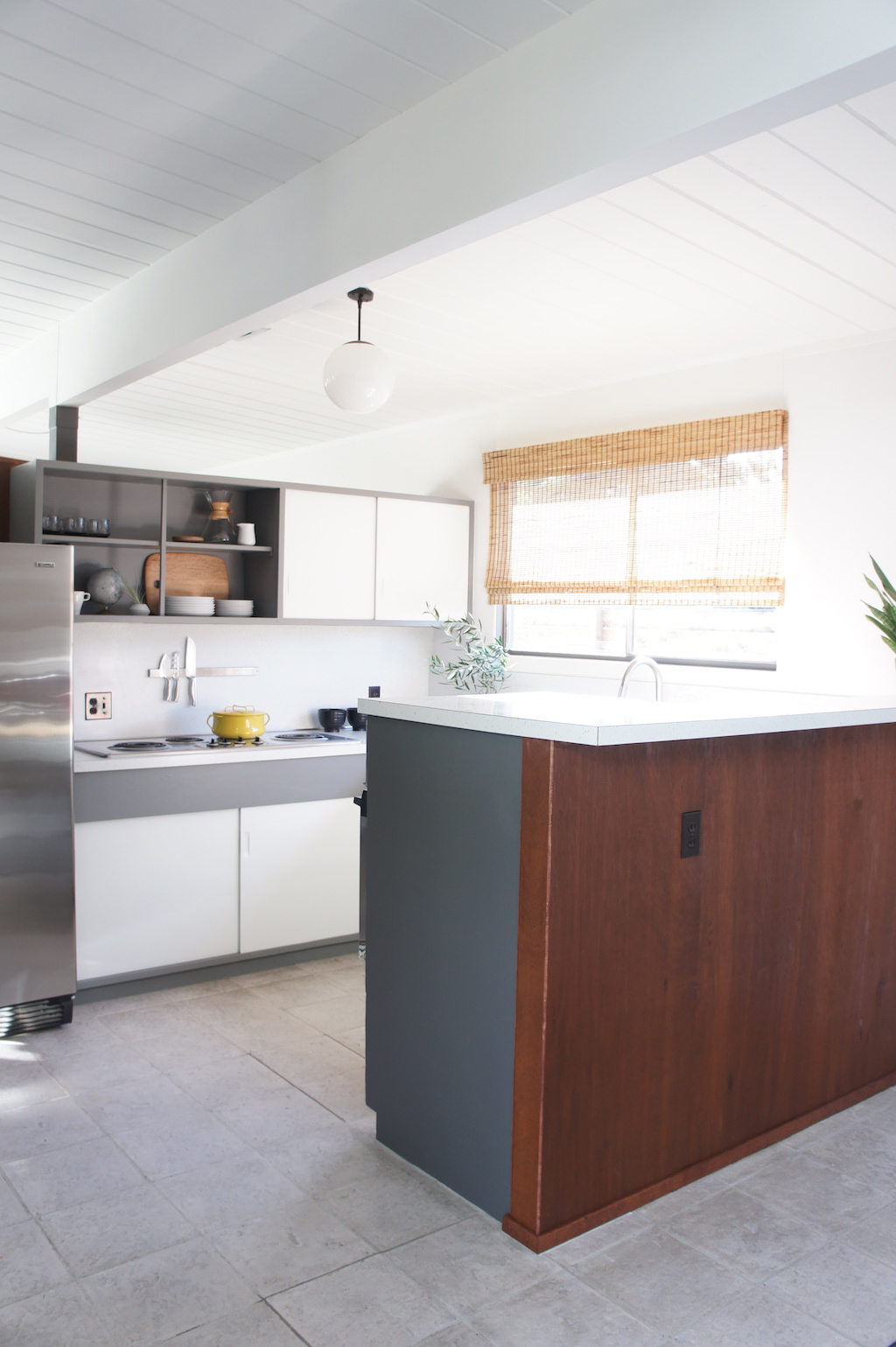 We are pretty happy with our trim work here, though it's not perfect.  The quarter round trim is pine from Home Depot and I did my best to stain it to match the panels.  The size is also a bit thicker than the paneling, so it doesn't sit as flush as the original.  If you know anyone giving away original mahogany quarter round, please send them our way!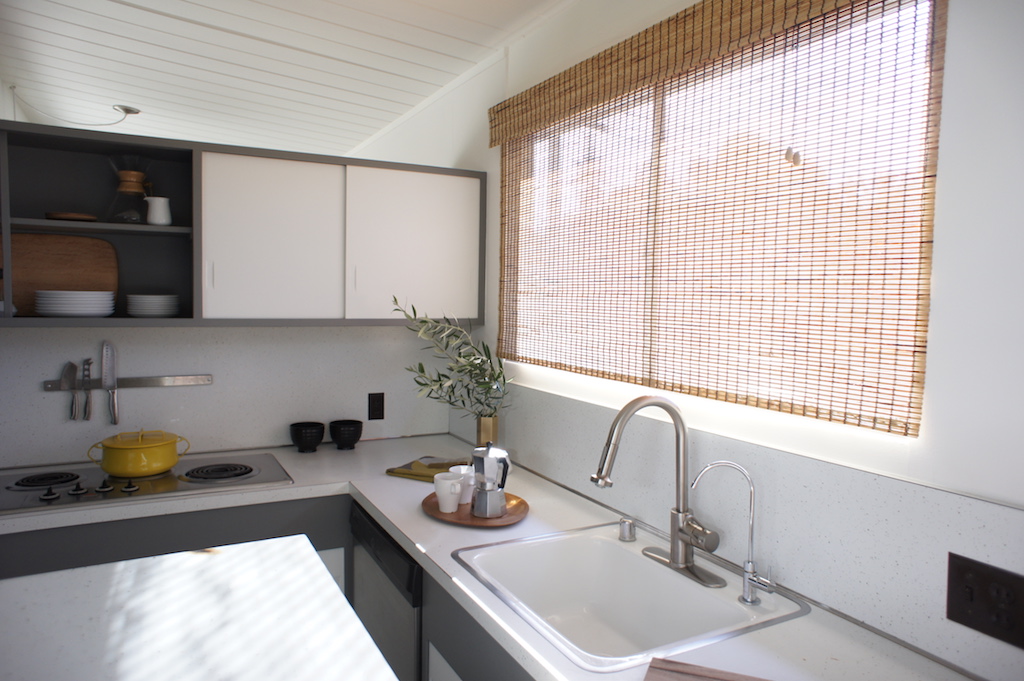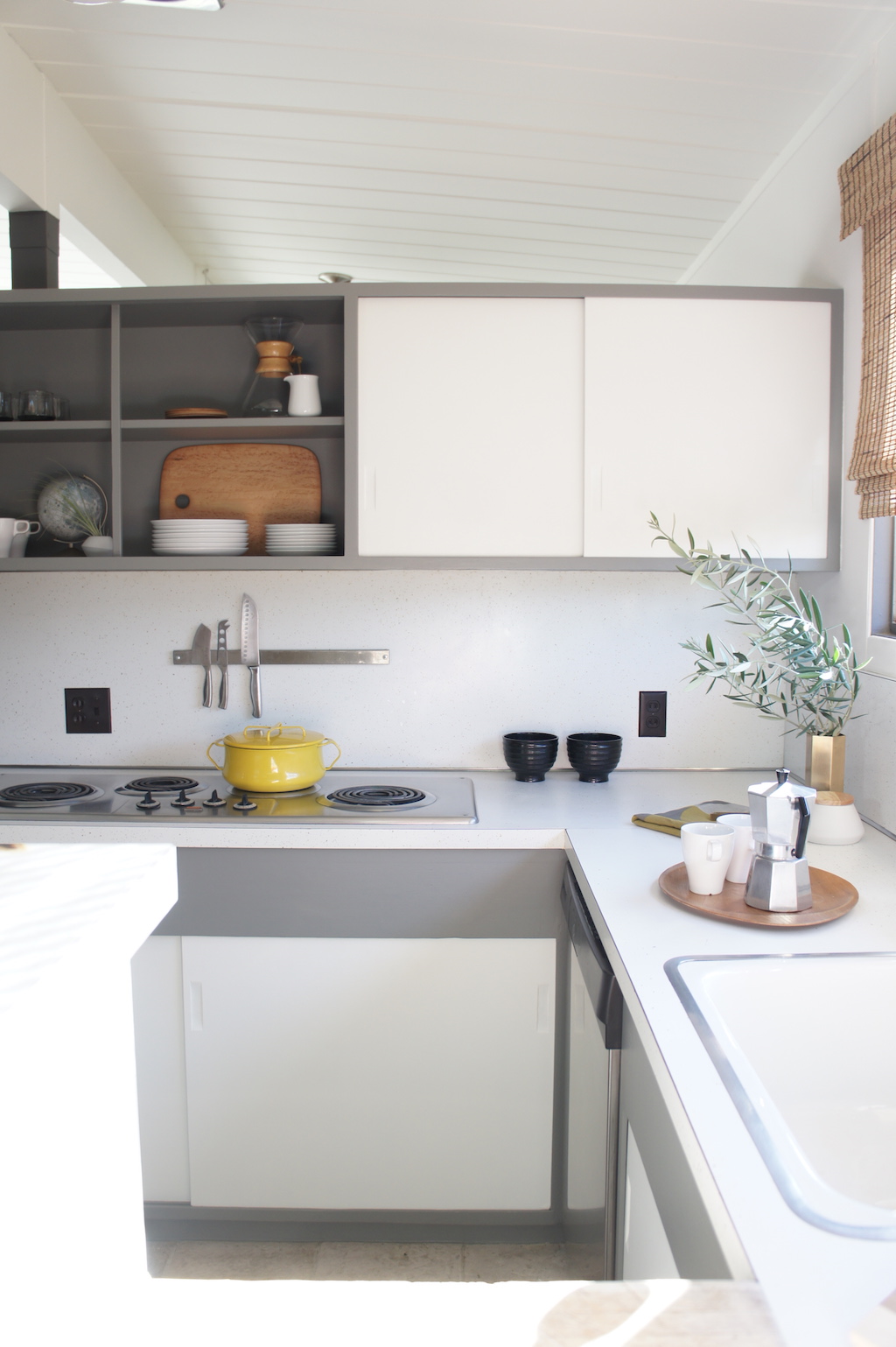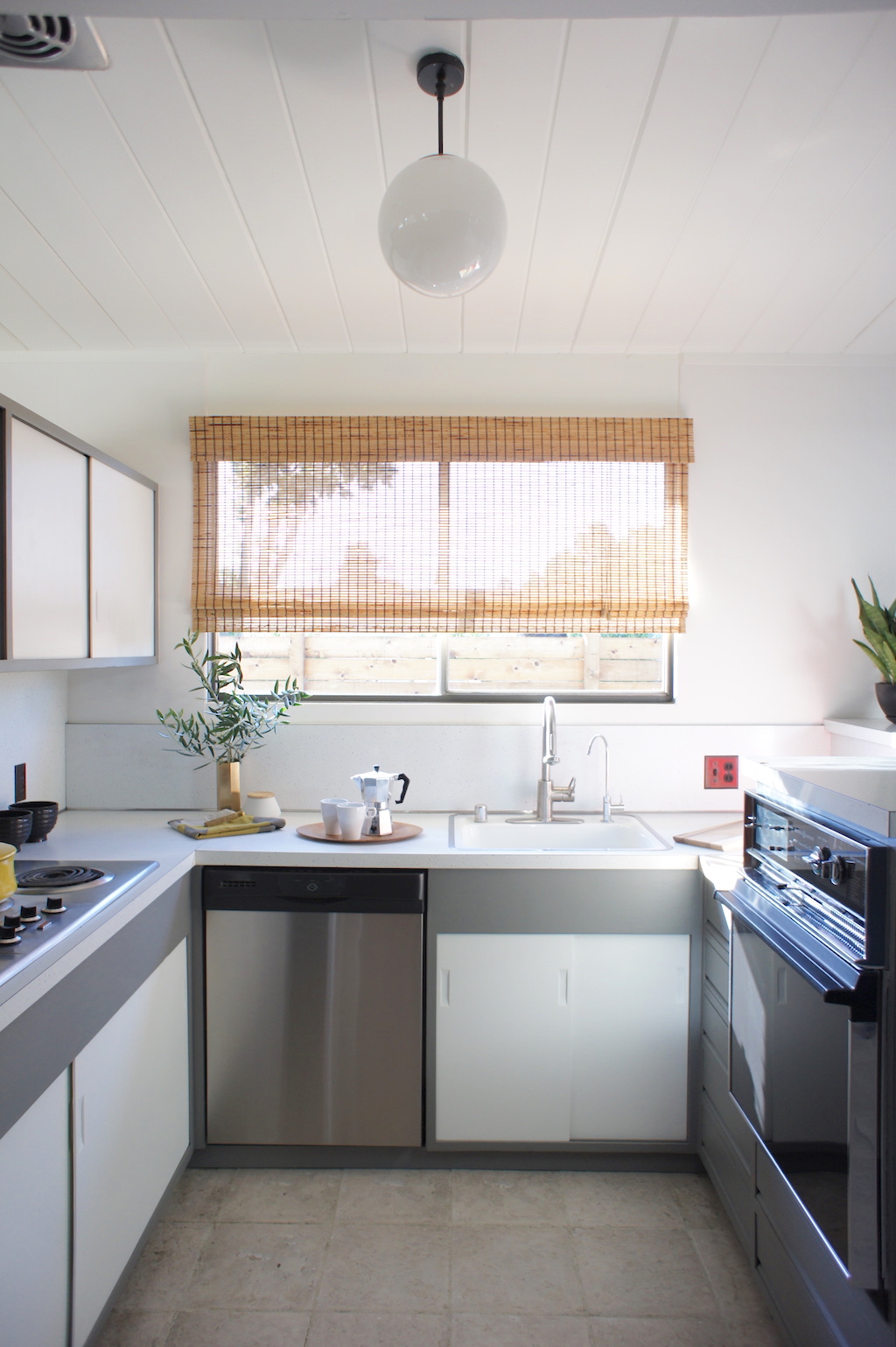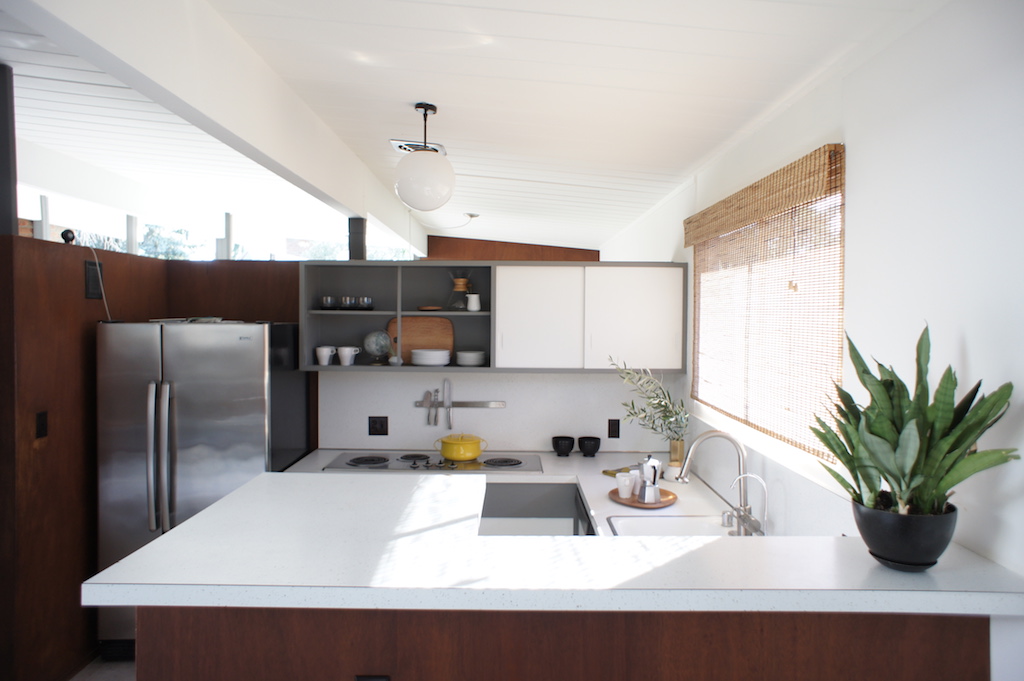 Still the same 50+ year old kitchen (save for the appliances), but it feels more sleek now.
Paint colours:
Light gray: Benjamin Moore 'Secret' AF-710
White:  Benjamin Moore 'Snowfall White' OC-118
This brings the kitchen to-do / wish list to:
New paint
Soft-close 18″ width drawers
Soft-close 24″ width drawers (more IKEA drawer hacking is needed for this size)
Under-cabinet lighting (still researching, it needs to be super minimal)
Replace paneling
Relocate landline
New floor (not just here, but in the entire house)
Of course, we're not done with this space, and I'll update as it evolves.  The biggest item on my plate (if you follow me on IG, you already know):  the floor.  More to come on that.