dear house,
it's been a while since we've done something for you, hasn't it?
and so i have built you closet doors, out of purest love.
xo
karolina
There's one room I haven't featured here on the blog, mostly due to shame: our office. It was formerly a nursery and now serves as an office/ironing room/general catch-all/room of shame, albeit with some pretty great wallpaper to deceive the unsuspecting. Part of its shame came from the sad closet door. Well, when say 'door' I mean a sad, random piece of red material strung up on an IKEA curtain wire. Which eventually failed, leaving the crammed closet innards for all to see.

After the IKEA curtain solution gave out (taking some drywall with it, UGH), we were left with a choice: install some ready-made closet doors, or try to match the doors to the original Eichler doors in the house. Due to certain compulsions of mine, I opted for the latter. I thought of getting salvaged doors from a renovation, but that would have involved waiting around until the perfectly sized set of doors became available (probably never).
So: we decided to build some. From scratch. With our own non-expert hands. #YOLO
This lead to the inevitable acquisition of more wood-working tools, but since the living wall project, I've decided to just jump into this sort of thing head first. I don't particularly care how long it will take to complete a project. After some high-level planning and convincing ourselves this is indeed feasible, we were a go.
This is what the original Eichler closet doors look like in other parts of our house:
The new doors are not a completely faithful reproduction. We didn't use the same type of wood and we most definitely are not using the original hardware. The original tracks of Eichler closet doors are made of wood, which at least in my house, are a total pain.
You can see the wooden track here (the black piece), looking up at the ceiling inside the closet:
And that's the "hardware" on one of the doors: a metal slider at the top of the frame, and a cardboard bumper which looks terribly chewed up. Our doors are often jumping off their tracks and getting stuck. For this project, we used standard roller and metal track hardware.
To start, I took down some of our existing doors to figure out the design. The original doors are built with 1 ¾" thick wood frames, and the panels are masonite boards. We measured one of them carefully and determined what our dimensions should be.
The main challenge was to use materials similar to the original doors, but also to keep the weight as low as possible, given our use of modern track hardware. The original doors use a rabbet cut along the inner edges of the frame, to create an inset for the panels to sit. You can see that in the above pics and in my sketch on the right. This also keeps things from being too thick and chunky, so the doors can more easily slide past each other.
To make the rabbet, we got a dado blade to use with our table saw. There are various ways to do it (for example, using a router) but we wanted to minimize the amount of additional equipment in our garage. The dado blade produced perfectly good results and was super fast to use. (It is awesome, I tell you. If you've never seen one, come over. It's a basically a huge stack of saw blades! So…. evil. I love it.)
In order to mimic the original door details, I also chamfered the edges of the frames and trim. Yes, I totally had to look that up. I did this using a block plane (and a jig) when cutting along the wood grain, and sanding across the grain at the ends.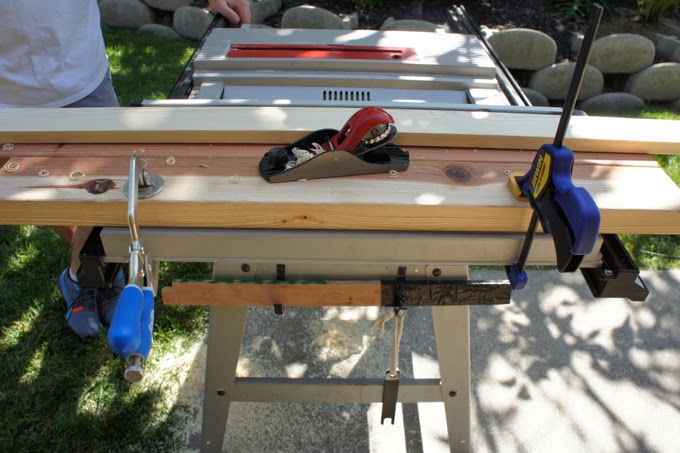 My chamfering jig! Basically two 2x4s clamped to our table saw fence, which helped me run
the block plane along the door frame edges at the same angle each time.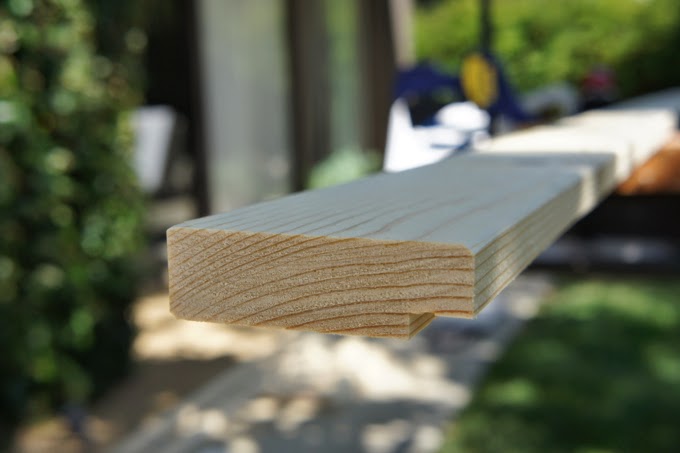 Profile of one of the door frame pieces: chamfered edges, rabbet on the bottom right.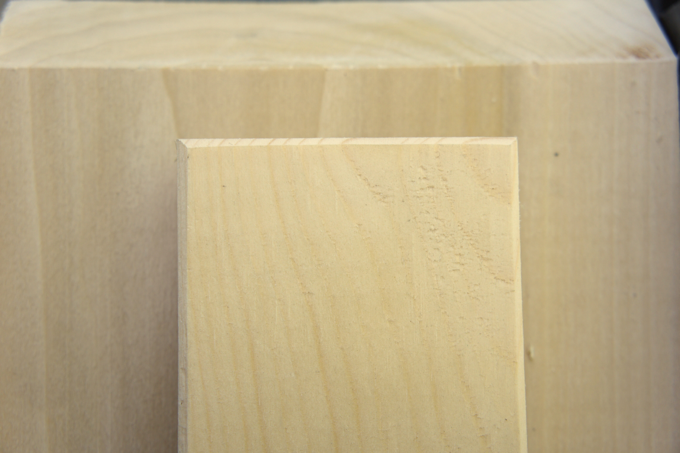 Chamfers lining up at the corners (almost).
To build the frames, we used a pocket-hole join (created using a Kreg jig) to attach the top and bottom to the sides, like so: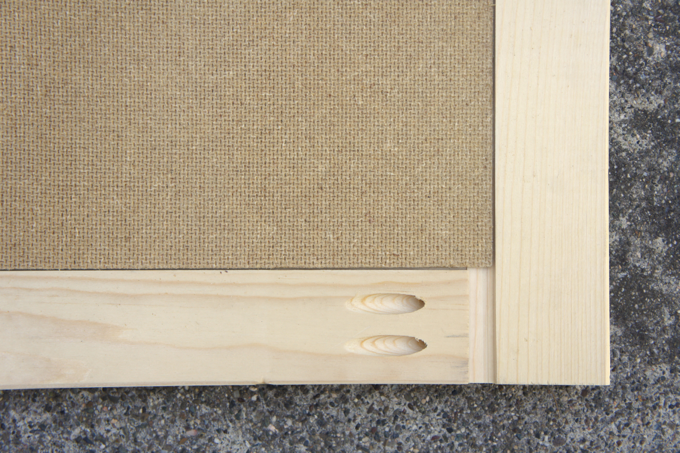 Pocket joins at the top and bottom of the frame.
Here's a long shot of the frames, so you can see how things work: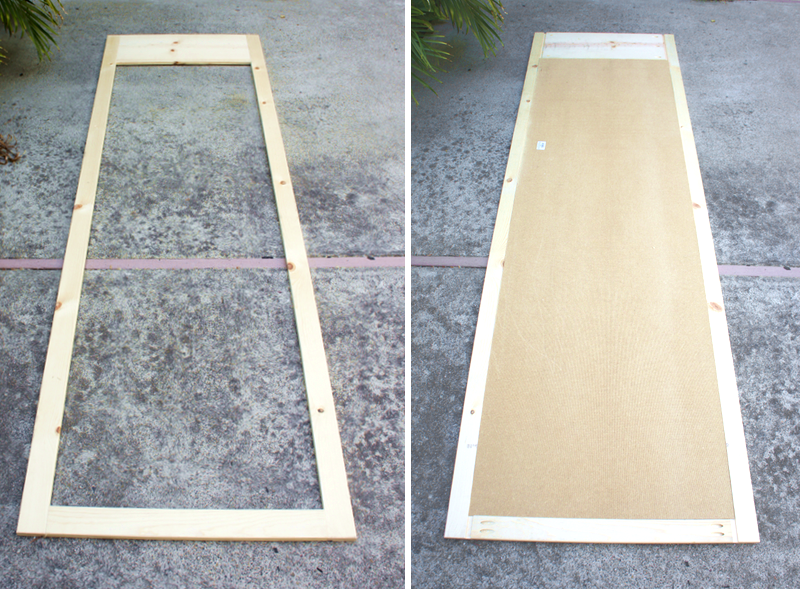 Left: closet door frame (front side up), right: closet door frame back with masonite backing
After fitting everything together and making some adjustments, we painted the frames, masonite boards, and trim separately. To assemble, we used heavy-duty staples to attach the masonite to the frame and the front trim to the masonite.
A few learnings along the way:
Lumber from big box retailers is only OK-ish for projects like this. After getting some really crummy trim that my block plane chewed up, we discovered Southern Lumber, here in San Jose. Their stock is fantastic both in quality and selection. (And they will totally rip and dado and band-saw things for you! For a small fee. Heaven.)
If you can, get masonite cut to size when you buy it. Oh my goodness. Dealing with these giant, floppy boards was horrible. We decided it should be fine to cut them at home. Uh huh. We managed to do shorter cuts with a hand saw (an experience akin to digging your way out of Alcatraz with a spoon) and longer cuts with our table saw (which was pretty much a scene taken from the "how to cut plywood with a table saw and wheelbarrow" video, except with patio chairs and an ironing board standing in for the wheelbarrow).
Woodworking means you will be building jigs. Like this one, which we mimicked. I was attempting to chamfer wood freehand (bad idea), until I discovered this. If you want consistent results, you build a jig to eliminate as much variability in how you apply a tool to a piece of wood as possible. This is a new concept to me: building something to help me build something else.
After painting the doors and putting everything together, we are really satisfied with the results. The details I worked my butt off to replicate are almost identical to the original doors. And the office looks a lot better now. Hooray!
Ahhh.. a much nicer spot to work!
The closet doors are not perfect (I'm not a master with the block plane just yet, it turns out), but we love them. And I'm happy knowing that I will leave a little bit of my own handiwork with this house for its next people.
Would we do it again? Probably not, but it was a LOT of fun. The whole project took us just over a week of work, due to the fact that we had to learn how to do just about everything as we went along. The materials, to recap:
2 sheets of masonite ($10 a piece)
5 pieces of 6ft 3×1″ pine boards ($6 each maybe?)
2 pieces of 2ft 12×1″ pine board ($14)
4 pieces of 2ft 1×1/2″ clear pine trim ($8)
closet door hardware ($14)
Zinsser BIN shellac-based primer ($14, it covers knotty pine like a dream, but might kill you with its vapours — I actually wore a respirator mask when working with it)
semi-gloss latex paint ($30)
Total cost is about $150 (without the equipment I bought). Not exactly pocket change, but I'm guessing a lot cheaper than having them custom-made by a carpenter.
Has anyone out there built something similar? I'd love to hear about your experiences and any recommendations for improving the process – let me know in the comments or drop me a line!
(This is in no way a sponsored post.)
All photos by Karolina Buchner