After returning from Canada, I am in the mood for some cooler weather. The Bay Area is not quite obliging however. What was that last weekend? shorts weather? Hmph.
On our trip, I got the chance to do a bit of browsing at various shops in the North which are transitioning their goods to decidedly wintery ones. Wool blankets are everywhere.
And so, here are a couple of quality Canadian blankets which I spotted on my travels. Their designs are simple and classic. I find they fit quite nicely in more modern contexts, if you're not after the woodsy, log cabin vibe (although that can be a lot of fun too!)
For your consideration:
1. MacAusland's Woolen Mills tweed blanket — These blankets are soft and lovely. The pattern makes for a nice, muted Scandinavian look.
I really like the navy/white and grey/white combinations, and the price point too. They come from Prince Edward Island, on the Canadian east coast. I found them at a shop specializing in cottage decor. David's mom, Sharon, also pointed out that these are the same blankets used by Suzanne Dimma in her modern cottage which I alerted you to earlier. If you haven't seen the pictures yet, go do it.
2. Hudson's Bay Point Blanket — I love that these iconic blankets have made such a comeback recently. They are incredibly thick (more so than MacAusland blankets) and very warm. And they fit right in with modern furniture, as demonstrated by Daniel Kanter's Manhattan Nest bedroom and by the blanket-upholstered mid-century chair at Sit And Read: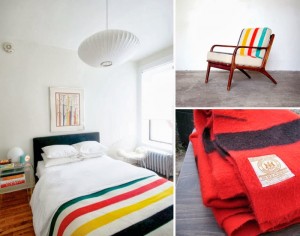 photo sources: 1 | 2 | 3
Made in England, these blankets have been around since the days of fur trading in North America (so, something like 300 years!), with the striped version being in continual production since 1800. I am now the proud owner of a Bay blanket, thanks to my wonderful parents. I promise I'll show it off sometime, but I might try to do something more ambitious with our bedroom before that.
In addition to the traditional multi-stripe pattern, I'm quite partial to the red and black combination. 'Fun' 'fact' #1: Did you know that the 'points' (the dark thin lines on the side of the blanket) are there to indicate each blanket's size? Sadly, not the number of beaver pelts to trade for it, but perhaps a handy approximation. That's always been the Bay blanket lore, as told by certain antique dealers in cottage country. Fun fact #2: Did you know Hudson's Bay Co., the oldest company in North America, recently bought Saks Fifth Avenue? Oh yeah. Must suppress overwhelming Canadian pride before it turns into smugness. Am I succeeding? No? Pity. I tried.
So, California: bring on the blanket weather. I'm ready.