I've been mulling over how to re-do our living room for while now. With the new year, it's high time to pull some triggers.  I've narrowed my search down to a few top candidates, and I'll be honest:  I need some backup on this one.  Help!
Here are the contenders: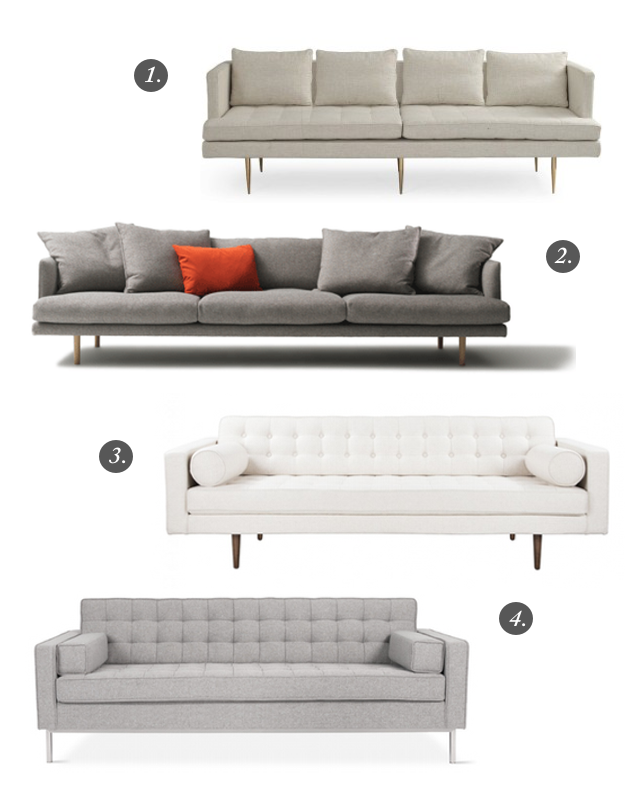 1. Organic Modernism's Siena Long
Tufted, deep, with a definite nod to mid-century thanks to the tapered legs.  I really like the fact that the legs are shiny brass.  Very much in my 'good-weird' category.  I discovered this particular sofa through Homepolish, one of my favourite places to find inspiration.  Here it is in an NYC apartment:
What I like about this sofa is that it's refined, but not too opulent.  I think the neutral fabric would fit with the more earthy and relaxed feel I want.
2. The Nook by Jardan Furniture
This has been my dream sofa for a very long time.  I love the big cushions and low-slung, deep seat.  I just want to dive into this thing and never leave.  The hitch:  Jardan Furniture is in Australia.  (I blame Inside Out magazine for this impossible dream of mine. The interiors they feature are really playful and fresh, and so well-suited to California living.)  I have even gone as far as getting a quote, but getting a sofa shipped across the Pacific Ocean is probably too crazy, even for me.  The picture above doesn't entirely do it justice, so here's a taste:
Oh, that yellow penguin chair and Jieldé lamp aren't hurting either.  You can also feast your eyes here.  Then come back and commiserate with me.  Maybe we can move to Australia together.
On the more local and attainable front (HD Buttercup is in San Francisco):  nice tufting, simple with a mid-century feel and cute cylindrical bolsters. I've been keeping an eye out for this sofa in the wild, and spotted it over at Smitten Studio, where it appears to be doing quite nicely in Sarah's amazing space:
My main issue:  charcoal or ivory?  I love both.  Charcoal is more practical, given that we have a canine friend living with us too, and it's actually a neat herringbone pattern as I noticed when taking a look up close in the shop.
I checked this one out at HD Buttercup's showroom as well and loved the quality.  The design reminds me a lot of the classic Florence Knoll sofa:
The Spencer sofa is well made, but I'm worried that it may be too stark for the feel I'm going for in our home.  The light grey is great.  It's even more stunning in some of the darker fabrics they carry.  And Gus* Modern hails from my home and native land of Canada, so I might be feeling a tad biased.
What do you think?  Let me know in the comments!
This is not a sponsored post.