Where have I been?
Limping towards the finish line, friends. As I feel the year's adrenaline draining from my body, I am so ready for the holidays to start. One more day of work, and I'm DONE.
How are you? Ready for the onslaught of eating, gifting, catching up with family, and perhaps more eating?
I'm taking some deep breaths before it all starts, and enjoying our growing Christmas light collection. One of the joys of having an atrium model Eichler is that I get to see this…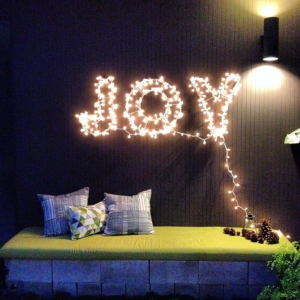 … from my living room sofa, and my kitchen, and the hobby room. That's our bench in the atrium.
Anyway, I thought I'd say hello and wish you all the best for the holidays. I'll do my best to catch up a bit, as I have quite a backlog of posts and photos to share. Until then!
p.s. Yes, we did make the JOY sign ourselves. I made a little how-to on my tumblr last year. It involved blowtorches and solder and dubious safety measures. The best kind of project, right? Enjoy!