Hi friends! I'm back from the tropical paradise that is Maui, Hawaii and sadly, I'm rather under the weather (allergies, I think). I was hoping to finish our beam repair project this weekend, but alas, I've been on decongestants and antihistamines and, mainly, my face for most of the day.
But, what's better than lying around sick and bemoaning unfinished projects? Lying around sick and planning new projects, of course!
On Saturday, before I took a turn, David and I ventured up to San Francisco. Among other things, I stopped in at Paxton Gate to confirm that yes, their living wall is still awesome, and yes, I am still pining for one. Then we found our way to Flora Grubb Gardens.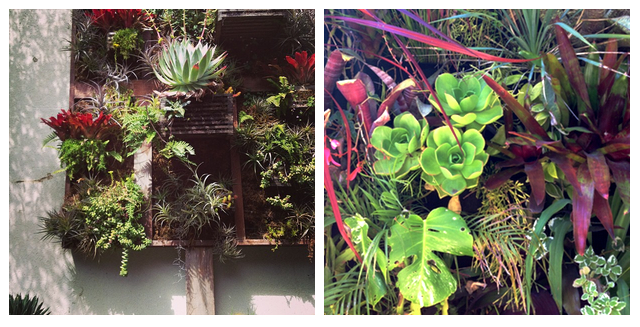 Living walls at Paxton Gate (left) and Flora Grubb (right)
I love plants and Flora Grubb has a selection beyond what my local nurseries carry. And, I spotted their version of the living wall made with Woolly Pockets attached to a sheet of plywood. DIY ideas instantly came to mind.
Here's the plan:
Frame the back of a, let's say, 4×6′ sheet of plywood with some 1-2″ lumber.
Cut a piece of the same lumber to make a wood cleat for hanging. Attach half of the cleat to the back of plywood. (See woodworking master Ron Hazelton for how to hang pictures with wooden cleats if you're interested. His videos are so helpful.)
Hang the plywood frame in the atrium, by attaching the other cleat to our siding. On the wall where our useless bougainvillea used to be.
Attach rows of Woolly Pockets across the entire surface of the plywood, run drip irrigation through, and then plant like crazy!
I like this project because a) I'll get to do something fun in our atrium, b) I get to buy plants! so many plants!, and c) it justifies the purchase of a table saw. Trifecta.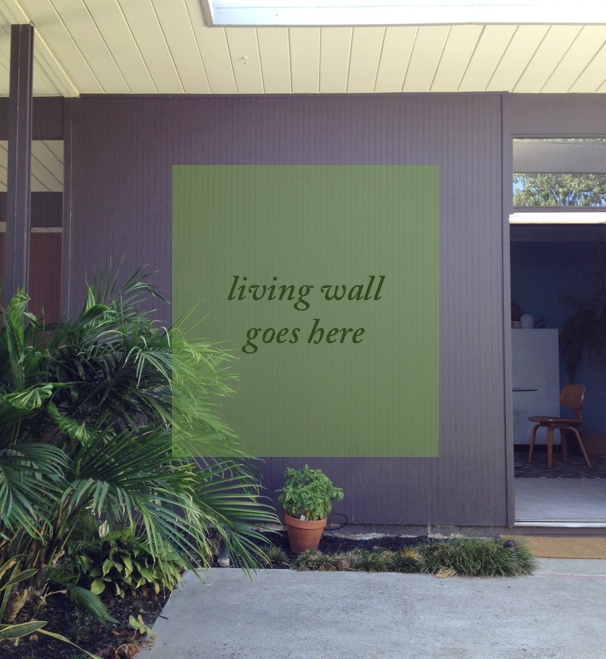 Other appealing aspects: This will be much more affordable than the Paxton Gate installation even with the purchase of a saw. And I know that our siding will be protected from moisture, thanks to the material used to make Woolly Pockets and the added distance the plywood frame will provide.
Now, let's see what else I can plan up tonight! Have a great week everyone!
All photos by Karolina Buchner