One thing I'm discovering about Eichler home owners is that they are fierce weekend warrior types, with an incredible dedication to the original details of their houses. Karen of Destination Eichler is one such person, who I had the pleasure of finally meeting this weekend!
Karen is a woman of many talents: a ballet dancer, professional photographer, and product manager at YLighting. To complement all of this, she recently became the proud owner of a Jones & Emmons designed Eichler home in Walnut Creek. We met through a mutual friend and this blog, first over email, and I was very honoured to receive an invite to Karen's housewarming party. Karen has been blogging about the restoration of her home, located in the Rancho San Miguel tract made famous by this super-glam Eichler sales brochure.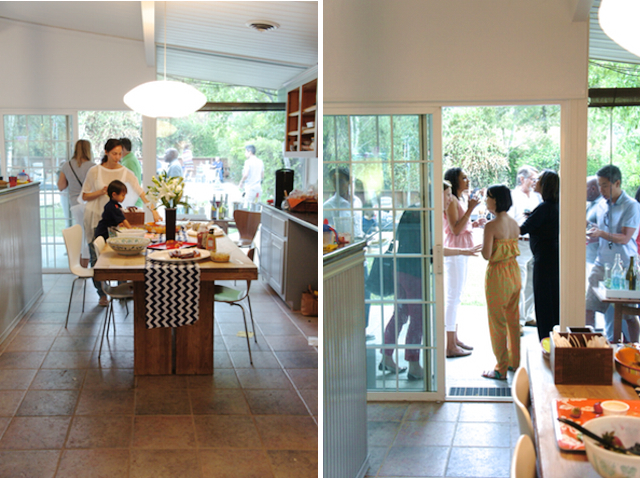 That's Karen, on the right, entertaining guests.
Karen's house is a very similar model to our own, but has suffered from the dreaded Fairly Recent Renovations. I have to say I admire Karen and John's fearlessness in taking on an Eichler sheathed so completely in vinyl siding (not pictured, out of respect for their house!) and sincerely hope they are rewarded with pristine original wood siding underneath. I am keeping my fingers crossed SO HARD for you guys!
Siding aside, Karen has already done an amazing job improving the interior of the house by painting and replacing light fixtures with some sleek mid-century styles, including a gorgeous Nelson saucer lamp in the dining room. And I really like the all-white interior which you can see above.
And after only a month of living here, you can see plenty of great vintage finds in their home. High fives on the vintage Acapulco and Bertoia seating. I know that with Karen's eye, this house is going to rock.
Besides the vintage furniture and the huge backyard, I am also quite envious of the gallery-style atrium wall, behind the Bertoia chairs here. It would look really neat with non-textured glass, as I've seen in some remodels. Because, as you know, you can never have too much single-pane glass in an Eichler!
After the party, we checked out the neighbourhood, as any self-respecting Eichler home owner does. Every Eichler subdivision is a bit different in character and we enjoyed seeing the models here – actually a pretty big departure from the ones we're used to seeing around Fairglen in San Jose. Similar to our tract, there are about 350 Eichlers here with flat-top and peaked roof models, with a number of more exotic models as well.
This green one really confused us: there is no front door! The main entrance to the house is on the side somewhere. I'd love to dig up the floorplan for one of these, or keep an eye out for open houses.
Construction on Rancho San Miguel started in 1955 and completed in 1959, with the homes near Ygnacio Valley Road being the first constructed. The neighbourhood is shared by both Eichler and Jordan & Reed homes, which lead me to wonder if these are indeed Eichlers or not. We even spotted a few with cinder block front walls and roofs shaped almost exactly like the Alexander homes of Palm Springs. The variation in styles is most likely explained by the staged construction over these years, during which Eichler worked with different architectural firms (Ashen & Allen, Jones & Emmons, and Claude Oakland), based on a bit of neighbourhood history. Since we found these models nearest Ygnacio Valley Road, I'm guessing they might be some of the earlier ones.
Huge congratulations to Karen and John on their new home! Keep up the good work!
If you want to learn more about Eichler neighbourhoods, you can find a bunch on the venerable Eichler Network.
Acapulco chair photo by Karen Nepacena
All other photos by Karolina Buchner