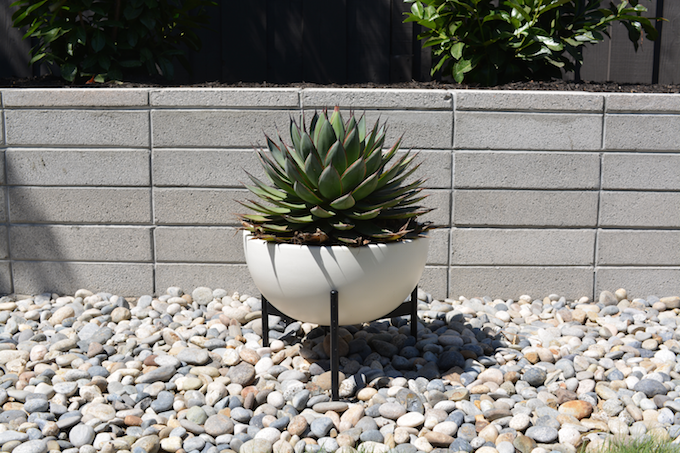 Where have I been, you ask?  Well… taking photos of the new yard for one…  then sifting through them and realizing I probably took too many for my own good.  Now I'm back and hope you enjoy this, the long-awaited reveal of our backyard remodel!
As with our front yard, we worked with Boxleaf Design and Gonzalez Brothers Landscape to completely overhaul our landscaping in the backyard.  This project has been done for over a month now, but we've been tweaking things here and there.   To start, here are a few just-after-completion pics, before we added back our furniture.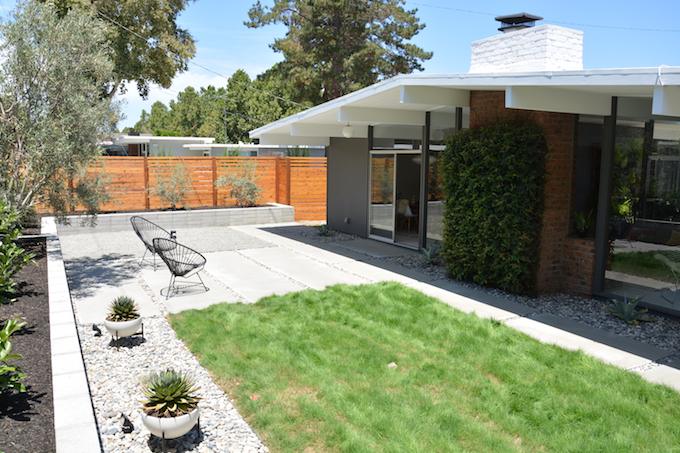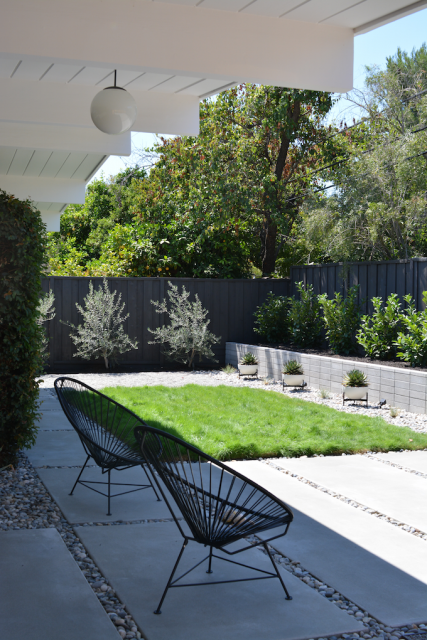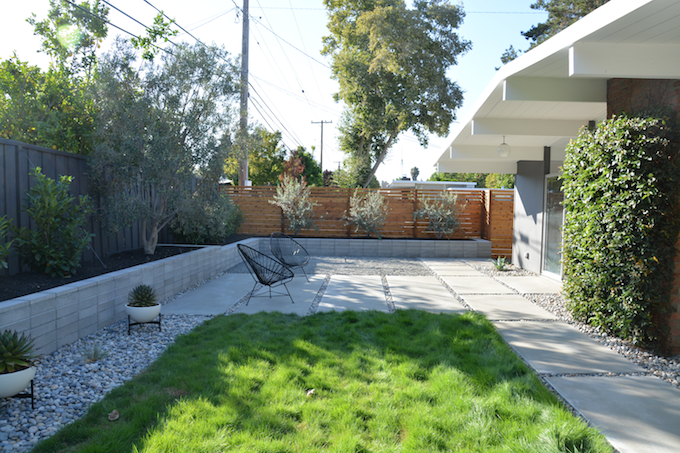 New fence, new retaining wall, new concrete!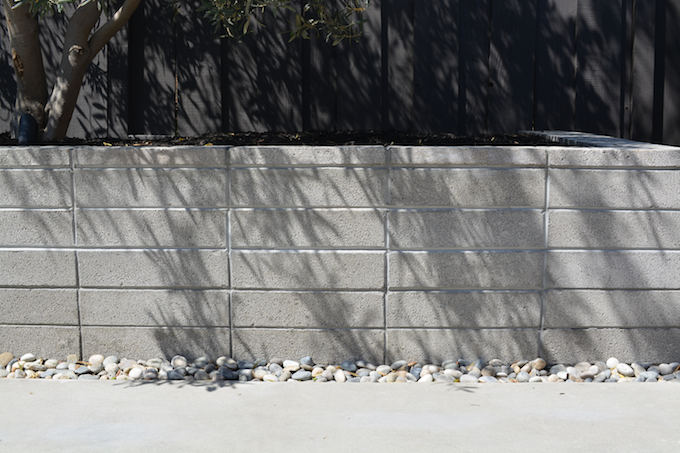 The retaining wall is built using 4x6x16″ cinder block as in our front yard (specifically, the Precision CMU block from Calstone).  We have two areas of standard pea gravel at either end of the yard and 1″ Lin Creek stones filling in the other areas.  Everything is kept tidy with metal edging.  It's hard to see as it's is fairly subtle, which we like.
The backyard is where I really appreciate the new concrete.  Our designer gave some really smart direction here:  all of the concrete slabs are aligned with the dimensions of the house, rather than an imaginary grid.  The edges line up with the posts and patio doors, helping to make the new concrete feel like it really fits with our home.  And it's a lovely texture to walk on with bare feet.  Very smooth but with a very fine sand-like finish.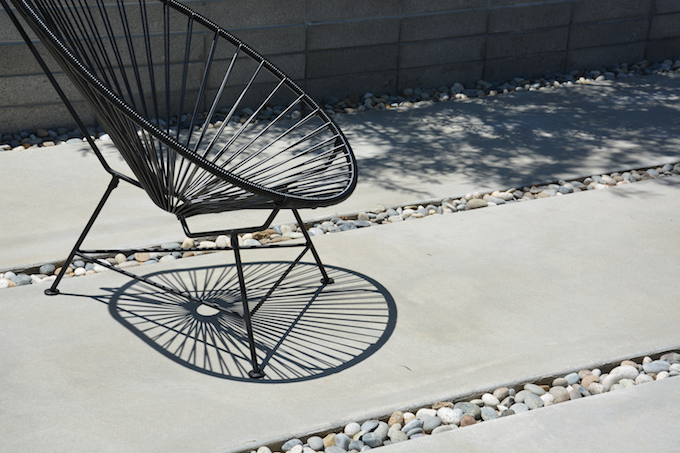 Let's talk plants.
Our overall goal here was to keep it simple and restful.  So, we have hedges, trees, and a few accent plants.  There's definitely less going on here than in the front, and I may add to it a bit as I see how everything fills in.  The green hedge bushes along the fence are Prunus laurocerasus.  They should take a year or two to get big and create a wall of green.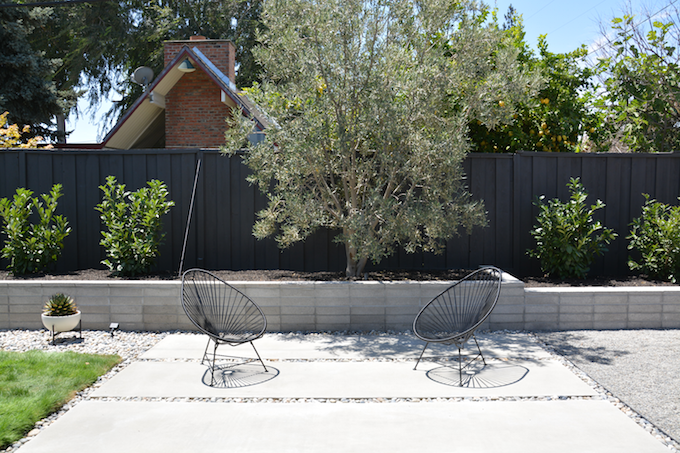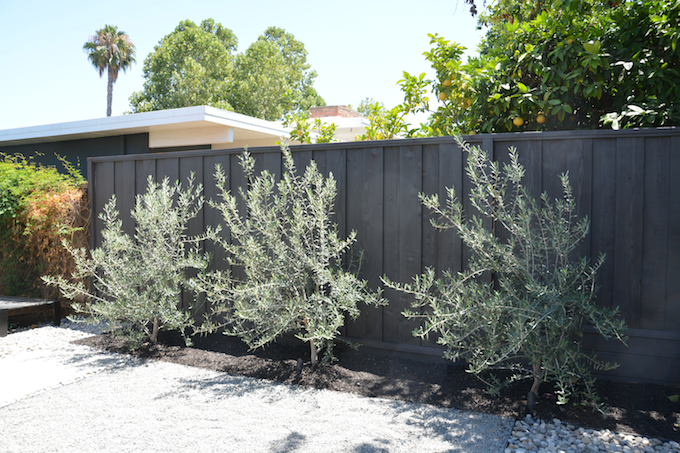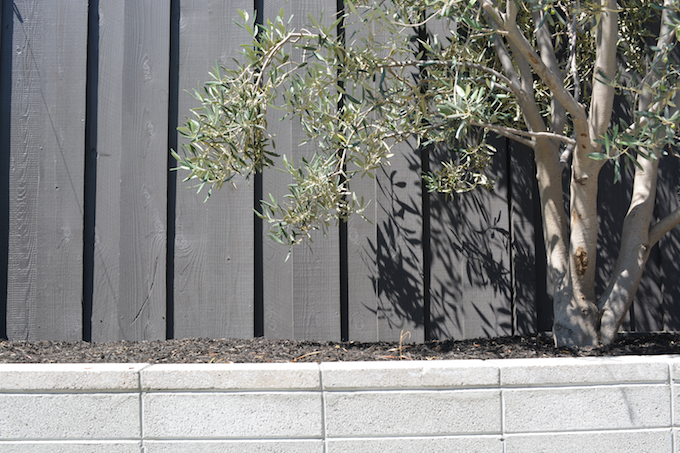 I'm also happy that we got to indulge my love of olive trees.  They feel very Californian to me, as in this inspiration picture.  Three flank each end of the backyard, with a large focal tree over the main patio.  These are Swan Hill olives, which are supposed to be fruitless.  I've spotted a few tiny olives here and there on the big tree, but so far, so good.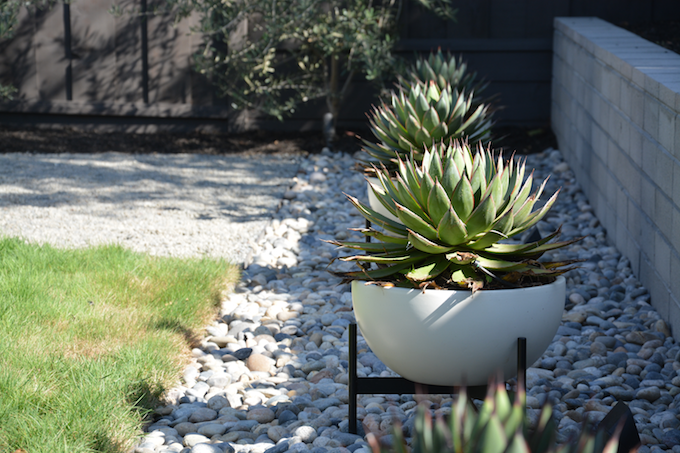 The ceramic planters along the retaining wall are planted up with Agave 'Blue glow', just like the ones in our front yard.  The pretty planters are from Modernica.  Under our back windows we have a bunch of Agave attenuata 'Nova'.
As part of our watering reduction effort, we took out all of our lawn in the front and in the back.  However, we needed to incorporate just a bit for our dog, Winston.  He loves laying on fresh grass.  Or, more accurately:  he likes to throw himself down on neighbours' lawns when we walk him and plow his muzzle through the turf, stretching himself out until he's pancake-flat.  We tested out some artificial lawn, but ultimately went with this beautiful wavy, no-mow native grass.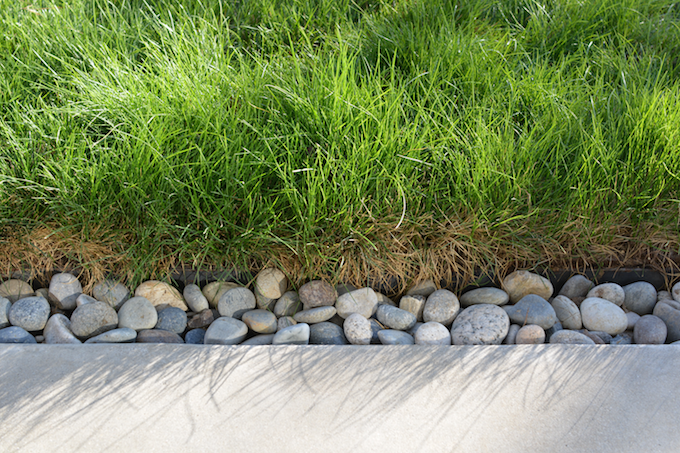 I know, I know:  it's green.  It is, however, pretty water-wise compared to a traditional lawn.  We only have to trim it back once a year and thatch it at the same time.   The long length seems to be key here.  After watering in the morning, the grass stays damp right through the evening and into the next day.
We really enjoy the random, wavy look of it.  Winston totally approves.  It's now his home base in the backyard and we often find him lounging there with his toys.
Sometimes I hang out there with him.  Can you blame me?
For our various seating areas, we added back our dining set (from West Elm, sadly discontinued) and some new (exciting!) chairs for lounging.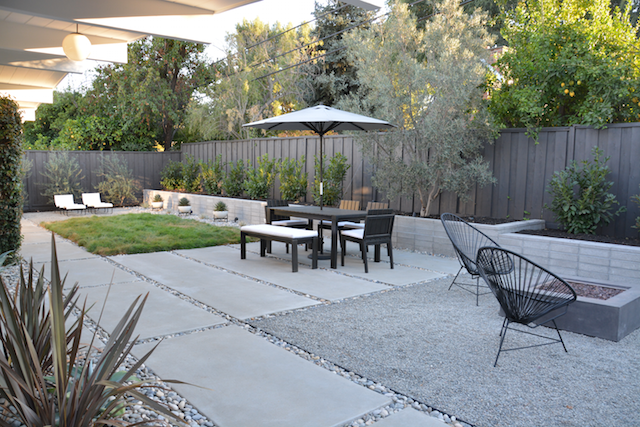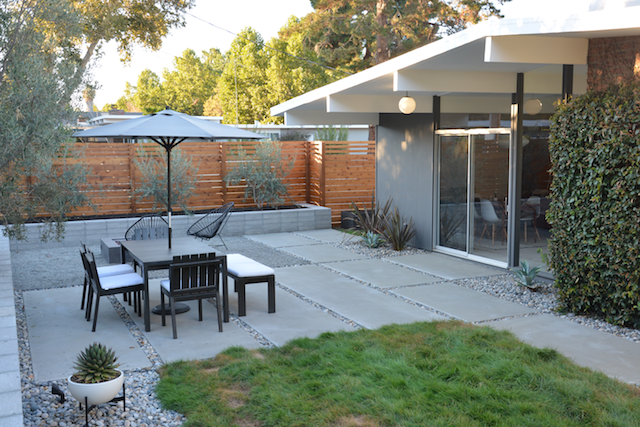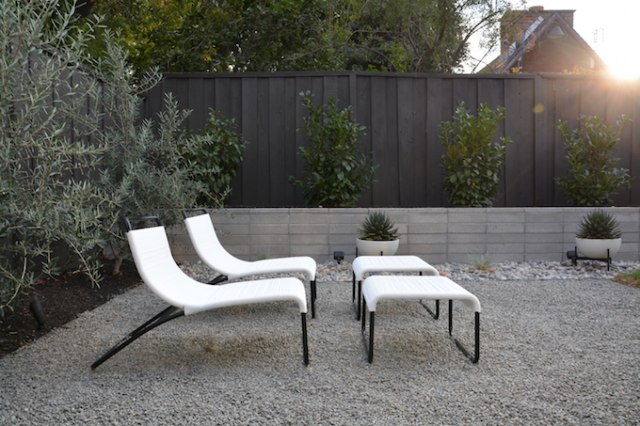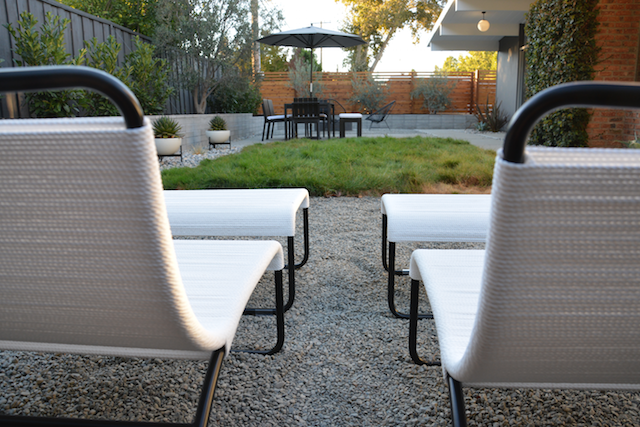 We got the Case Study #22 chairs and ottomans from Modernica for the lounge area just outside of our master bedroom.  Aren't those lines great?  I could sit here all day… Actually, I will confess they are not the most comfortable, but I still love them.  I'm also feeling they might be a bit small for the space, so we'll see if they might migrate to our atrium someday.
At the other end of the yard, the fire table is from Restoration Hardware.  It's a fiberglass shell with a concrete-like finish, and hooks up to our natural gas line.  It's quite nice to sit here in the evenings and not have to make a mess building a fire.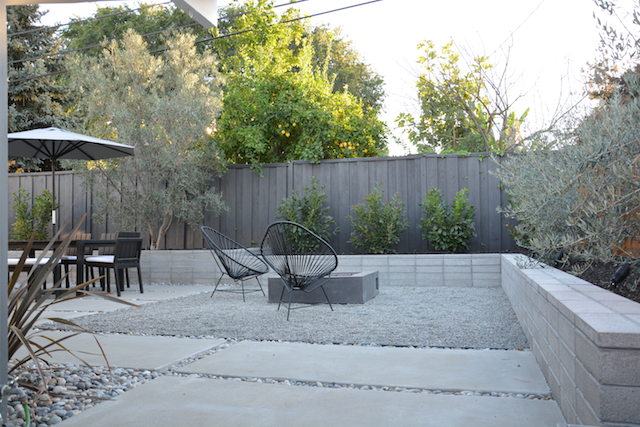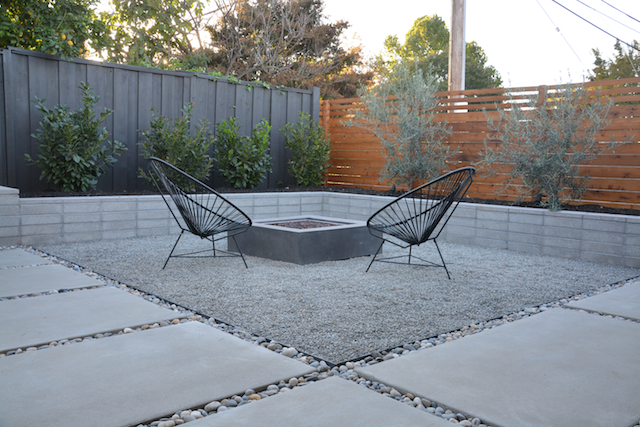 The chairs are classic Acapulco chairs.  I'm still (or if you ask Dave, perpetually) toying with the idea of trying other seating.  Perhaps some butterfly chairs would be nice and a little more cozy for cool evenings.
Of course, Winston is able to make any type of seating work.  One of his many talents.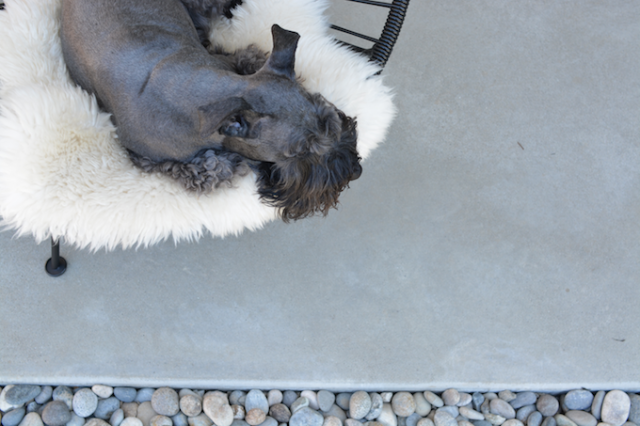 Phew!  So.  That's it.  If you've read all way through, I assume you are either a very dedicated fan of our house, or you must be contemplating some landscaping work yourself!  I'd love to hear what you think and am happy to answer any questions in the comments.
Big thanks again to Boxleaf Design and Gonzalez Brothers Landscape for their work!