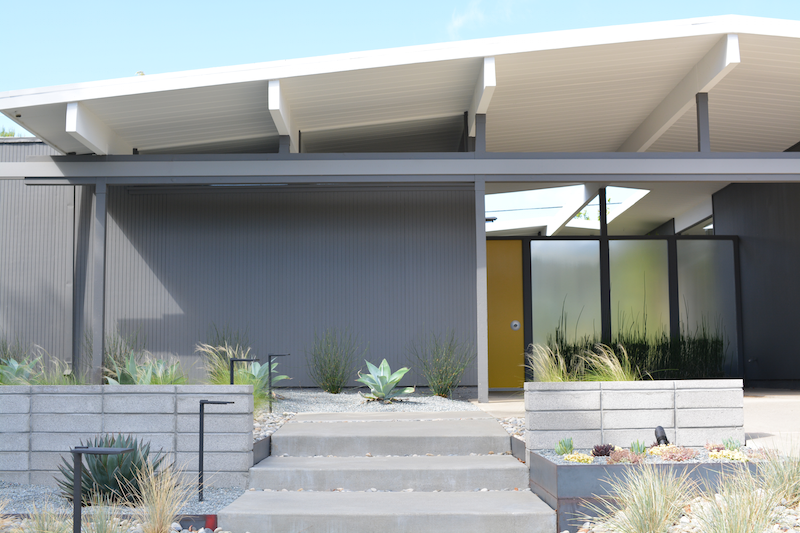 It's finally done!
Our landscaping project construction wrapped up a number of weeks ago, and we're down to a few final tweaks in the backyard.  I thought I'd do this partial reveal to kick things off, so you can see how things have turned out.
Here it is:
We worked with Boxleaf Design and Gonzalez Brothers Landscape to make this happen.  (Both really great people to work with, by the way!)  The hardscape was completely re-done and the lawn replaced by some very low-water plants.  The planting is in a few bands that run across the front of the house, separated by metal edging and the cinder block retaining wall.
The first layer is blue oat grass planted in a grid, which should fill in to create more of a carpet as they grow.  Behind the grass, we have these fierce 'Blue Glow' agaves: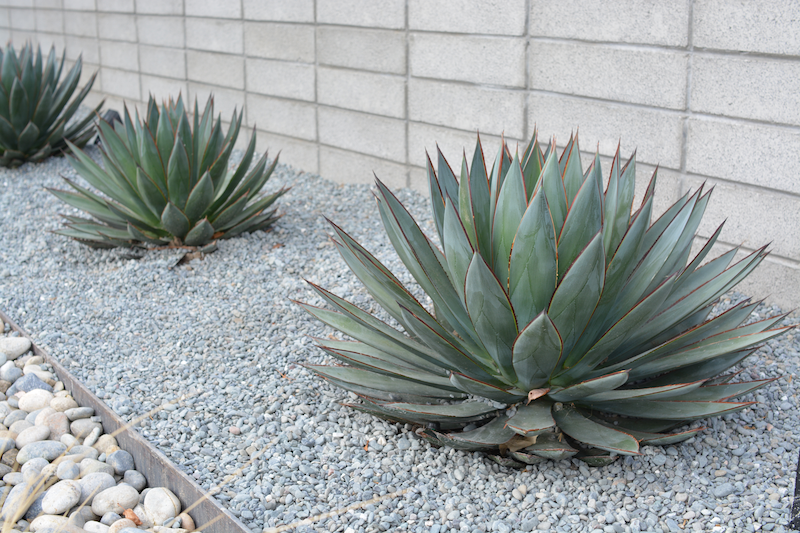 New concrete was poured in place to create the walkway, in the spirit of the original Eichler concrete pads.  The cinder block wall is lit up at night, so the agaves are silhouetted against it, and we have some sleek pathway lighting.  (Making a note to myself to take some photos in the evening too– it's quite pretty.)
The final row of plants under the overhang includes Agave attenuata and Chondropetalum grass, which echoes the feel of the horsetail which is still going strong in our car port.
Behind the retaining wall, we have a section of mixed grasses and agaves:  Agave parryi, blue fescue (Festuca glauca), more blue oat grass, and a LOT of feather grass.  I can't wait for all of this to fill out and go crazy.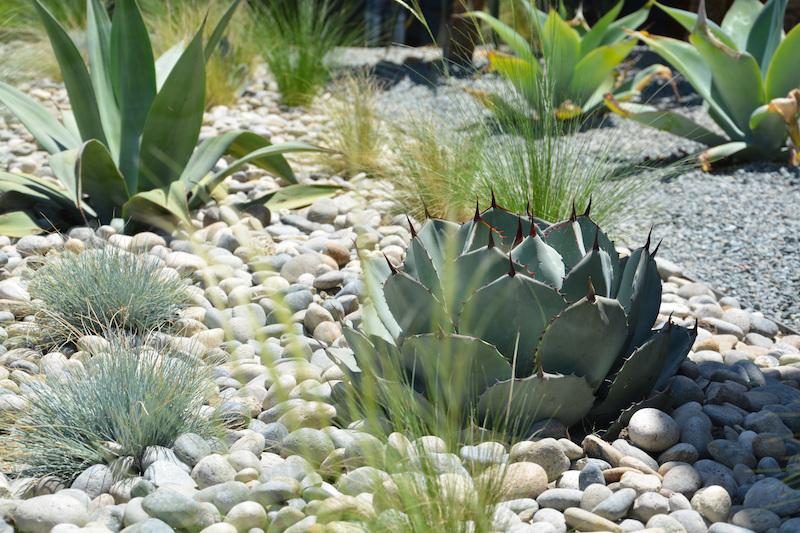 We kept our Mediterranean Fan Palm (of course, we love it, even if it may be in need of a haircut):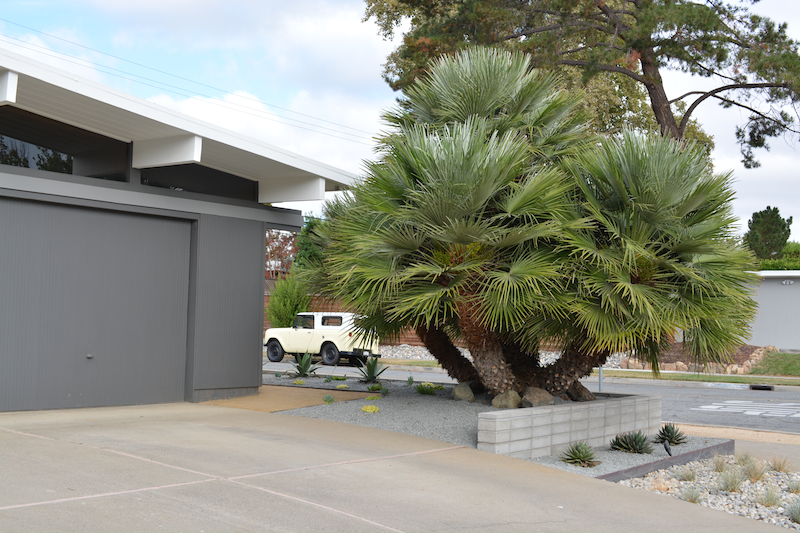 More agaves and succulents are planted behind it, by the gate to the backyard.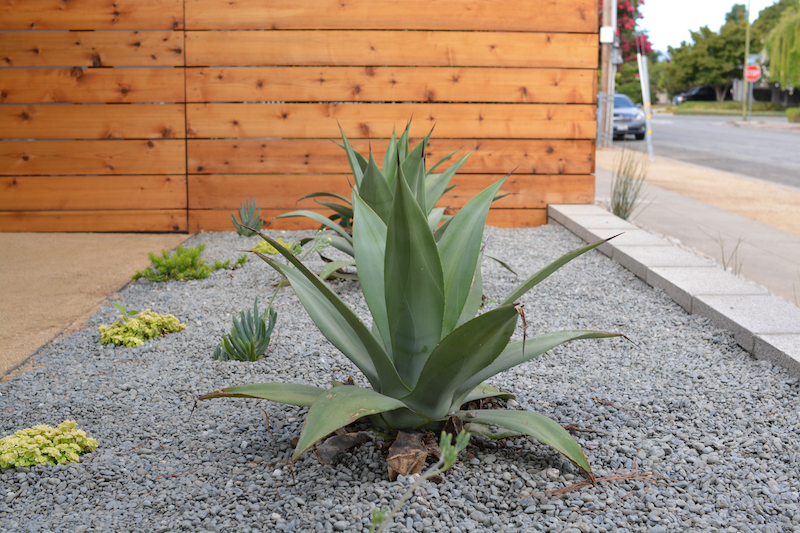 The fence along the side yard is cedar, stained to protect it and bring out the wood grain a bit more.  Somehow I don't have decent pictures from the street, but this should give you an idea: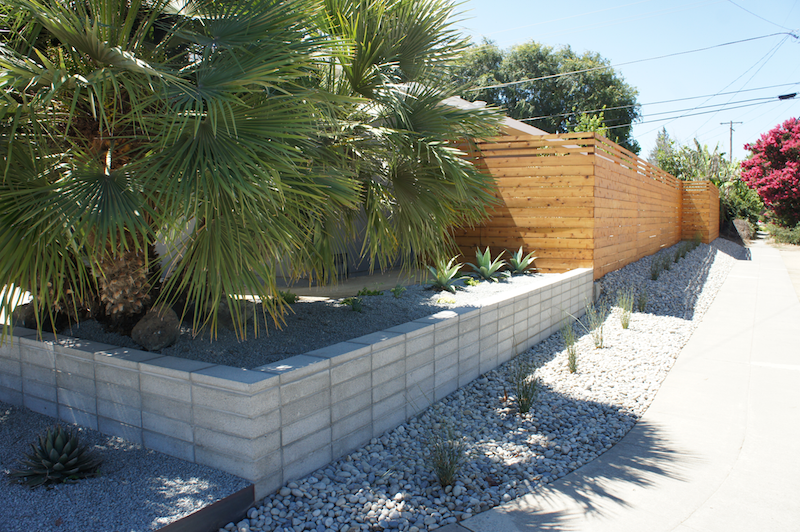 We're planning to add some trees in the park strip (to the right of the sidewalk in this picture), since it's feeling a bit bare (and hot) now with the ivy fence gone.  We'll wait until the winter rain before we do that, so I have some time to think of what to put there.  We're toying with the idea of continuing our back neighbour's row of pink crepe myrtles, but it might be too much pink for us.
I'm also totally in love with the look of Chinese elms lately, which you can see beyond the house.  We have some gorgeous old ones on the street behind us.  Any suggestions out there?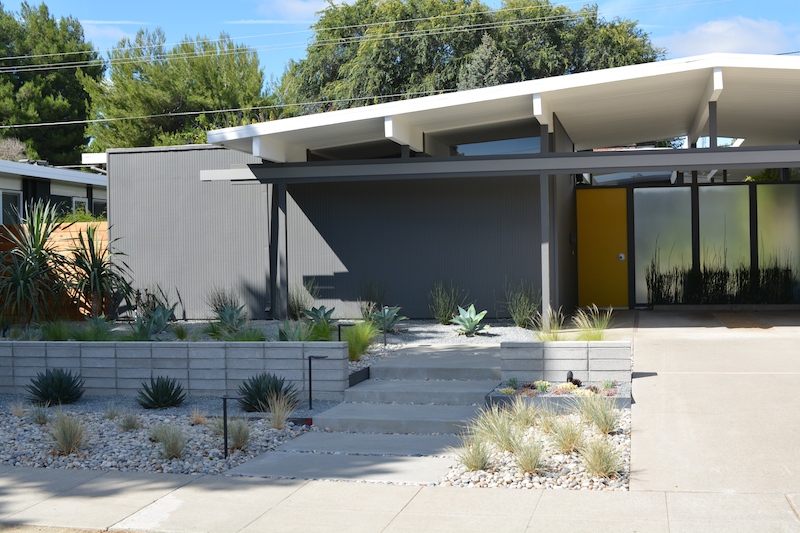 I'll share more as soon as I have everything pulled together in the backyard!  Furniture and a few small items still need to arrive before I can call it done.