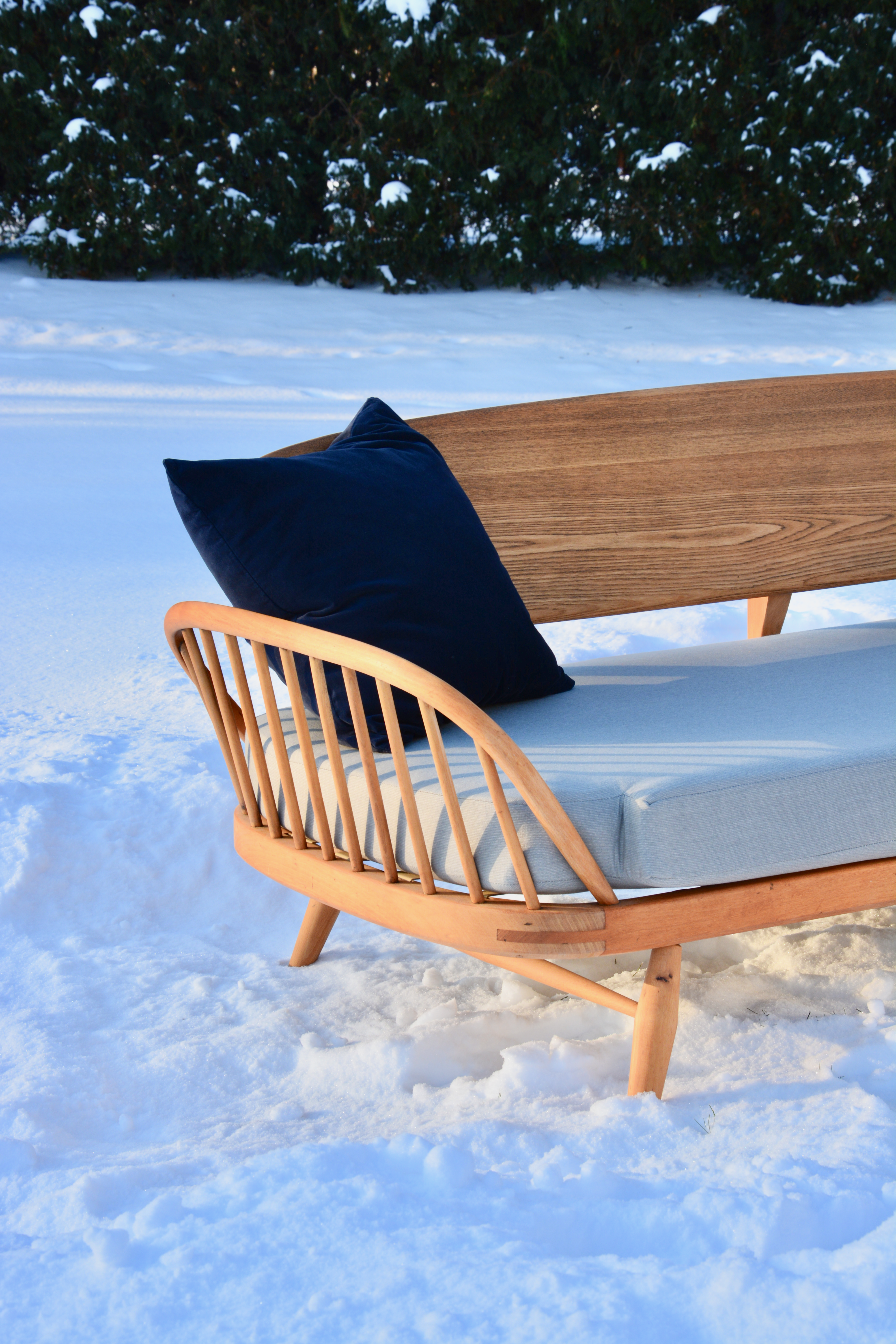 A few years back we happened upon a beat-up Ercol Studio Couch in the wilds of Canada … specifically, in an antique-and-junk filled barn in northern Ontario.  When I say we, I mean my mother-in-law Sharon and me.  The frame of the couch was in rough shape, with its original finish coming off in our hands, so we ended up stripping it down for a more nordic look to suit the family lake cottage where it would live.  I'm happy to report the couch is complete.   And I finally have photos to show it off a bit.
Getting all of the elements together was quite a process.  Initially, we stripped, sanded, and refinished the frame in a light wood stain.  You can see how that went in my original post.  The wood, by the way, is beech for the frame and elm for the back.  As English as it gets for a piece of furniture, I think.  The stain we used was Varathane Wood Stain in 'Natural'.  We didn't seal it at the time, so if you have suggestions on something that would look reasonably natural  and not too shiny, let me know.  I will say that if I had to do this over again, I would try to keep the original dark finish and revive it somehow.  It was original!  Horrible to remove that, I realize.  But it was very flaky, or gone altogether, in a number of large areas along the frame, so maybe I'd just refinish the arms and frame and oil the rest like crazy?  Not sure.
Meanwhile, Sharon's friends in the UK acquired Pirelli rubber webbing direct from the Ercol factory (hi, Helen and Simon!) in addition to calling the company to get details on the fabric.  Based friend Simon's call with Ercol, we got a rough guide for yardage:  to cover the whole couch, including seat and back cushions, would take 7 metres of plain fabric.  Covering the couch with a patterned fabric (with a repeating pattern of up to 50cm) would take 9 metres of fabric.  I found that Ercol also offers a recover service, with details for identifying the couch models.
To show off the surfboard back of the couch (that wood grain!) and keep things simple, we decided to make just the seat.  We ended up ordering 6 yards of Sunbrella 'Spectrum Dove' Pattern #48032, with plenty of overage, which I then packed in my suitcase on one of our trips back home.  The cushion was made by Sharon's local upholsterer.  The plan was for it to be a smooth rectangular slab cushion like in the original couch design.  The upholsterer made some decisions for us on the shape, so didn't quite work out, as you can see in the pictures.  Still I really like that grey and its otherwise simple form.
In the end we spanned a few years, thousands of miles, and three countries with this project.  I took these pictures in the middle of one of the coldest winters we've been home for, with half-frozen fingers, and I hope you enjoy them.
Here she is!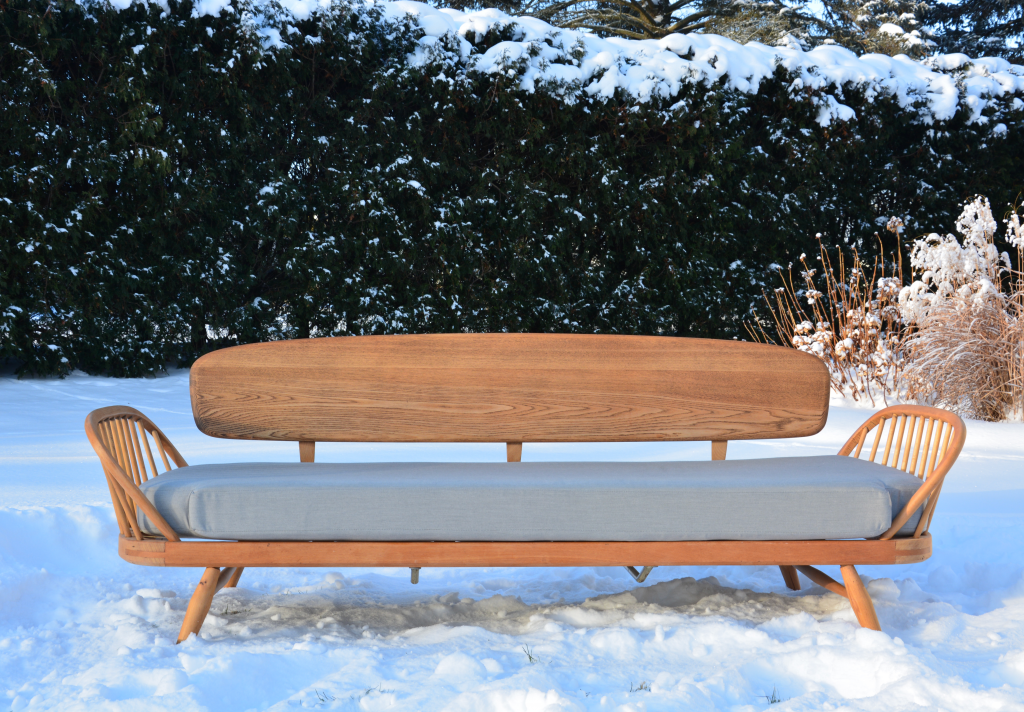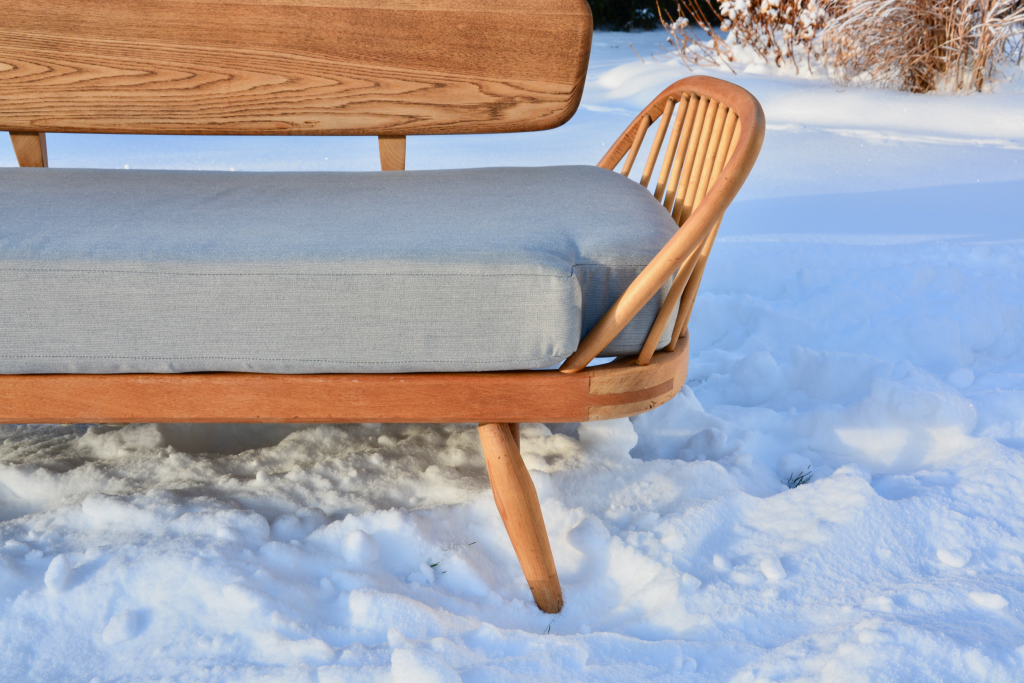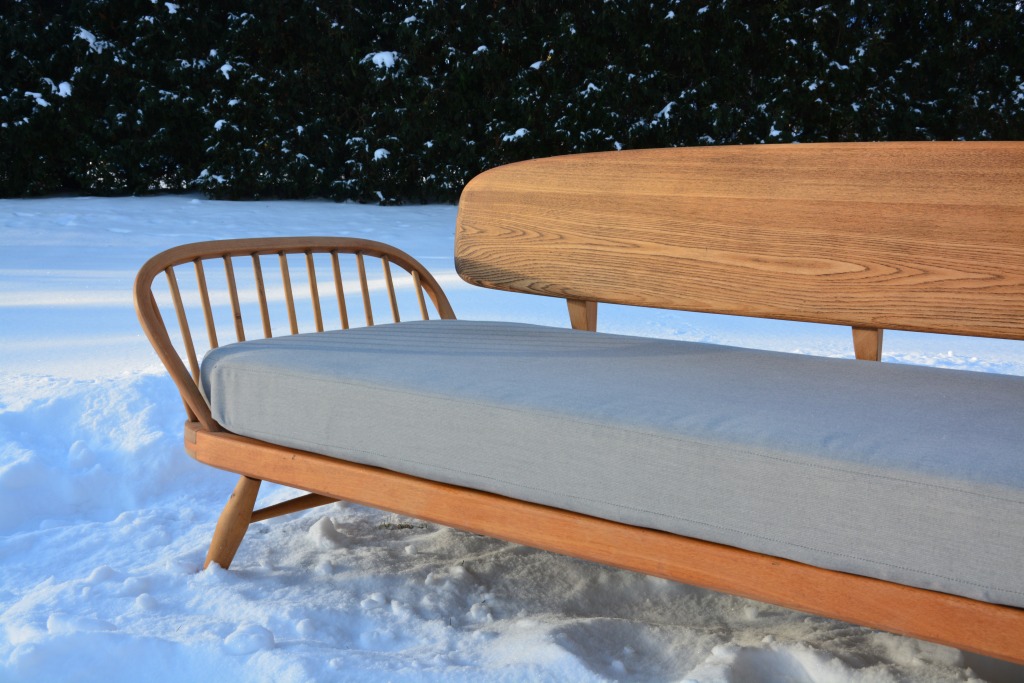 Sharon's snow-dusted ornamental grasses made for a nice backdrop here… gorgeous, aren't they?!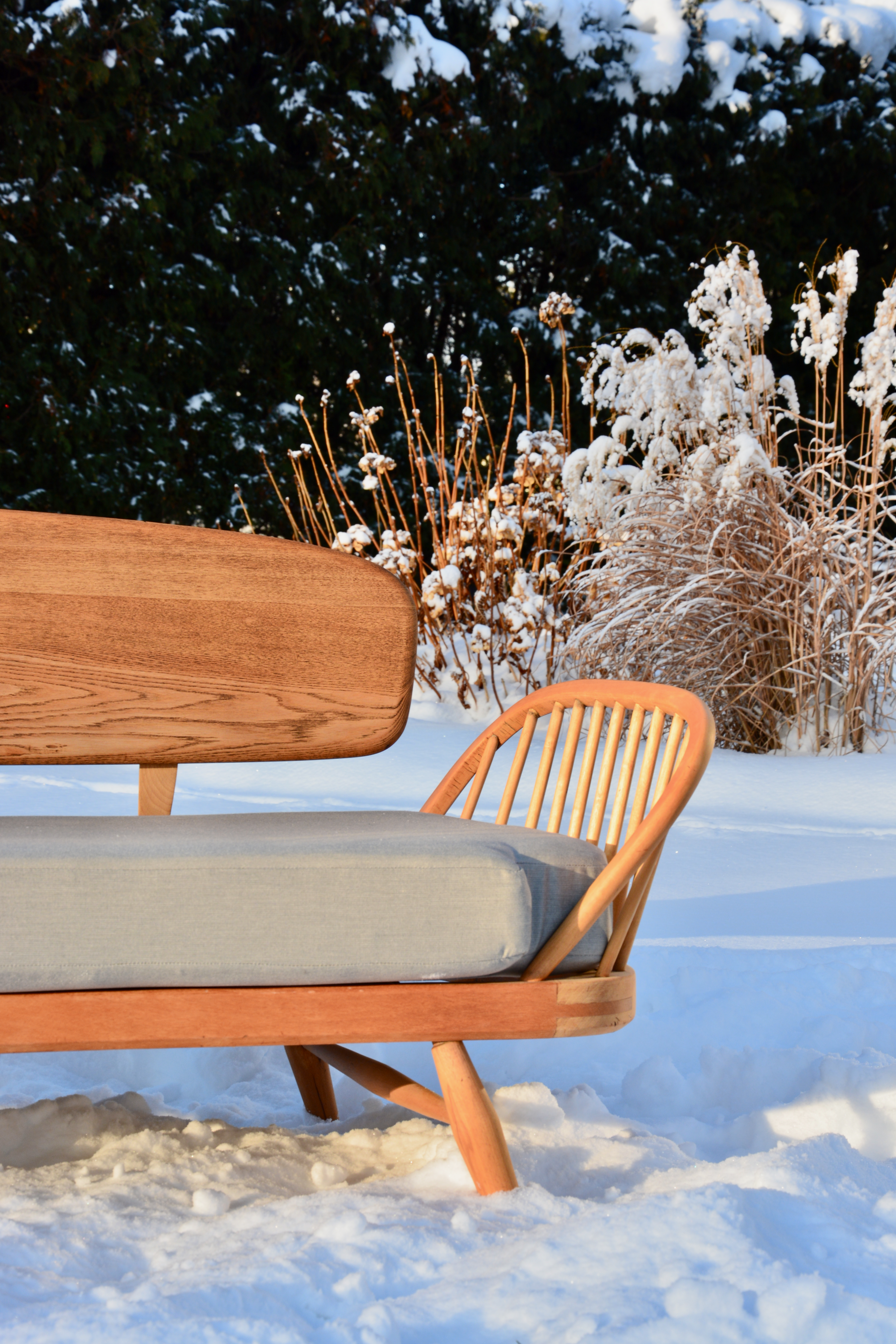 A close-up of the new webbing and cushion (silly bump-out included, oh well).  We're pretty happy with that fabric, still.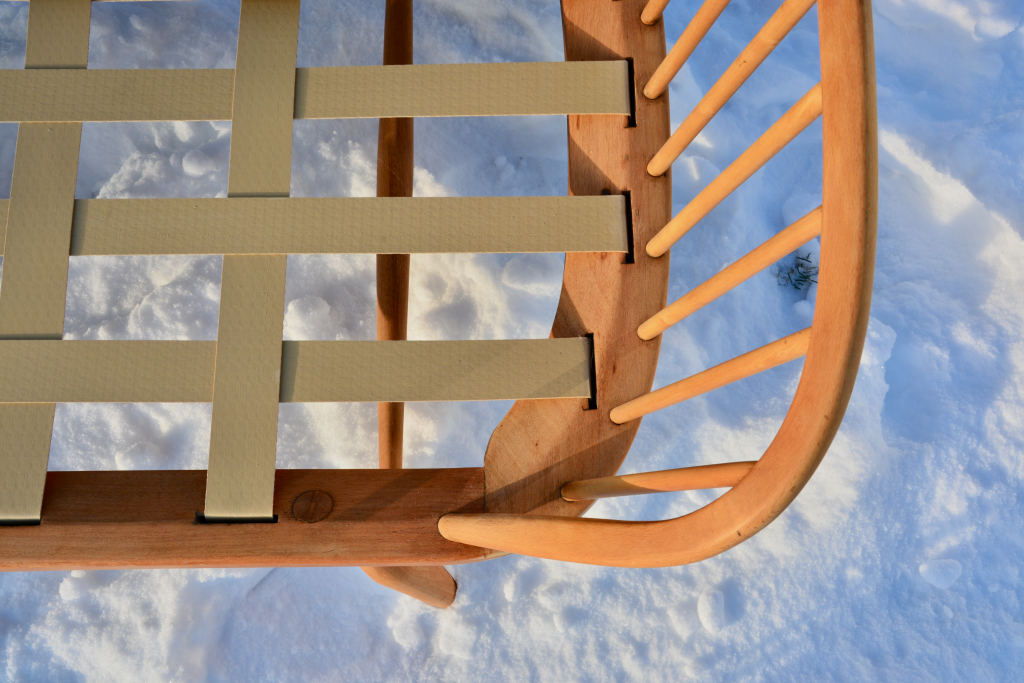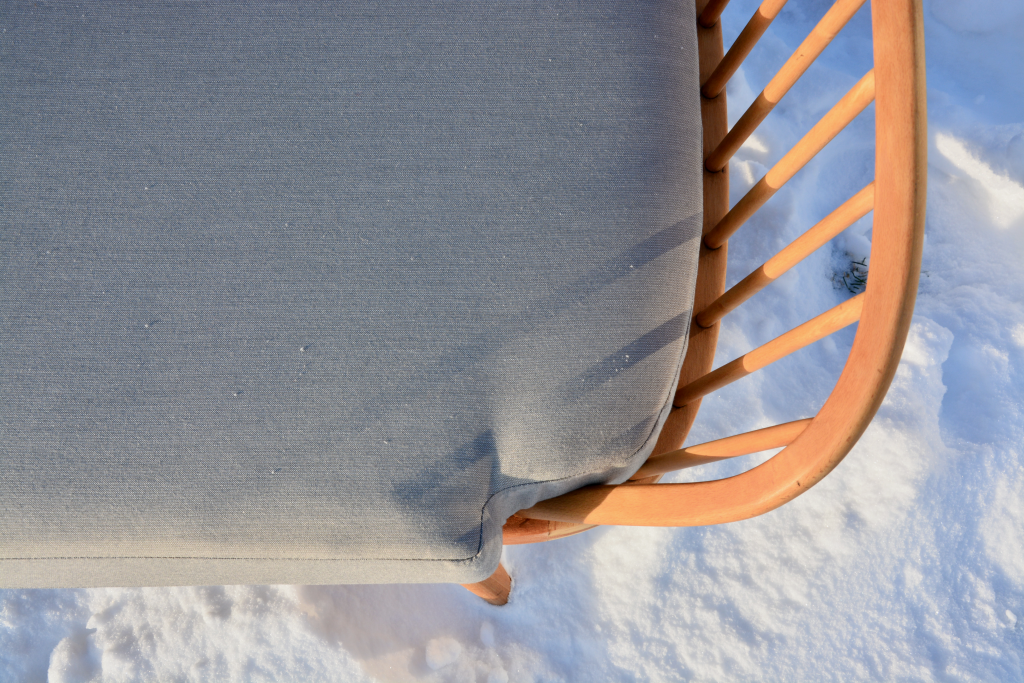 I tell you, by the end of our photo session, we were feeling this nordic look 100%.  Though the -18C temperature probably had a lot to do with that.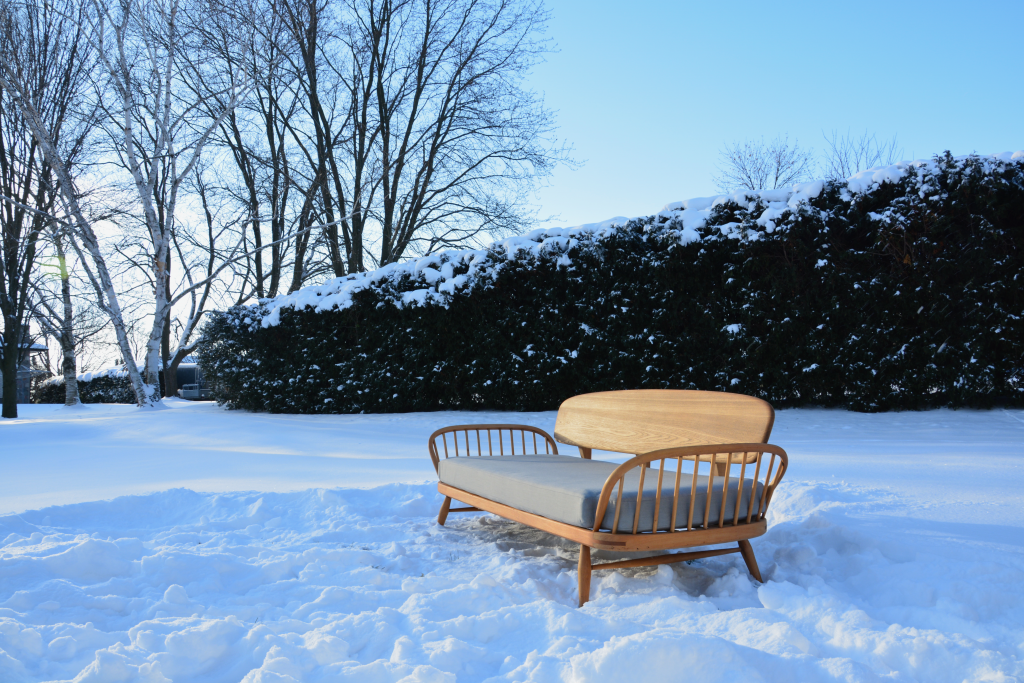 Back soon with all the details about our floor, now that we've thawed out thanks to much warmer weather here in California …