Hey guys. I realize I haven't been a very entertaining blogger, pinner, or instagram-er lately. I got sucked into a sort of alternate universe on tumblr, in addition to the usual life things. Alas, for those who follow me on Instagram, I thought I'd do a little reveal of my latest experiment at home: repainting our dining room.
Hint: It's very green. Why did I do this? Boredom, I suppose. I wanted to change something, and I've been inspired by all of these greens lately: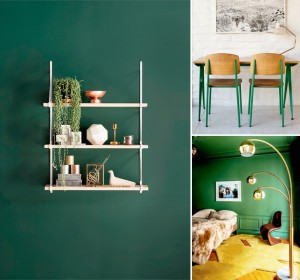 Photo sources: 1 | 2 | 3
I love the way that white, wood, and gold play off of the greens above.
Here's the result. (More or less, because it's impossible for this green to look the same in any two pictures!)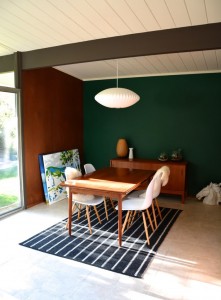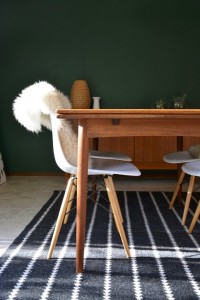 I thought I'd share this as I feel it's not a very successful experiment, and I am quite likely to repaint. But you, dear blog follower, get the inside scoop before this disappears!
The problem is two-fold.
One: the green doesn't exactly play nice with our wood paneling. As my mother warned me not to "make it look too much like a forest", I managed exactly that. It's intensely woodsy. Maybe this is good, I'm not convinced yet. The worst part is the mahogany trim that runs along the bottom of the wall. I feel like this makes things look dated.
Two: it is hella dark at night. And I can say that because I live in California. The person who I happen to co-own the house with does not approve. The mahogany paneling is dark enough, with the green it is now (his words) "cave-like".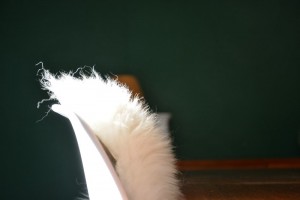 Still, I am enjoying how the white chairs (now adorned with sheepskins) and the bubble lamp stand out against the green. It might grow on me. Stay tuned.