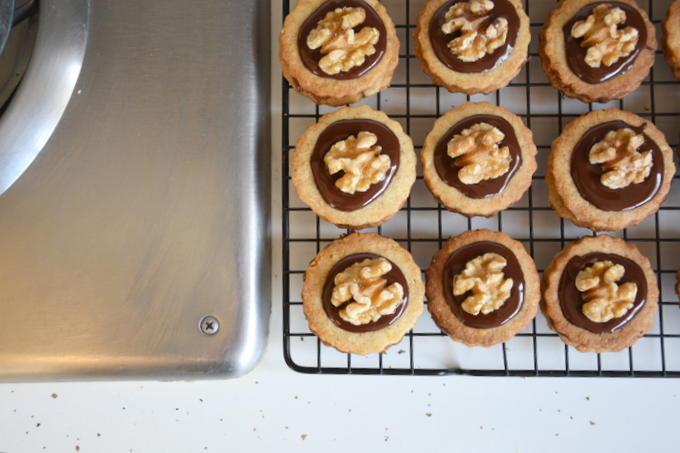 Yes, you read right:  Nutella.  Sandwich.  Cookies.
Last year, we hosted David's family for Christmas, and got to bake this favourite cookie which has been a part of my family's tradition for upwards of twenty years now.  I LOVE these.  And it's that time of year again, so here I am sharing the recipe with you!  (Sorry, Eichler nerds, this is totally not house-related, but perhaps you can appreciate the cameos by our original stove top and counters?)
My Mom is the one who usually makes these (which always make them a winner to me– Mom-made things are just the best, aren't they?)   The dough includes ground walnuts giving these cookies a crumbly, almost shortbread like texture without being too heavy.  Plus they're stuffed with Nutella (helpers magically appear to "assist" with cookie assembly once you bring the jar out), and they look pretty topped with chocolate and that walnut half.  Perfect with a cup of hot tea on a cold day.
The original recipe comes from a Polish women's magazine and uses weight measurements.  I've tried to provide the volume-based equivalents as best I can.  If you try the recipe, I'd love to hear if you made any tweaks and if anything needed adjusting.
Here's a peek at a few of the steps to make them, and the recipe in detail.  I hope you enjoy!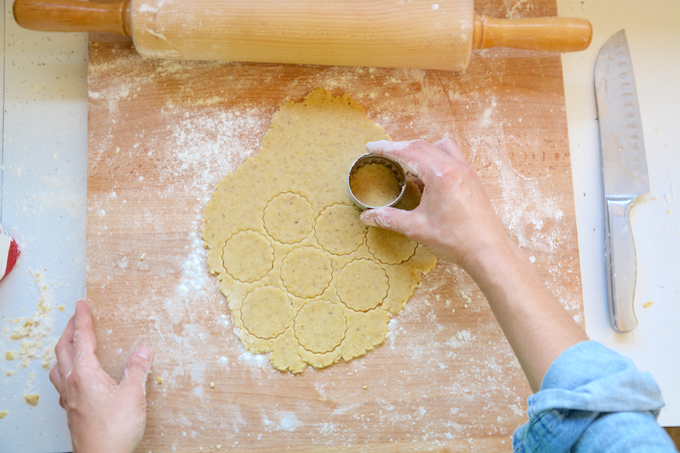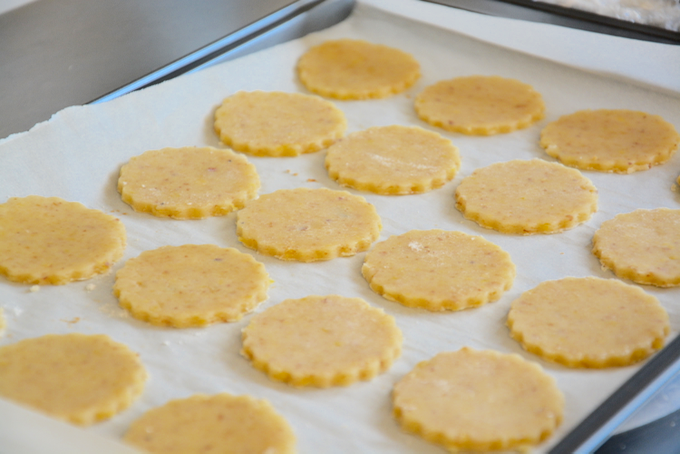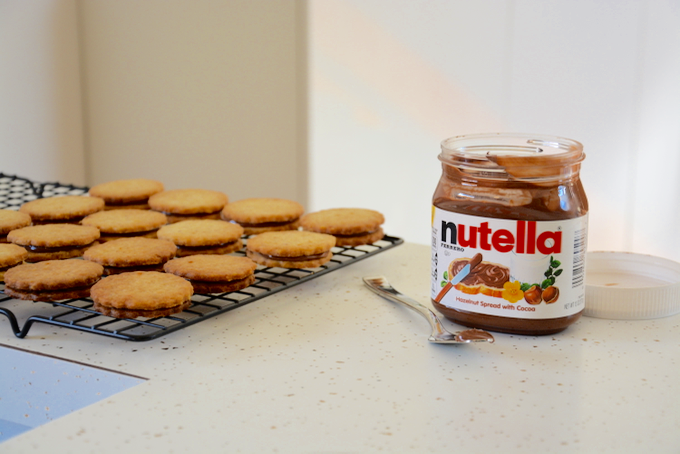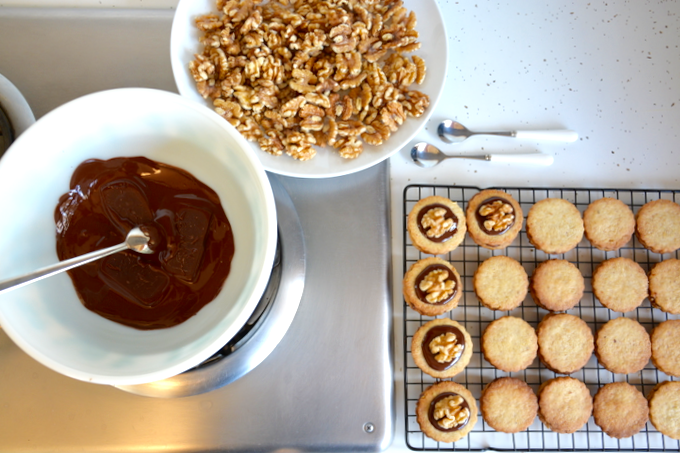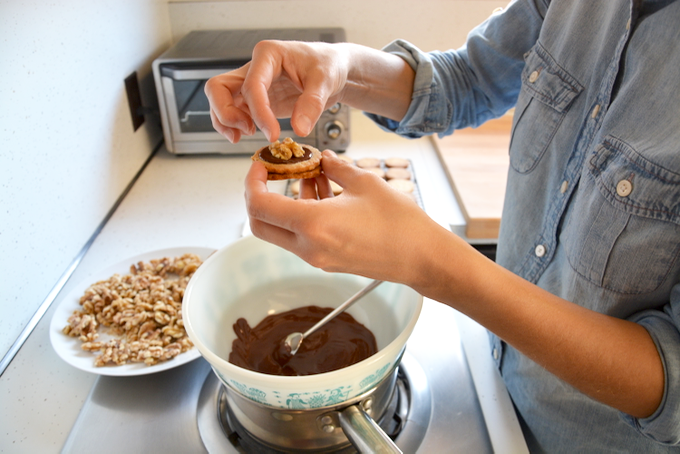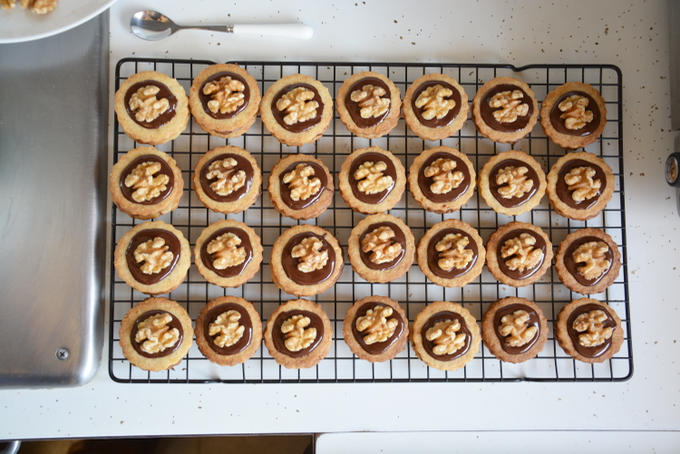 TADA!
***
Ingredients:
400g [2 2/3 cup] all-purpose flour
200g [1 cup] white sugar
2 egg yolks
2 tsp. lemon zest, grated
200g ground walnuts [approx. 2 cups before grinding]
250g [1 cup + 1 tbsp] cold butter
+
small jar of Nutella
bag of walnut halves
semi-sweet or bittersweet chocolate for melting
+
plenty of extra flour for dusting
parchment paper
Grind up the walnuts using a food processor.  Sift flour and combine with rest of the first set of ingredients, using your hands to form a crumbly dough which you can form into a ball.  Wrap in plastic foil and refrigerate for at least an hour until well chilled.
Preheat oven to 350F.
Cut off a chunk of the dough and flatten to a disc shape with your hands on a well-dusted work surface.  Dust your rolling pin and roll out slowly.  The dough is quite sticky and so dust repeatedly as needed.  Roll to about a 1/4″ thickness, cut out, and place onto a baking sheet lined with parchment.
Bake for about 10 minutes, watching the cookies carefully.  They should be approaching a light golden brown when they're ready.  (They will burn quickly too, so don't get distracted taking pictures while you have a batch in the oven.  Oops.)
Set the cookies aside to cool then transfer to cooling rack.  Once cooled, sandwich two cookies together with Nutella.
Melt chocolate in a double boiler.  Spoon melted chocolate on top of each cookie sandwich and top with a walnut half.  Set aside for chocolate to cool.
Store in an airtight container to keep them crisp or freeze.
***
Note that the above makes a double batch of about 50 cookies.  A single batch usually disappears pretty quickly, but if you'd like to try fewer, just halve all of the ingredients.
Cheers!