When planning where to go on this trip, I did a bit of research on the Design*Sponge city guide for Paris, and put
Merci
on my must-see list of design shops. It is located in the Marais, which a colleague also recommended as a great neighbourhood to walk around. I loved the area — it was both bustling yet laid-back and the narrow, winding streets were a lot more hushed than the more popular sights in the city. We decided to walk from the Hotel de Ville to Merci, and happened upon
Fleux
, the subject of this post, by chance
.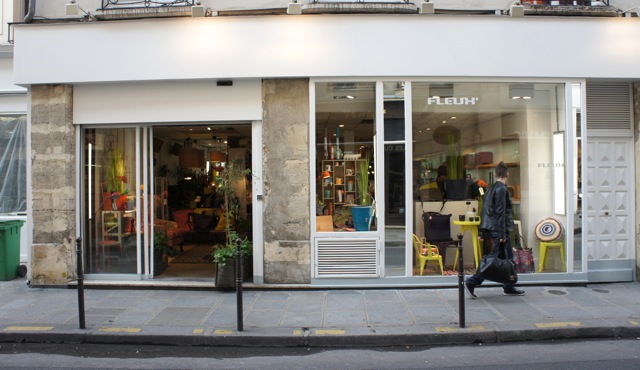 Fleux is a design shop, focusing mostly on home decor goods, furniture, and lighting. It was a lot of fun to explore. My favourite parts were the furnishings and lighting (surprise!) They have the famous French-designed and hand made Jielde lamps in all sizes and colours, as well as the equally iconic Tolix chairs.
You guys, they have ALL THE TOLIX CHAIRS! And Tolix cabinets, stools, and tables. In fact, they had a Tolix-only upstairs floor, with all of the pieces right there in many paint colours, finishes and sizes. This was the first time I had seen the perforated metal Tolix chairs, which look really nice, especially in the gun metal and black versions. We saw the black perforated ones again at Merci, where we ventured later on. Being on this floor surrounded by all that shiny, brightly coloured paint made me very, very happy.
Fleux is huge by the way. It spans about four different adjacent small shops. If you're coming from the west/city center, you'll likely happen upon the smaller, Tolix- and Jielde- focused shop, which is actually a separate space from their main store, just across the street. The main store goes on and on. Among the many nicely-styled displays in the furniture shop, I did spy this neat lamp-cum-bookshelf which I kind of regret not getting: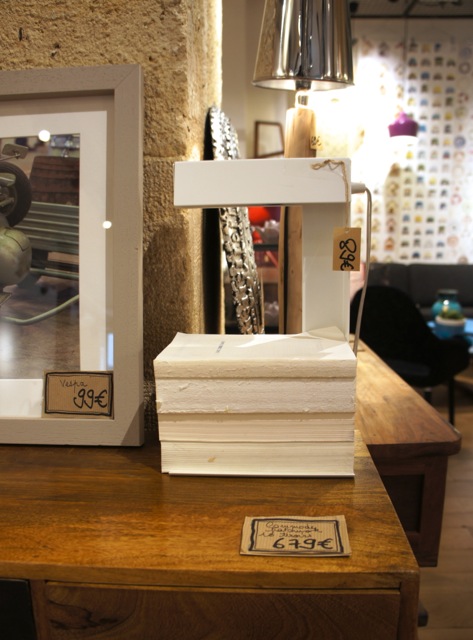 I would love to use it in a Scandinavian, minimal space, perhaps in a little reading nook involving a vintage rattan chair with a sheepskin draped over it. I may just have to create such a nook in our house. You know, to justify getting this cute shelf-light-thing someday? Sounds like a plan to me.
This store was a very lucky find. I recommend visiting if you're nearby!
And so you don't have to hope to encounter it by chance, here's where to find Fleux:

Fleux
39-52 rue Sainte Croix de la Bretonnerie
75004 Paris