(Hello from Paris, to all of those who follow me on Instagram. I'm taking time at the end of my work trip for some shopping among other cultural things and I'll be sure to report back soon!)

I'm interrupting the house-related talk here because I wanted to make sure you know about Ashley Goldberg. She's an artist based in Portland, she is Etsy-famous, and I love her work!
The subjects of Ashley's paintings and drawings include little girls, monsters, and superheroes. They are thoughtful and serene creatures, cute without being too saccharine, and I would like them to be my friends. I bought her 'You Make Me Happy' print as one of my very first Etsy purchases years ago (hanging over the desk I write this from), and have been fascinated by what she's up to ever since.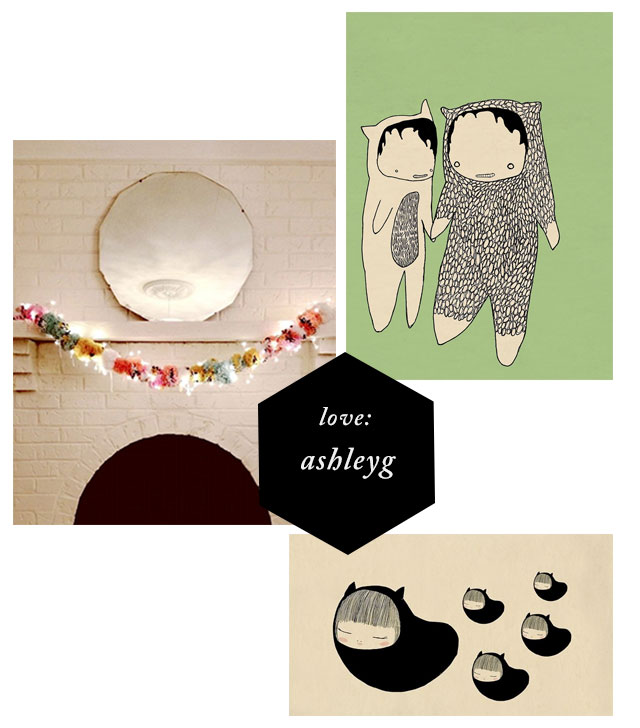 In addition to her Etsy shop, Ashley chronicles her vintage shopping and new-house-furnishing projects on tumblr. Her home in Portland is simple and airy with both modern and vintage design elements living happily together. Her pom-pom garland featured by Design*Sponge has lead me to possess more yarn than I know what to do with. On flickr, you can get a very cool inside look at her works in progress, lately including a lot of neon brights and patterns, which I am very excited about!
Her most recent collaboration with Urban Outfitters, Char-Bea, consists of bedding and soft goods to throw around the house (pillows and rugs). The patterns and colours are very playful and free, with lots of painterly textures and nice pops of black which lend some gravity to them.
I am particularly smitten with the soft palette and texture of this pillow and bed linens:
You can find the rest of Ashley's collection at UO.
(And no, this is not in any way a sponsored post. I'm just a huge fan of Ashley!)