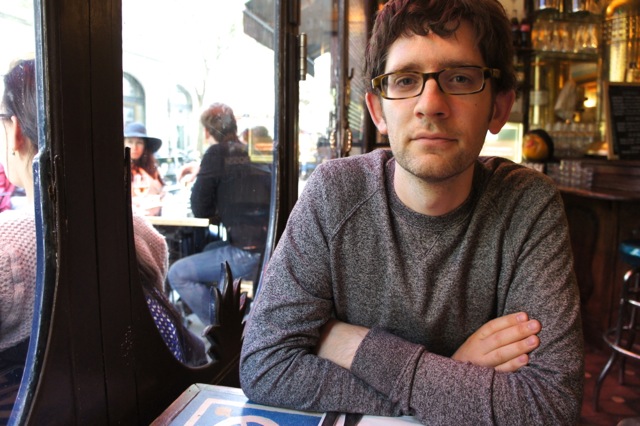 I spent a lot of time on our trip across the table from this guy, eating at various bistros and cafes, some of which were excellent, some of which were average. My husband, David, is vegetarian, so it's always a bit of a challenge to find someplace interesting where there is an option or two that works for him, especially when traveling. I thought I'd share two of the best spots we ate at in Paris, which you may find helpful if you are also of the vegetarian persuasion.
As you might expect, the interiors of restaurants are how I remember them. The food at both of these places was excellent, but the vibe added so much to the experience that the interiors alone are blog-worthy. I generally feel too self-conscious to take pictures of my food, so sorry, no food porn here. However, doors, walls, floors, art, and lighting are all fair game!
First up: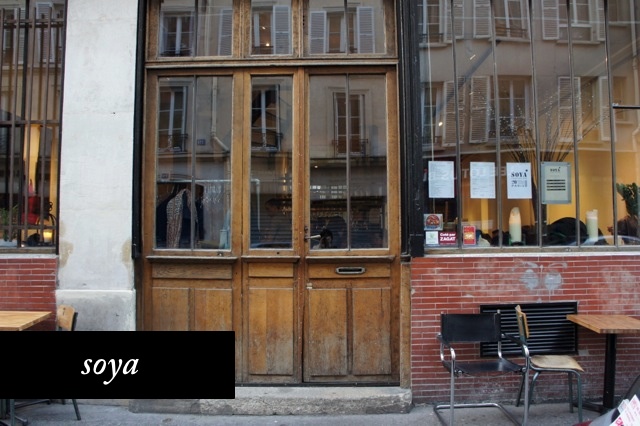 Soya
was one of my vegetarian work colleagues' picks. After a failed attempt to get in without a reservation one night, he booked a table for the following night and called Dave and me up spur of the moment so we could try again.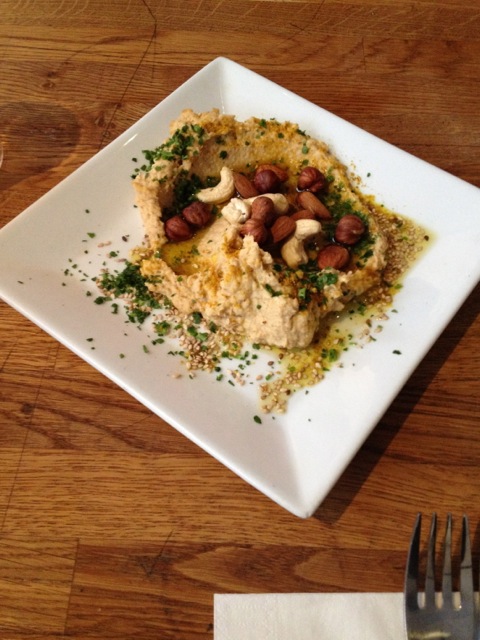 (OK fine. Some mild food porn managed to slip into this post.)
The interior was very spare, with a few large communal tables and a number of small tables. Walking in, you get to enter through those old, wooden doors. After seating ourselves at one end of the communal table, we ordered drinks and I got to stare at the surroundings and caress the tabletop when my companions weren't paying too much attention to what I was doing.
The appetizer above was humus (or houmous, per the menu) topped with dukkah, fresh herbs, and a mix of nuts. The menu was all vegetarian and pretty creative. My entree was a tomato risotto involving Middle Eastern spices, which surprisingly worked really well. We arrived relatively early at 7:00, hence the empty tables, and by the time we left the place was very busy. Apparently Parisians eat dinner really late — peak time is usually 8-8:30 if you're eating out.

And next: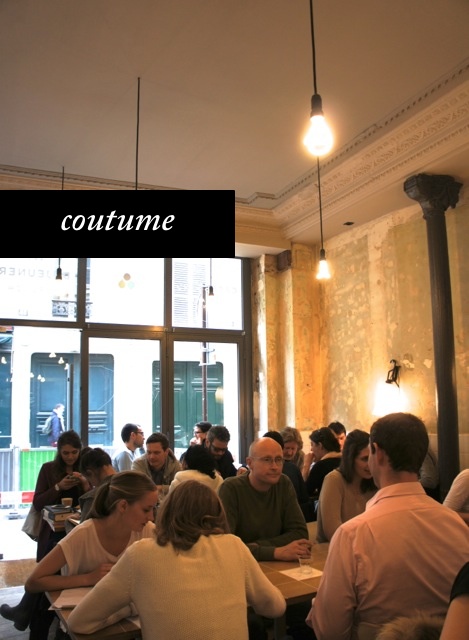 I had originally learned about
Coutume
on the
Hindsvik blog
. In case you're not familiar with Hindsvik, they're a husband and wife team living in Canada (in Port Colborne, Ontario, very near where I grew up!) who run
a gorgeous Etsy shop
selling their mid-century finds — lots of great Scandinavian teak to be had there.
We came here with our friend Michael as part of our epic walking tour which took us from the Eiffel tower all the way to the left bank and St. Germain. It was a Sunday and we were quite worried as we walked down rue Babylone to Coutume – all the shops were shut tight. Coutume was both open and packed with people.
Both Dave and I had the vegetable 'detox' brunch of ricotta with radish, polenta, and steamed veggies. It was a nice change from our otherwise steady diet of pastries and cheese in Paris. Also: the best cafe latte I've ever had. So smooth. Even Michael, who drinks a lot more coffee than Dave and I together, agreed that it was excellent.
I definitely recommend this place for anyone who is into coffee. As a bonus, in the back, they sell all manner of coffee-making apparatus: presses, syphons, Chemexes, filters. You name it. Made me want to break out the Chemex and try my hand at brewing again!
Here's where to find them:
Soya
20 rue de la Pierre Levée
75011 Paris
Coutume
47 rue de Babylone
75007 Paris