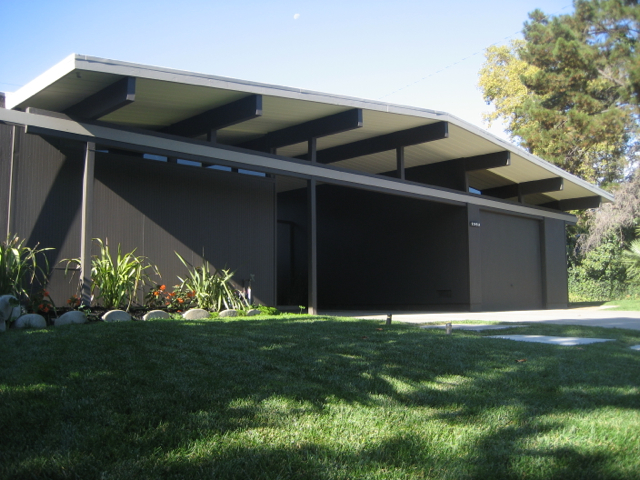 dear house,
i love your beams.
i really, really do.
xo
karolina

This weekend, Dave and I embarked on the first serious repair work we've ever attempted on the house: fixing a beam affected by dry rot.
Sure those exposed beams are pretty, but they take a beating thanks to the hot California sun in the summer and torrential rain in the winter. This beam in particular is on the more exposed side of the house without a roof overhang to protect it and it's in a sorry state.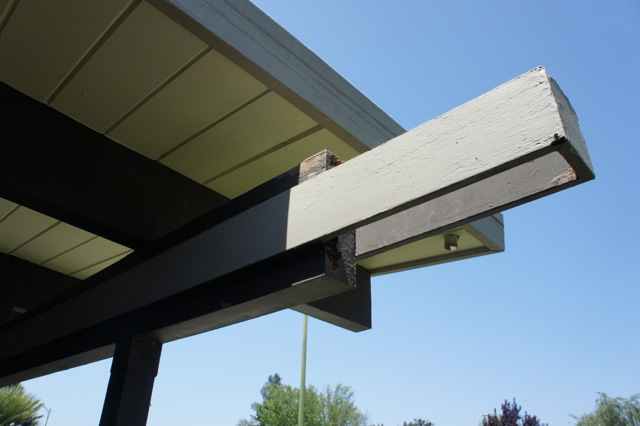 After noticing some chipping paint a few weeks back, Dave took a
toothbrush
to it and found that he was able to brush away a lot of the wood out of the beam as it disintegrated into dust. Leaving gaping holes.
Brace yourselves.
Pretty horrific.
BUT since the beam rot doesn't affect anything structural (it stops about a foot shy of that post, which, yes, is holding up our roof) we've decided to have a try at repairing this ourselves.
Here's our plan of attack:
Remove the decorative outer trim (the beige stripe) surrounding the beam.
Strip the paint from the beam (and heck, why not strip the post supporting the beam while we're at it!)
Chip out as much of the dry rot as possible from the beam, until only stable wood remains.
Treat the wood with wood hardener or 'consolidant' as the pros call it. (We're using Minwax Wood Hardener.)
Patch the beam with epoxy filler. (We're using Bondo, which you can get at car repair shops and some hardware stores.)
Sand the beam back to its usual profile.
Re-apply the trim, caulk, prime, and paint!
Should be easy, right?
Before starting the work, we had a chat with a local contractor to make sure our plan wasn't completely crazy and, of course, consulted the internet and watched endless minutes of fix-it shows and demonstrations of this and that wood repair wonder product, wherein I may have developed a soft spot for this man.
We got through steps 1 and 2 this weekend. Mainly because we do not own many power tools, and had to lovingly hand-saw through the trim.
As a side note, after reading Karen's post over at
Destination Eichler
(which you should check out!) about
shou-sugi-ban
, a Japanese technique for preserving wood, I was fascinated to find that the edges of the original trim had obviously been intentionally burned.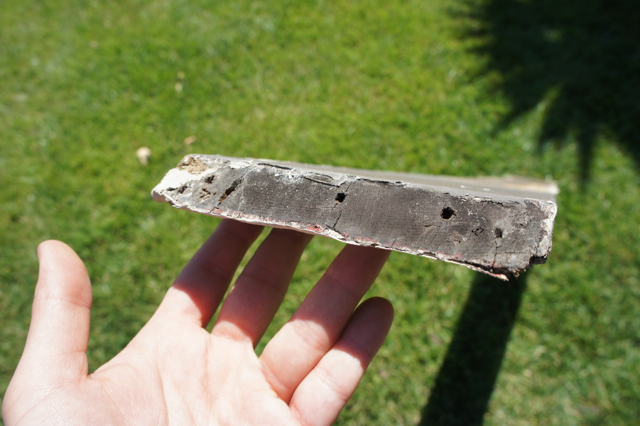 All of the 45 degree joint edges were charred black! I wonder if this was a common practice in Eichler construction, or if it may have been particular to the builders who worked on our house. Oh, I do love me some good house archaeology. The intrigue!
Anyway. Ew: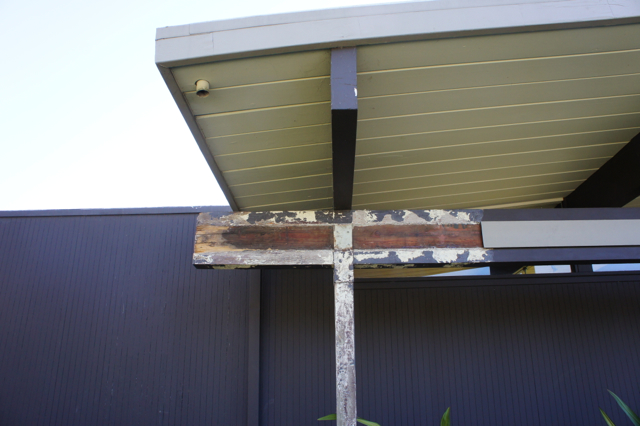 The house now has some serious 'This Old House' curb appeal. I keep telling myself it gets worse before it gets better, but it's certainly cringe-inducing to look at right now. Stay tuned!