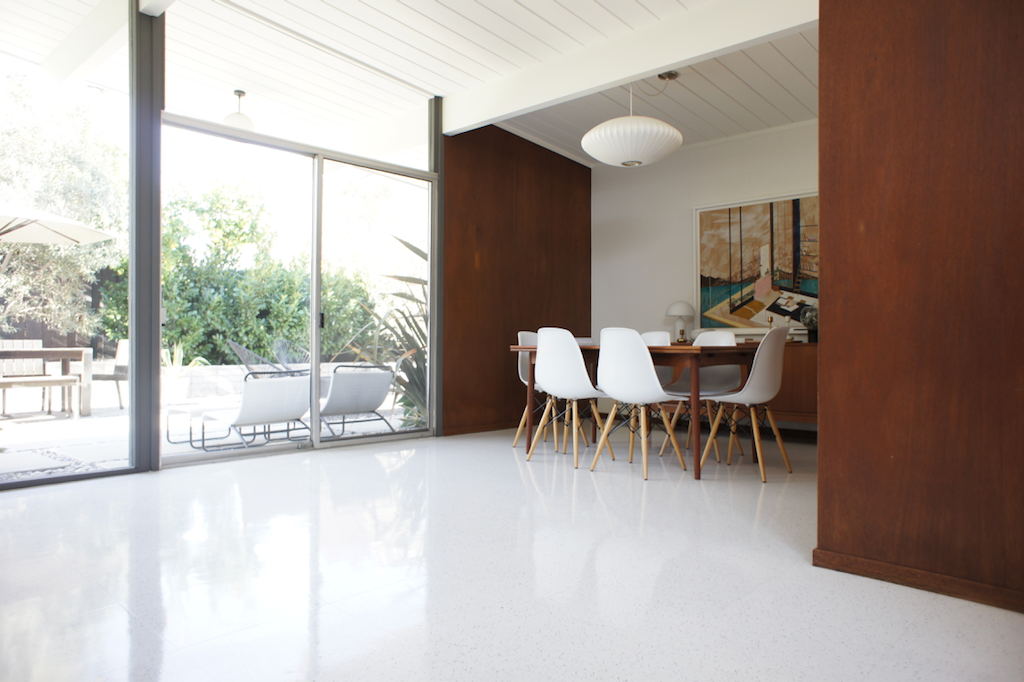 It's finally time to share about the big floor renovation of 2017.  As with most projects, we had some ups and downs with this one.  Here goes!
First up, a look at the floor today.  It's made quite an impact on the look of the house, as you can see.  It is BRIGHT.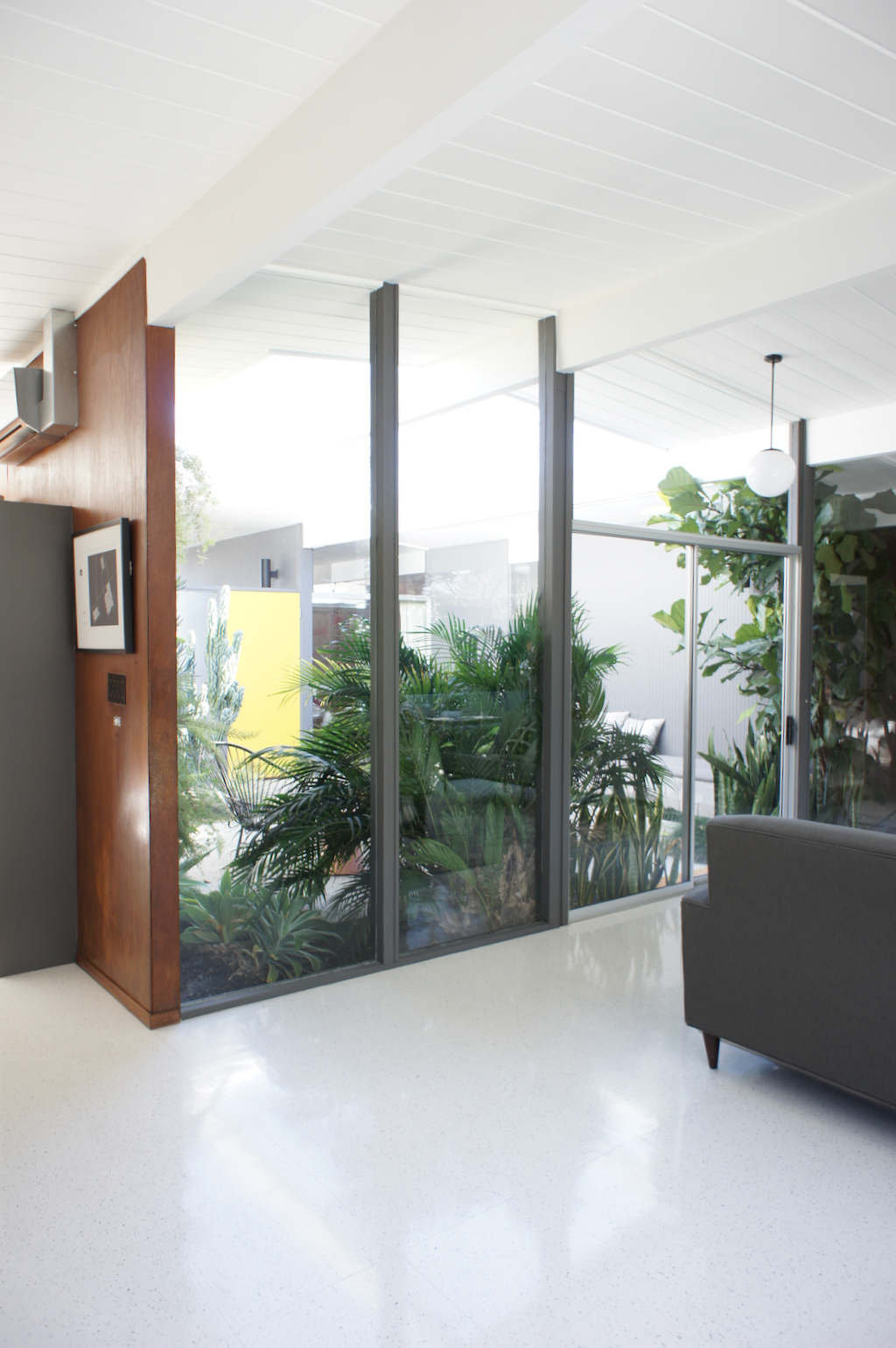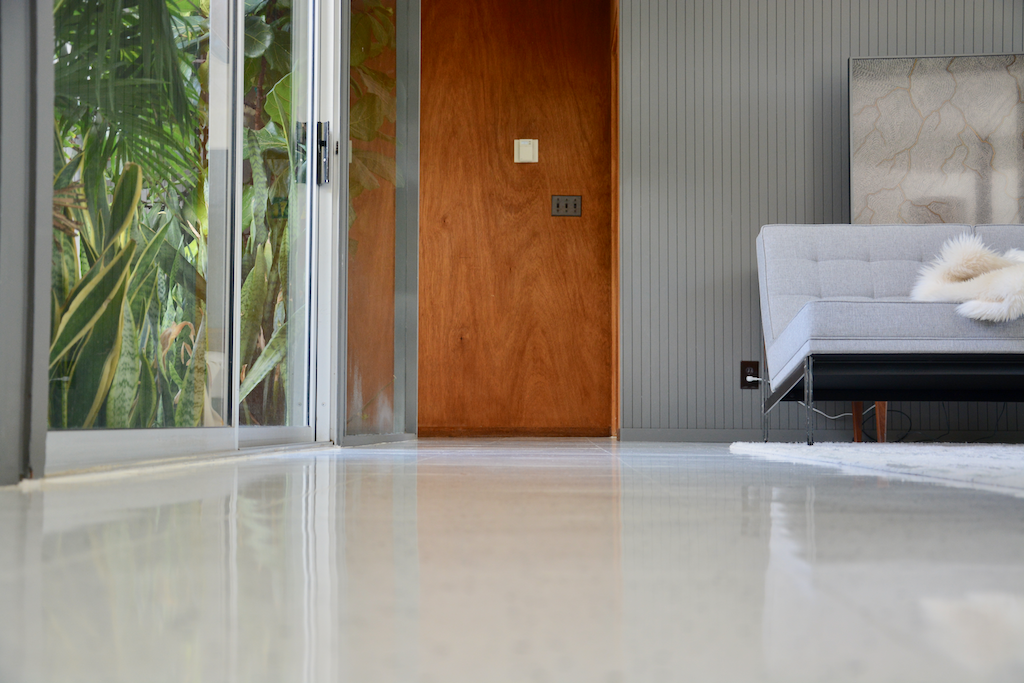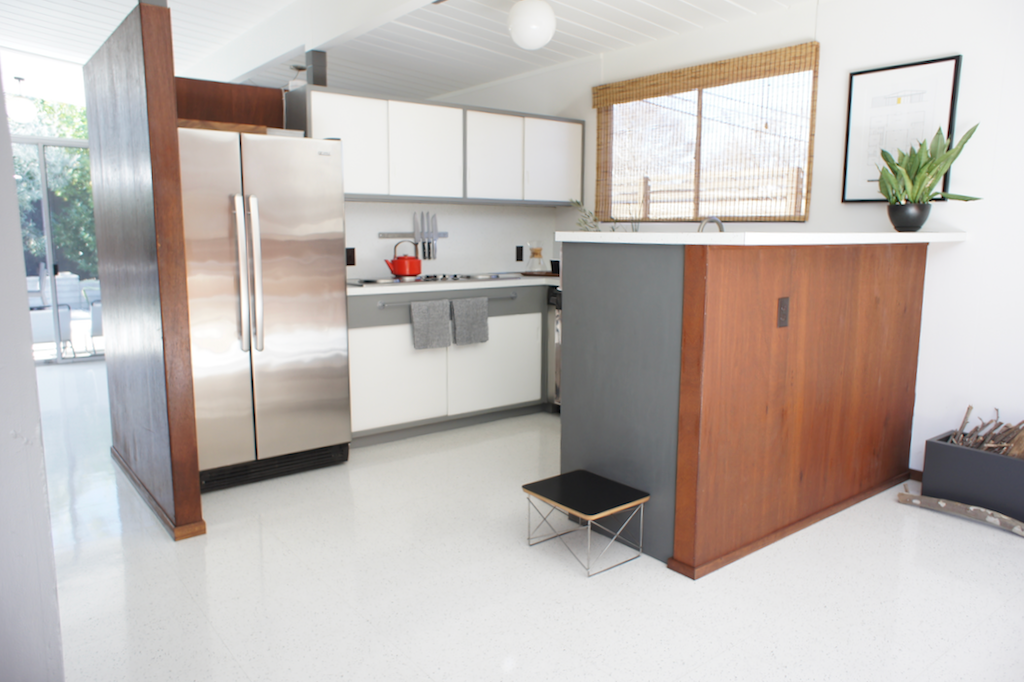 Preparation
How did we start?  Basically, after staring at our old floors for a while (years), I decided one evening that I'd had enough.  I borrowed a neighbour's sledgehammer and chisel and smashed a corner of one room to kick things off.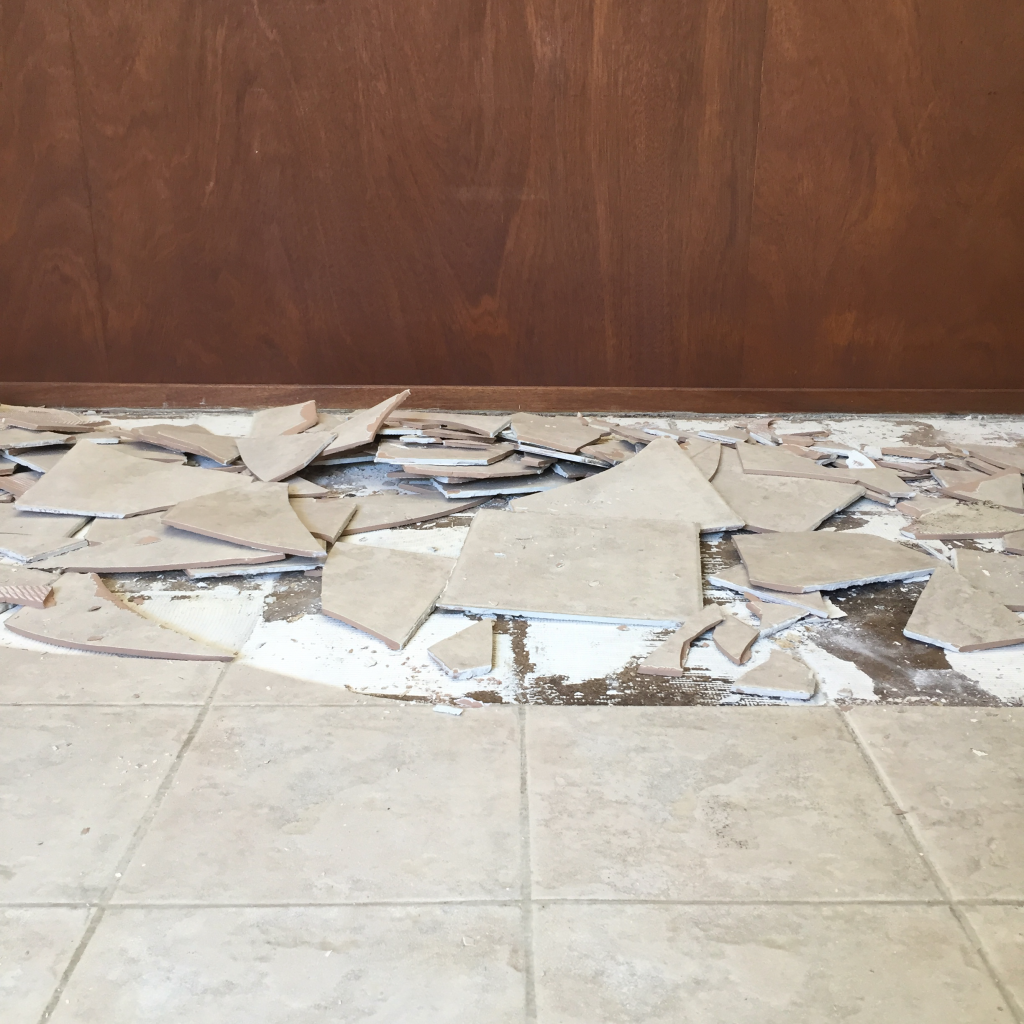 The old floor was a basic ceramic tile, with a texture that made them pretty impossible to clean without a lot of scrubbing.  It was everywhere, and so we commenced demoing the entire house by hand.  With that one hammer and chisel.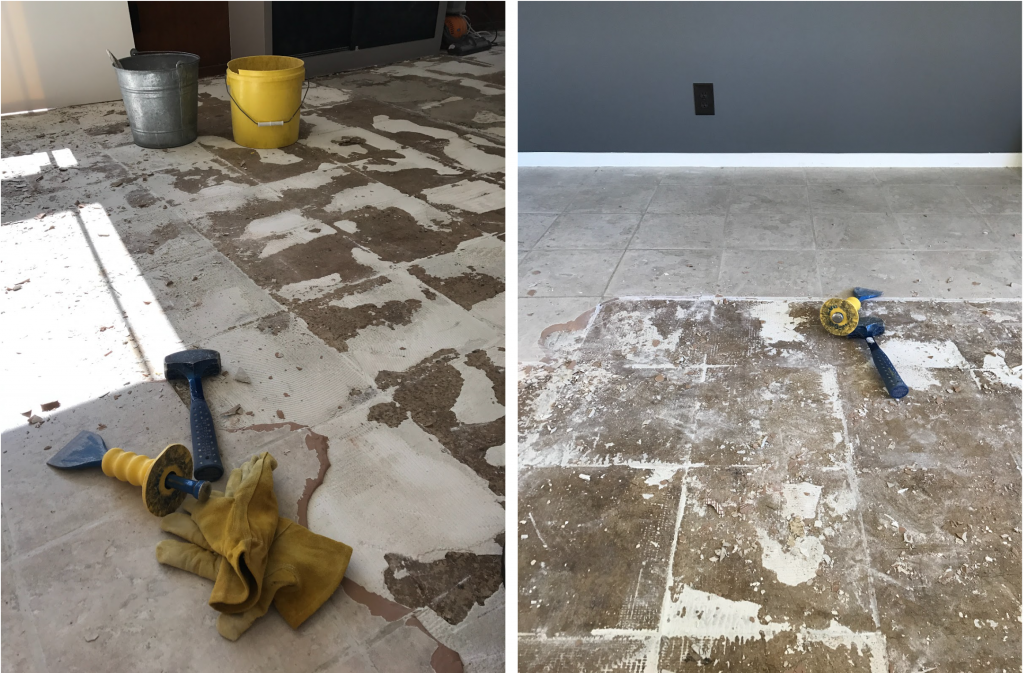 (Thanks Farman, it served us well.)
The process was back-breaking but so satisfying.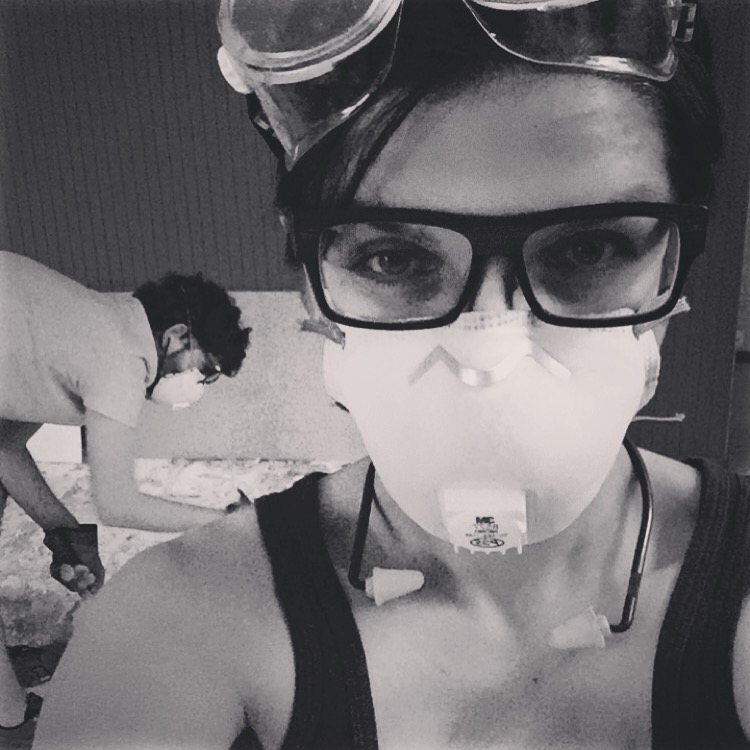 We're having fun here.  I swear.
I admit we didn't go into this project with a plan.  We really should have had specific ideas about what the new flooring would be, but I figured we'd come up with that while we did the demo.  We smashed tile room by room, moved our stuff into a storage unit in our driveway, purged a lot of junk while we were at it, and piled the tile debris in our carport.
This went on for a few months, until it all 1600 square feet of ceramic was out of the house and it was time to decide.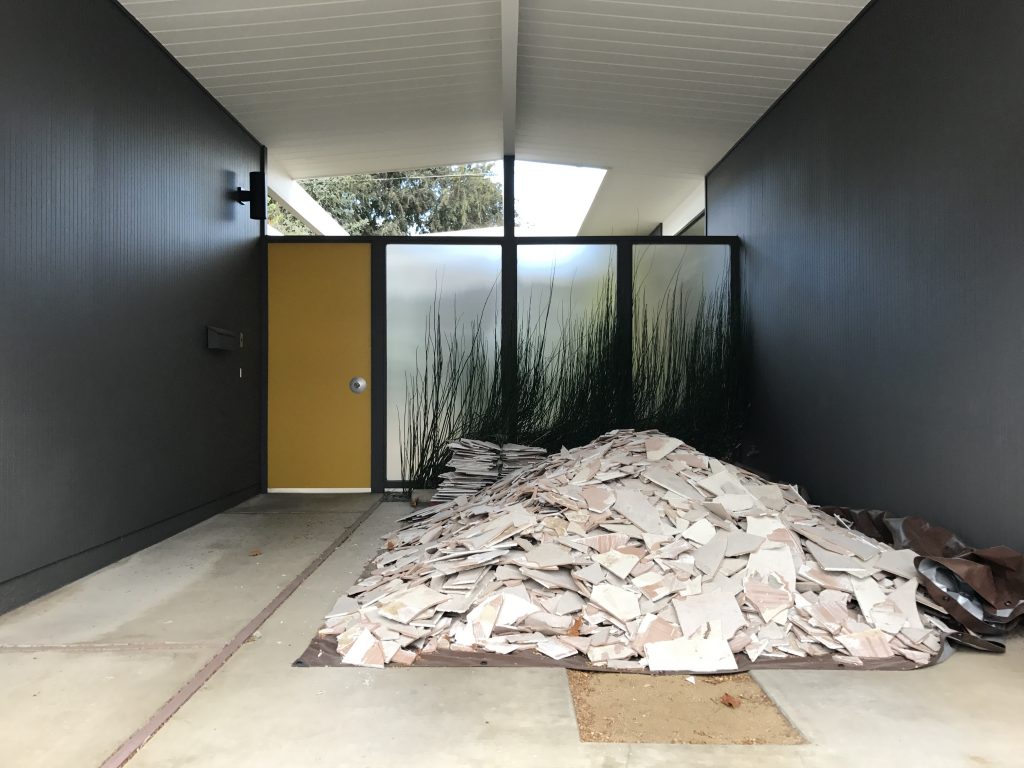 Flooring choice
I researched a lot of options and eventually settled on solid vinyl tile for our main living spaces.  (The research really deserves its own post, if only as a sort of therapy for me to get out all the indecision I went through on this.  So if you want to hear about all of the options we considered, please let me know in the comments.)
The product we chose is Cortina Grande in Black & White (CG402).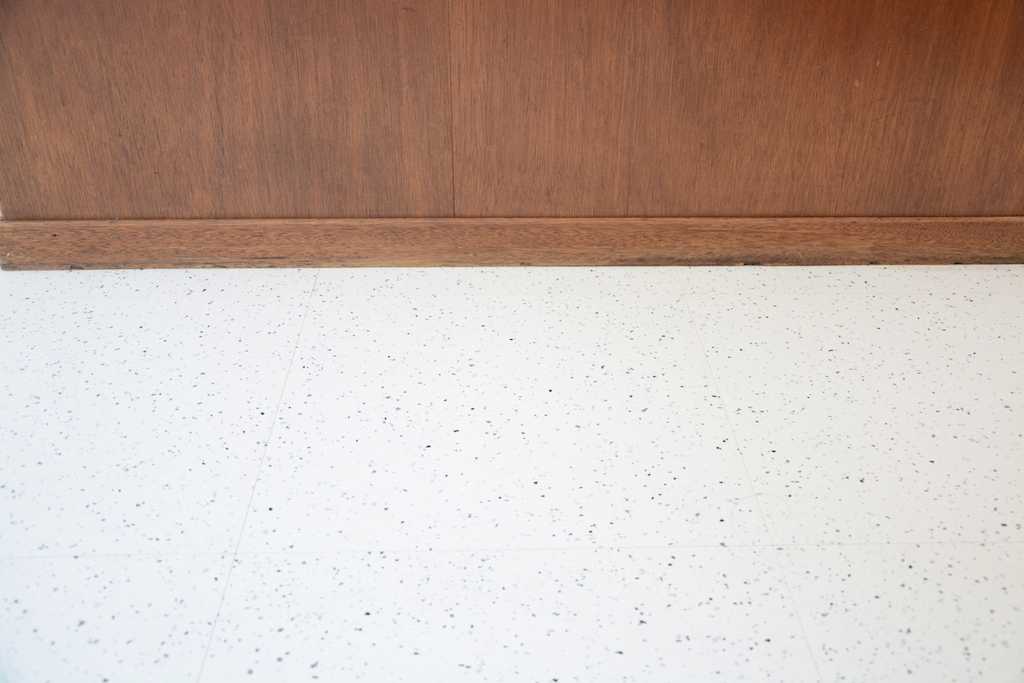 We'd seen it installed in our friend Blaine's beautifully renovated desert house.   It felt like a good choice for our Eichler, with its still-operating radiant floor heating.  The SVT doesn't insulate the floor as other coverings do, allowing the heat to radiate properly.
It also closely resembles one of the originally specified floor coverings used in Eichler homes:  asbestos tile.  Luckily for us, the previous owners had that removed, and we found no trace of asbestos after a lifting up the ceramic tiles (phew!).
Geeky discovery
I have to share this, because if not here, then where?  Paging the archaeologists…
After the floors were up, I noticed some red lines in a few spots and decided to take a closer look.  Could these be original to the initial construction of the house?  A clue is that we have one that starts at a beam near our garage, then continues UNDER the kitchen, and all the way to the corresponding post at the back of the house.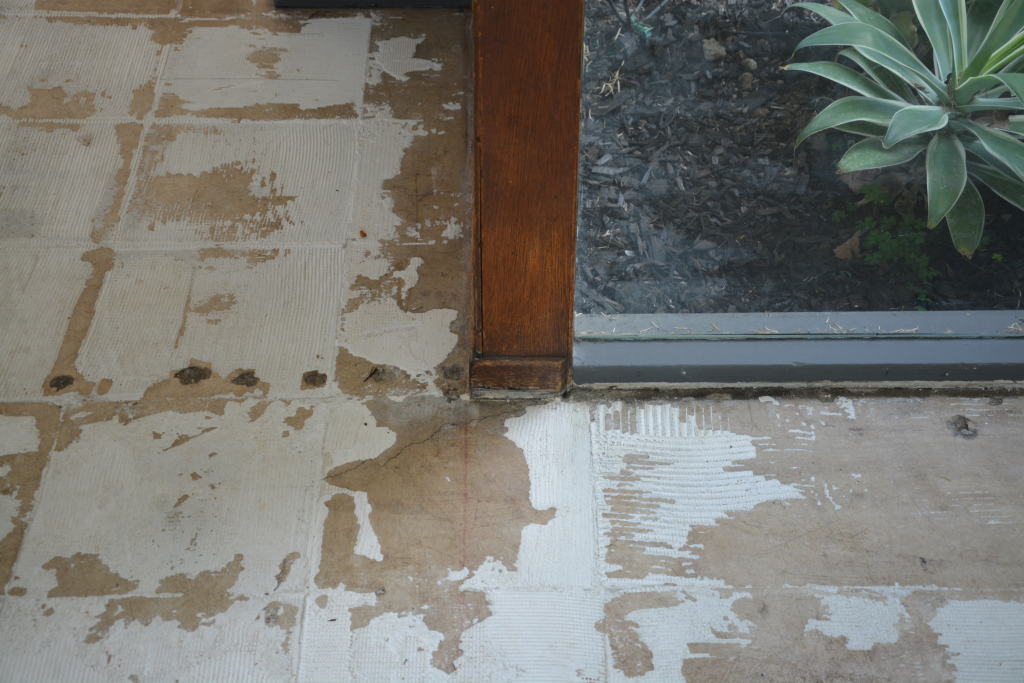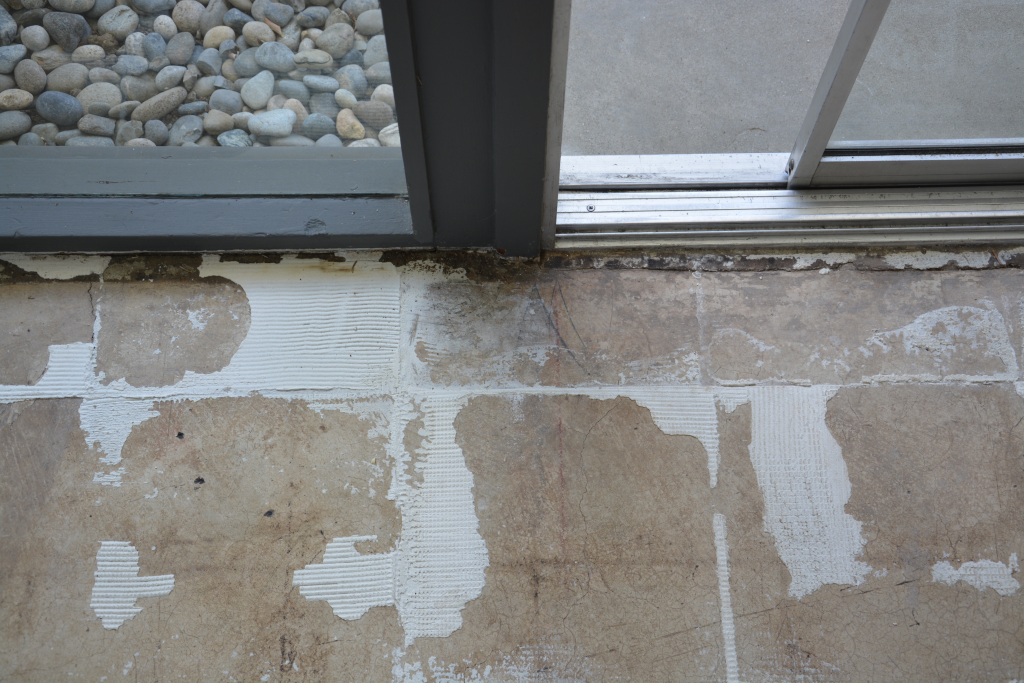 Ah, Eichler-geek delight.

I even tried taking this pano while standing on a chair.  The lines are quite faint but one of them runs between these two posts.  We spotted a few others in the living room and our bedroom too.
Installation
After our DIY demolition, we had the floors prepped and installed by professionals (our wisest choice in this project).  This phase was completed by Jayson from Conklin Bros. Floors.
The prep required the slab to be perfectly smooth otherwise the tiles would telescope any bumps or cracks.  The leftover thinset from the tiles was ground by hand.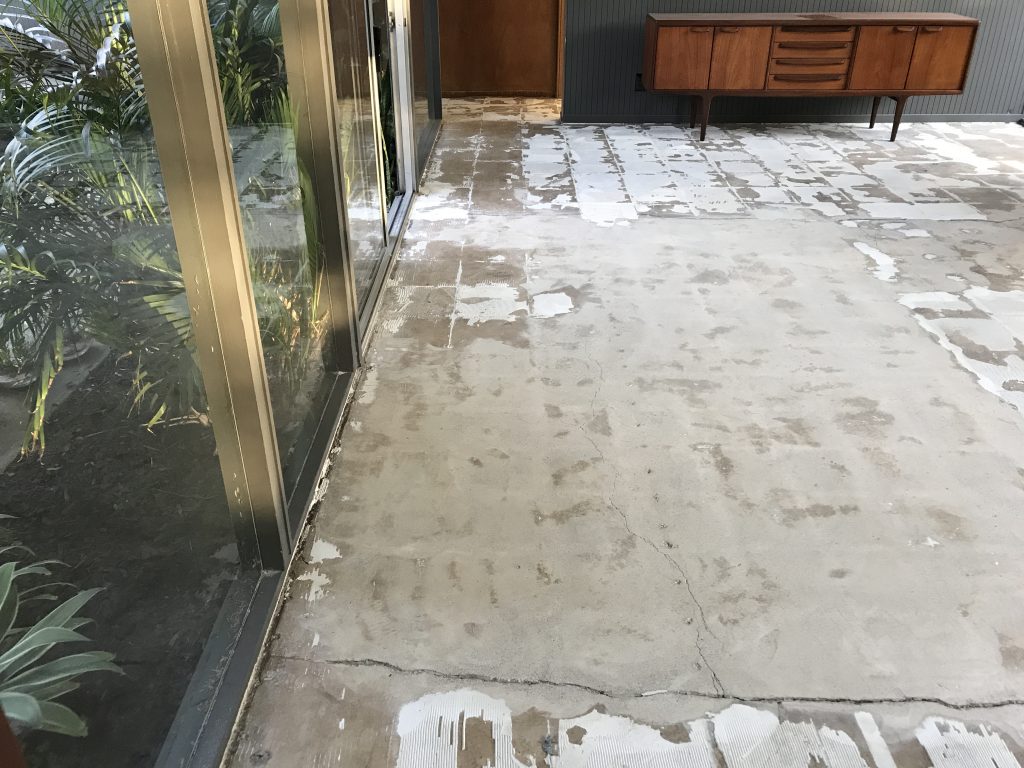 This generated incredible amounts of dust but Jayson did a great job containing it and cleaning up at the end of each day.  He also poured self-leveling concrete to make it perfectly smooth.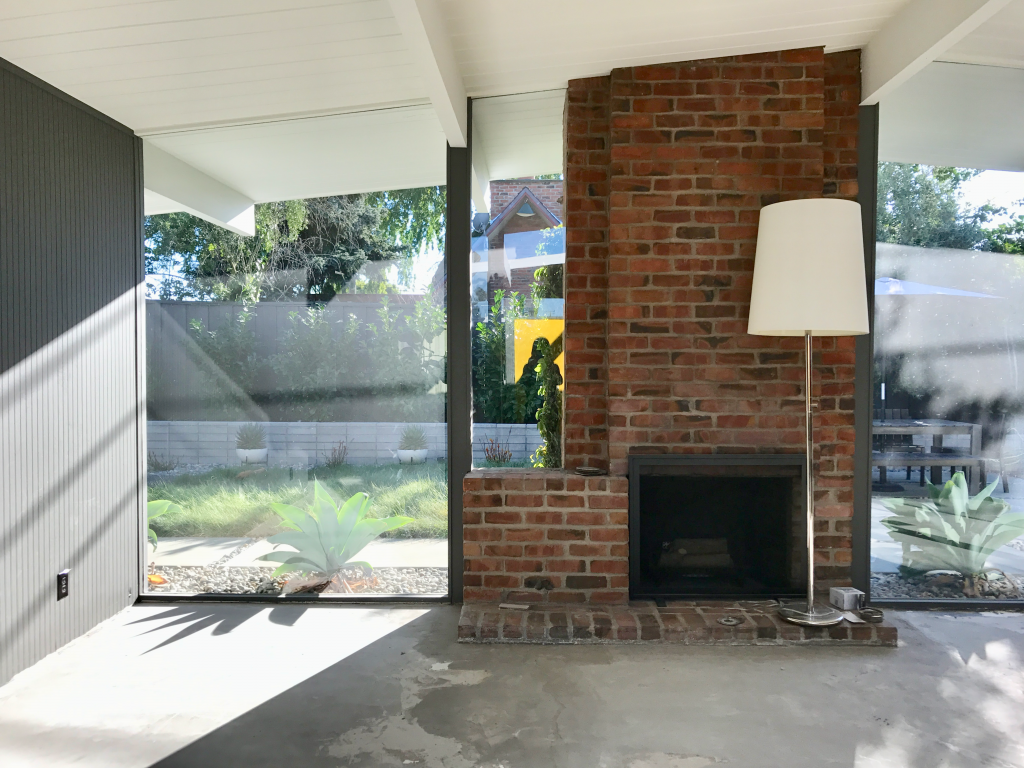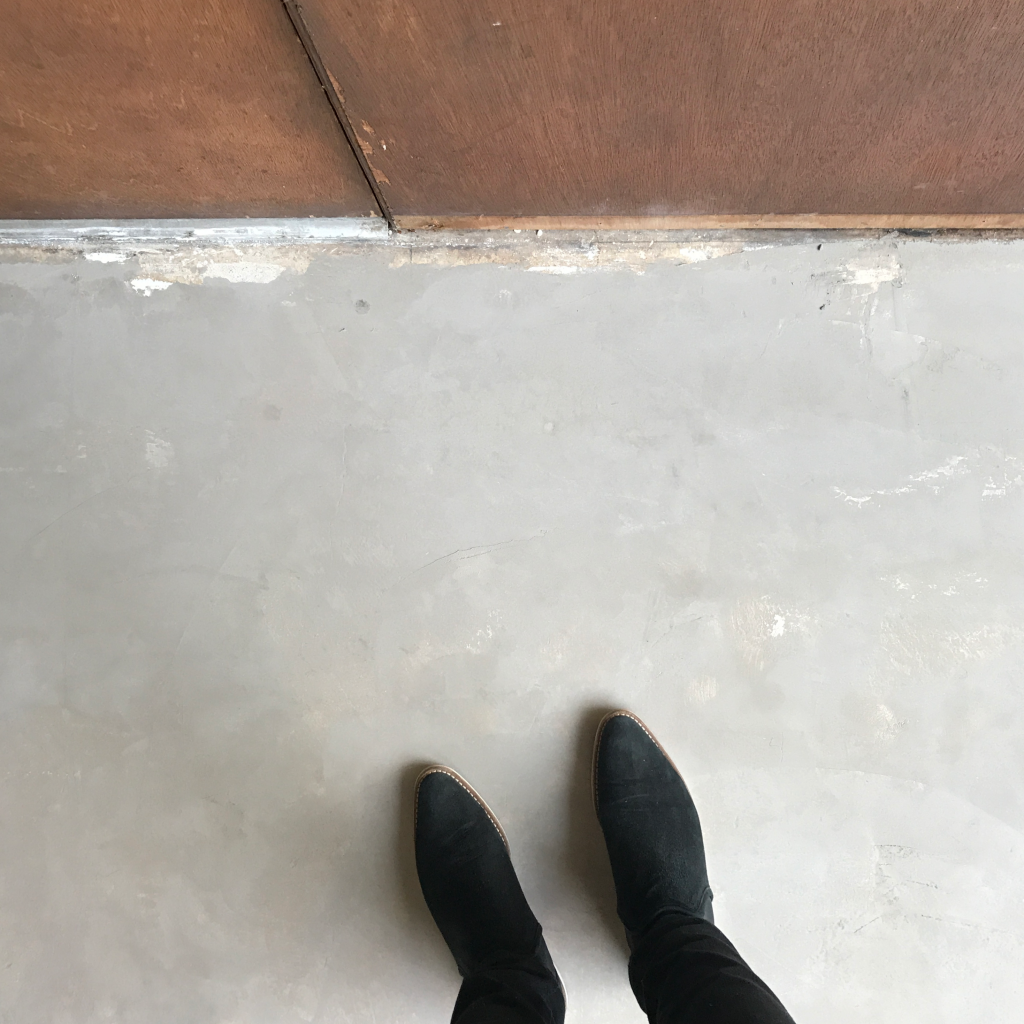 I love the velvety texture of that cement.  Concrete floors were one of my dream floor options, but one we passed on for practical reasons.  The main one being we'd probably be jack-hammering it soon enough, due to the inevitable leaks that our radiant heating pipes spring up.
The installation involved laying the tile and rolling it afterward, creating a nearly seamless look.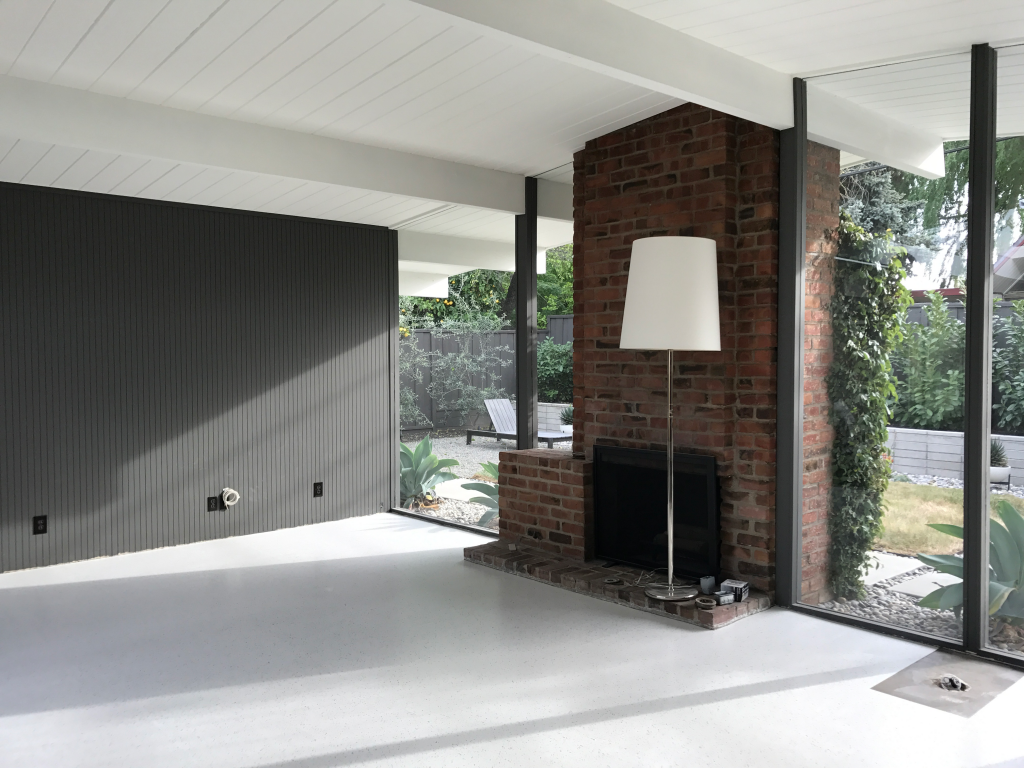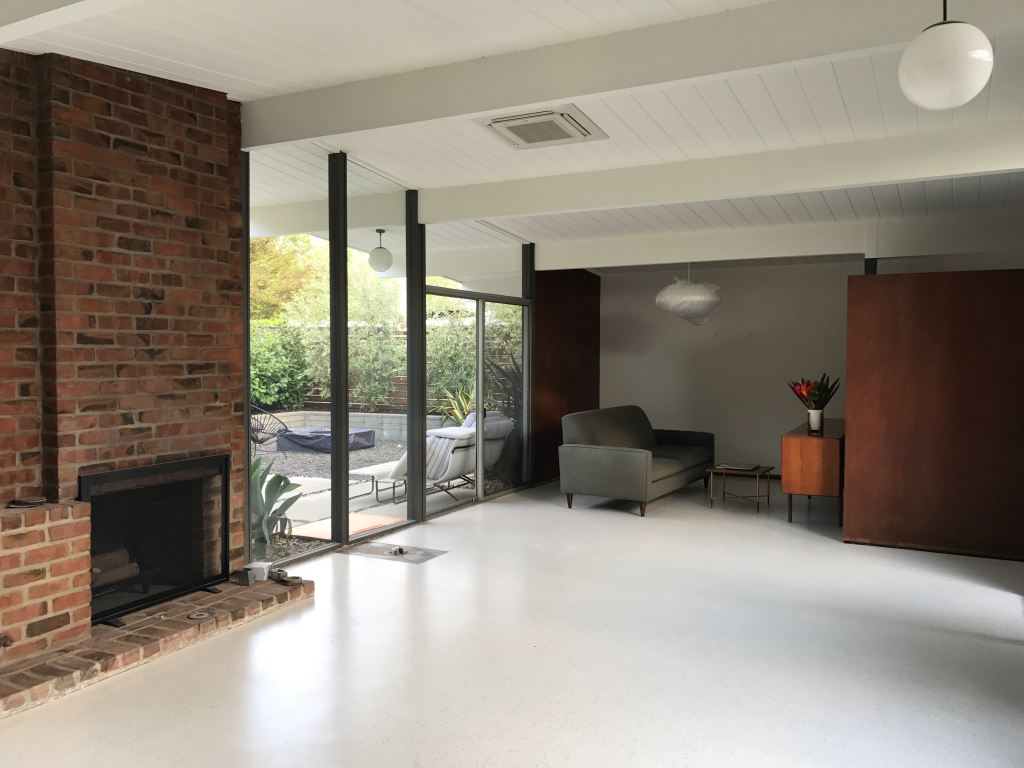 Finishing
After the install, we sealed the floors ourselves.  This is where things went VERY WRONG.  To anyone considering Zep products for SVT, please learn from our mistake:  Zep Floor Sealer is apparently not compatible with Solid Vinyl Tile (SVT).
We found that Zep Floor Sealer did not absorb into the tile as I expect it does with Vinyl Composite Tile (VCT), which is popular in Eichlers.  I'm only guessing that the chalk contained in the VCT helps it soak in.  On the SVT however, the floor sealer would pool into little bumps on the surface.  
The bumps hardened and remained visible after applying the subsequent coats of Zep Floor Polish, giving our floors a lumpy texture.  We also (most likely) didn't wait sufficiently long between coats of polish, so we added streaks to the bumps.
Our ugly creation: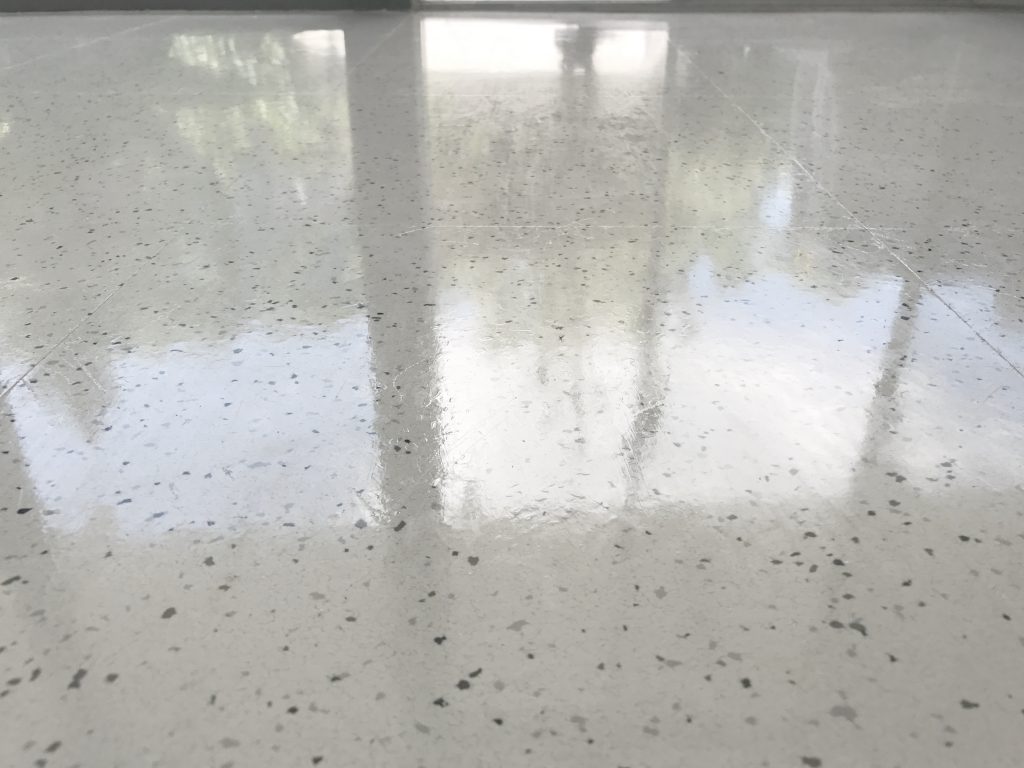 At this point, we had only done applied Zep Sealer to the floor in our living area, so we called in some more pros to fix the mess we made.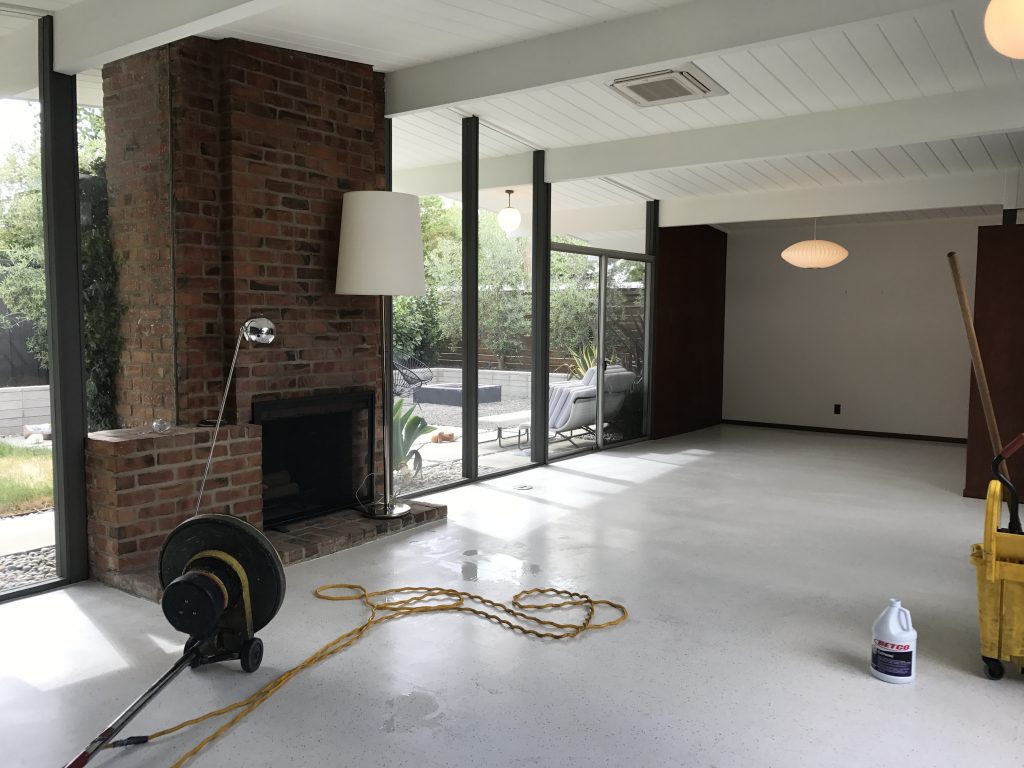 Heavenly Touch stripped the floors with chemical stripper and scrubbed them with a burnishing pad on their machine to get all of the Zep off.  It took them a few hours to get the floor perfectly stripped again, going through two of those pads.  They then applied ONLY two coats of floor polish.
The shiny, smooth result: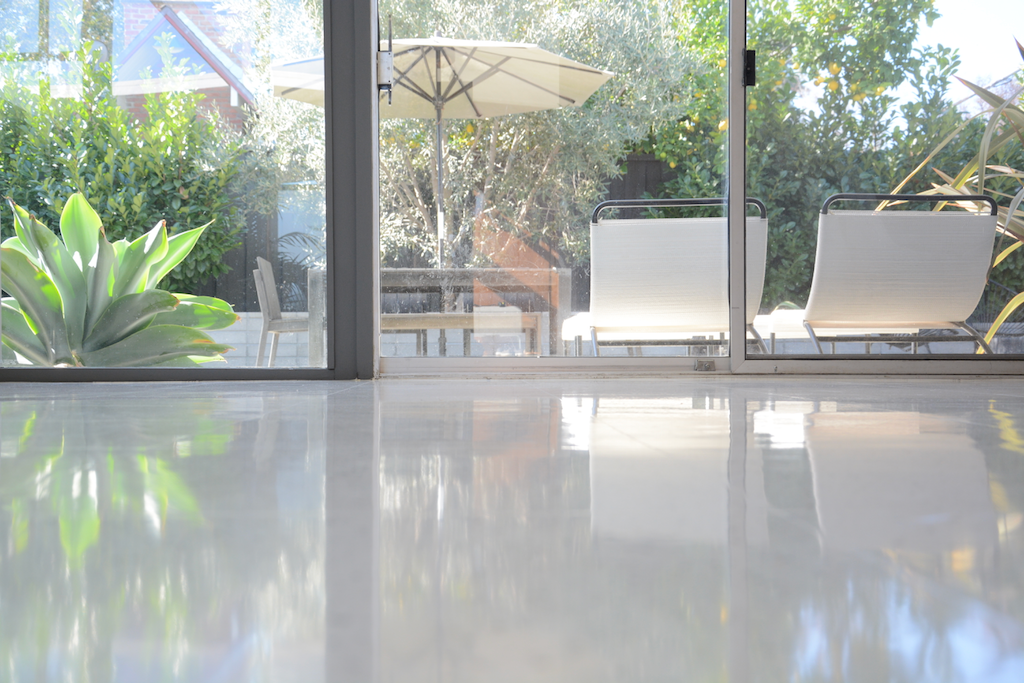 For the remaining rooms, we carefully applied Zep Floor Polish (no sealer this time!) and they turned out perfectly fine with no issues.
Feelings, thoughts, and caveats
We've been living with these floors for about six months now and we're mostly happy with them.
They're super tough and easy to clean.  Since the tiles are solid vinyl, they arrived in perfect condition when we ordered them.  No cracking or crumbling around the edges which I've seen with some VCT.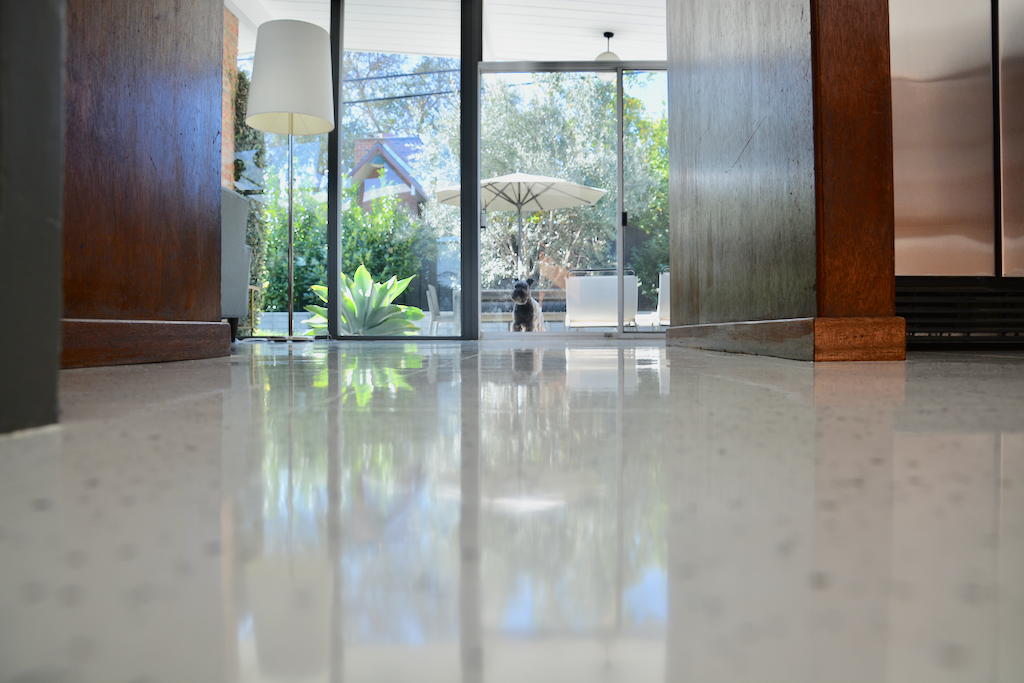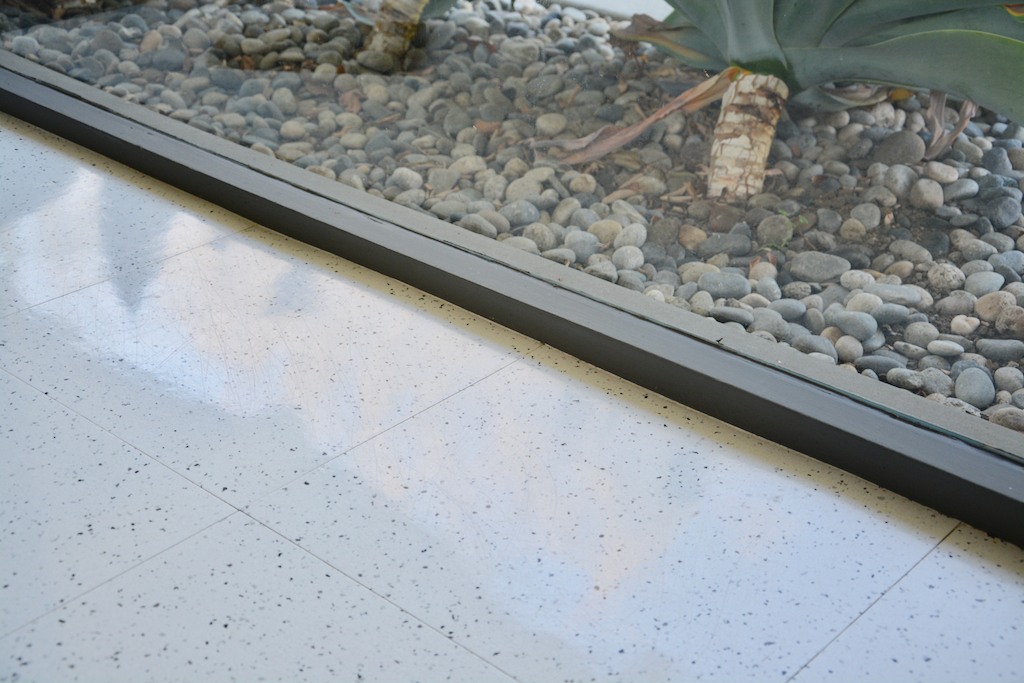 Since I've had questions about this specifically:  yes, our dog's claw marks are somewhat visible if you look at the floor from the right angle.
You can see a bit of that above, where he likes to frantically bark at the squirrels in our backyard.  To remedy the scratches, we're going to try polishing a small section again using Zep at some point, but it's really quite minor.  The white colour does a great job at hiding things like scratches and dust.
One other caveat is that, once polished, these floors are as slippery as they are shiny.  I've found that when the floors are wet, they can be icy slick.  Something to keep in mind for those with small children or for anyone who is not steady on their feet.
The seams have started to look dark after about six months of use (you can see a bit in the photos above), but we expected it would happen eventually.  Patina is fine by me.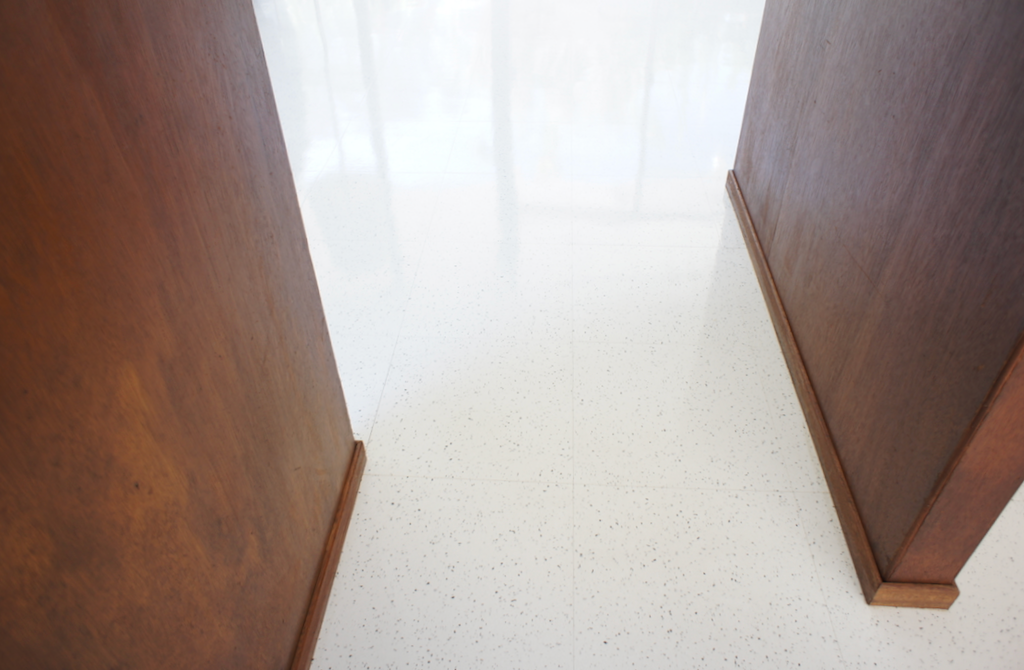 As far as regrets, my main one (as David will tell you) is the colour choice.  The product itself is great, but I'm actually not too happy with the brightness.  Initially I wanted to go with a dark floor then started to worry that it would make the house too dark … and then panicked when I realized my indecision had gone on for so long that it was time to make a choice, really ANY choice at that point.
The white has worked out in that, yes, the house is looks pretty nice and it's very practical.  And we get some amazing light moments throughout the day thanks to the floor bouncing it everywhere.  I think the lesson here is to go with your gut, but white floors are also OK?  I haven't figured it out yet honestly.
One place where I am happiest with it is in the kitchen.  A big goal for this floor was to make sure we didn't put in something too slick for our Eichler's original kitchen, with its slightly dinged-up edges and aging countertops.  The Cortina Grande really fits here.  Even the flecks of the black and white mimic our flecked counters.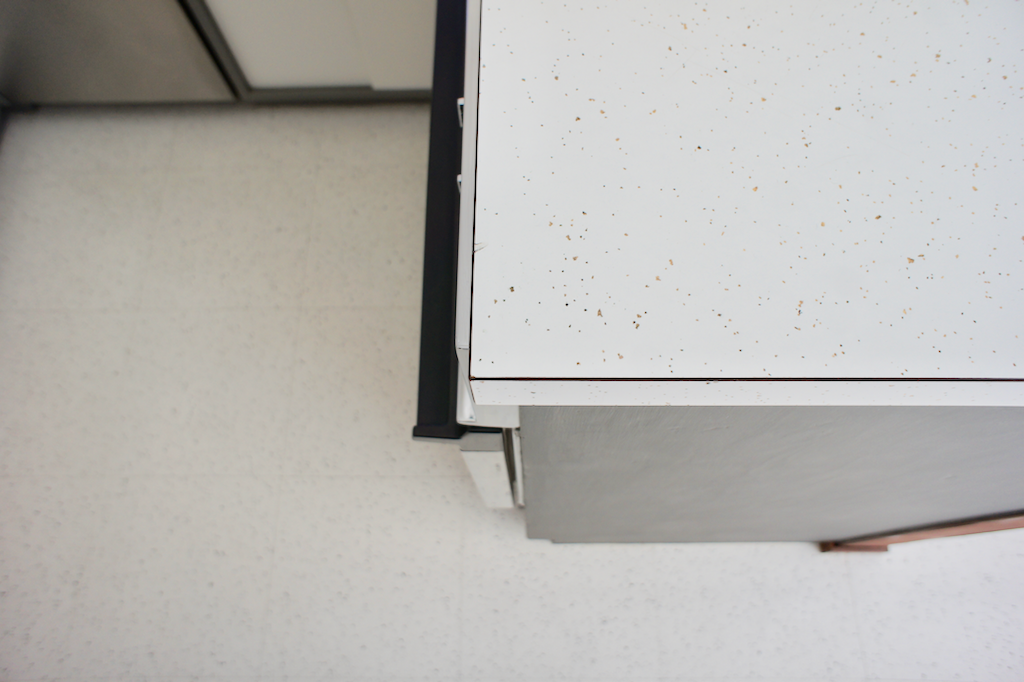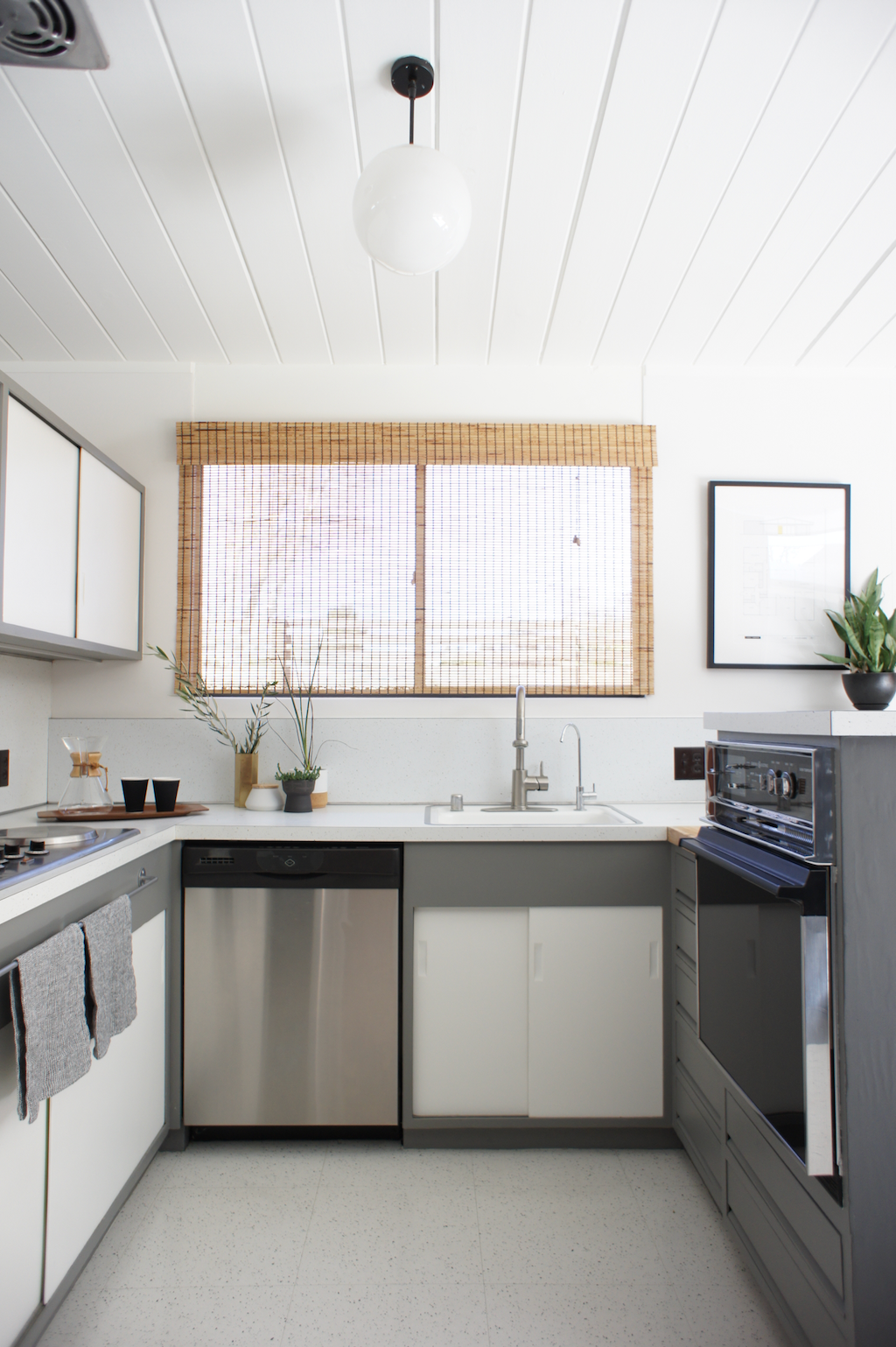 Thanks to all of those who cheered us on through this process.  Hope this post was useful, and in case I've missed something, I'm very happy to fill in more detail in the comments.  Looking forward to what you think of the result!
SaveSaveSaveSave
SaveSaveSaveSave
SaveSave
SaveSave
SaveSave
SaveSave
SaveSave
SaveSave
SaveSave
SaveSave
SaveSave
SaveSave
SaveSave
SaveSave
SaveSave
SaveSaveSaveSave
SaveSave
SaveSave
SaveSave
SaveSave
SaveSave
SaveSave
SaveSave
SaveSave
SaveSave
SaveSave
SaveSaveSaveSave
SaveSaveSaveSave
SaveSave
SaveSave