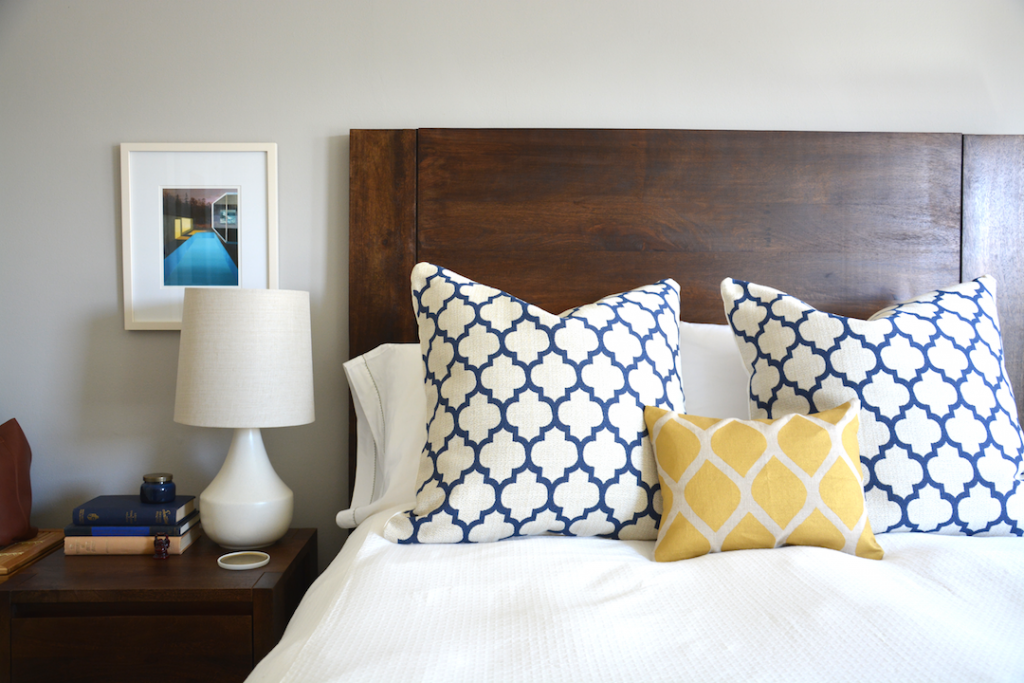 Sorry, guys, no landscaping reveal yet!  I can't wait until it's done so I can take a million pictures, but for now, I thought I'd share this completed project from my side gig in the city.  WARNING:  we are not in post-and-beam land anymore.
Since I haven't shared in a while, let me catch you up first.  Over the past two years, I've been working with a client to decorate their historic home in San Francisco.  It's so different from the style of my own home and I really enjoy how cozy it is compared to our Eichler.
We're working our way through all the rooms in their home, with the living room, dining room, and entry hall all finished.  A few months back I got to install their master bedroom and am quite pleased with how it turned out.
This was our original inspiration board for the room: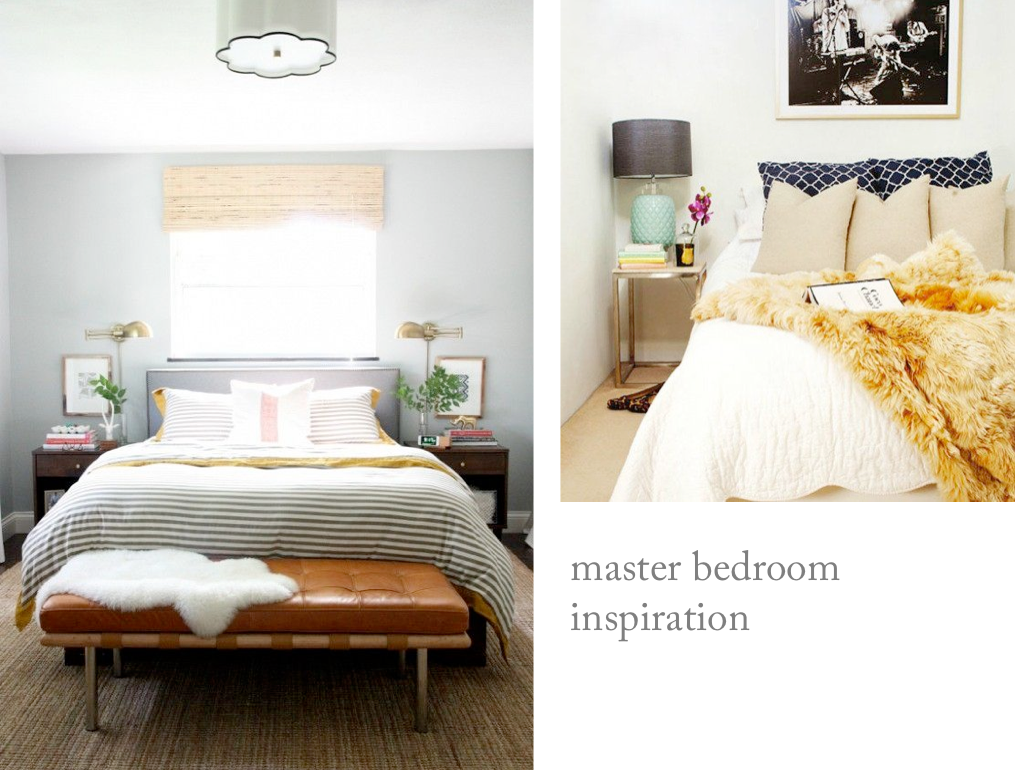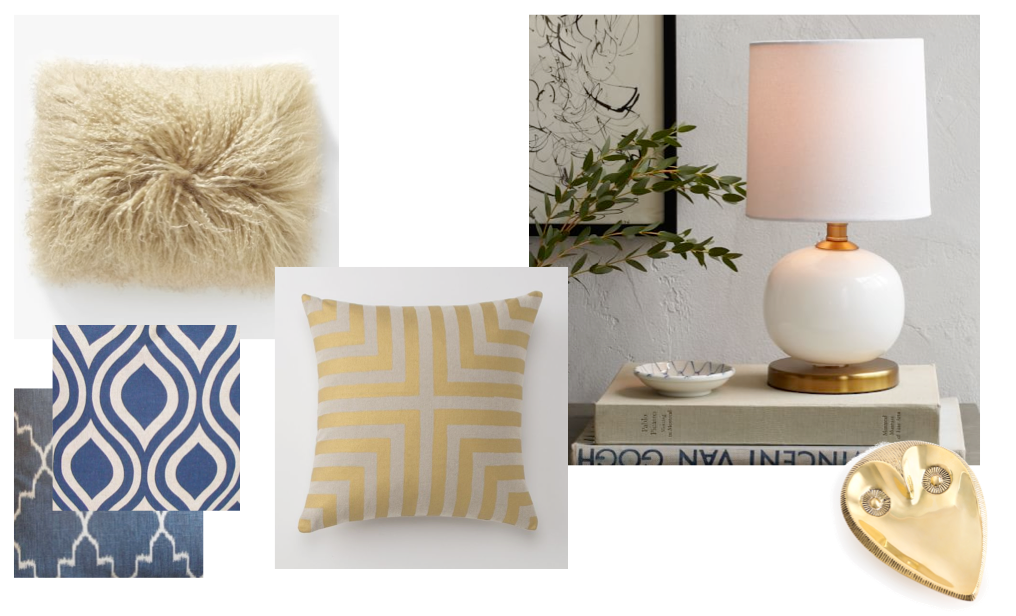 The 'before' included the bed and night tables, which they wanted to keep, but otherwise the space needed to be unified.  I brought in new lighting, bedding, art, a new dresser for more functional storage and a bench for some extra seating.  They were looking for something quiet but a bit on the luxe side, and I think we achieved that.
We continued the dark blue and gold from other spaces in their home.  I had fun using textures and patterns I don't typically use, like the Moroccan trellis pattern on the pillows and velvet for the blue bench by the window.  I'd love to hear what you think.
Here's more of the bedroom!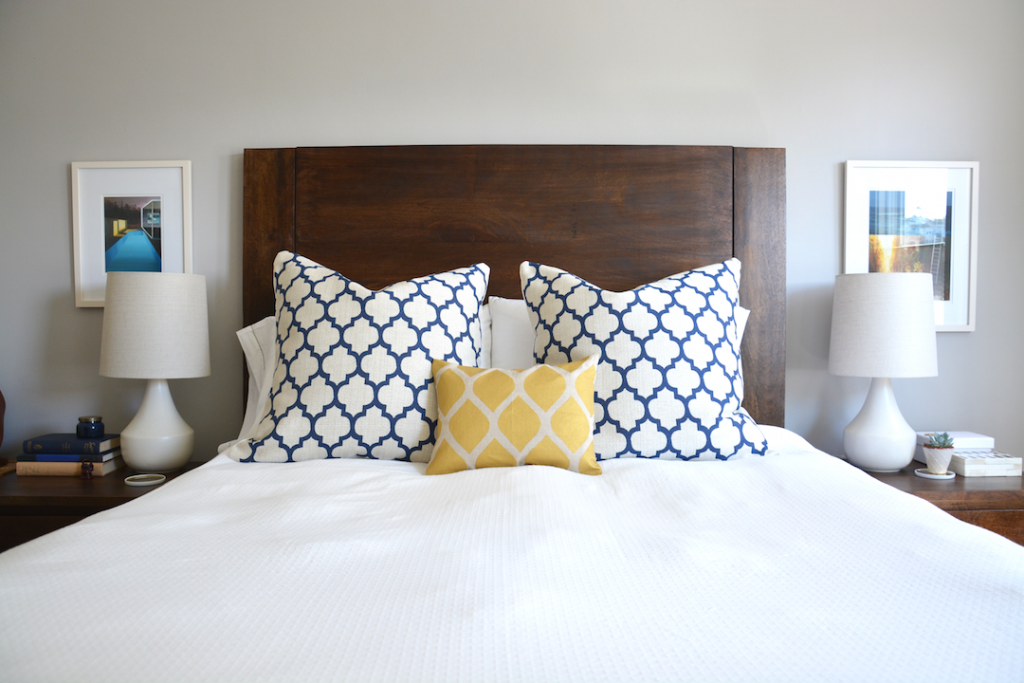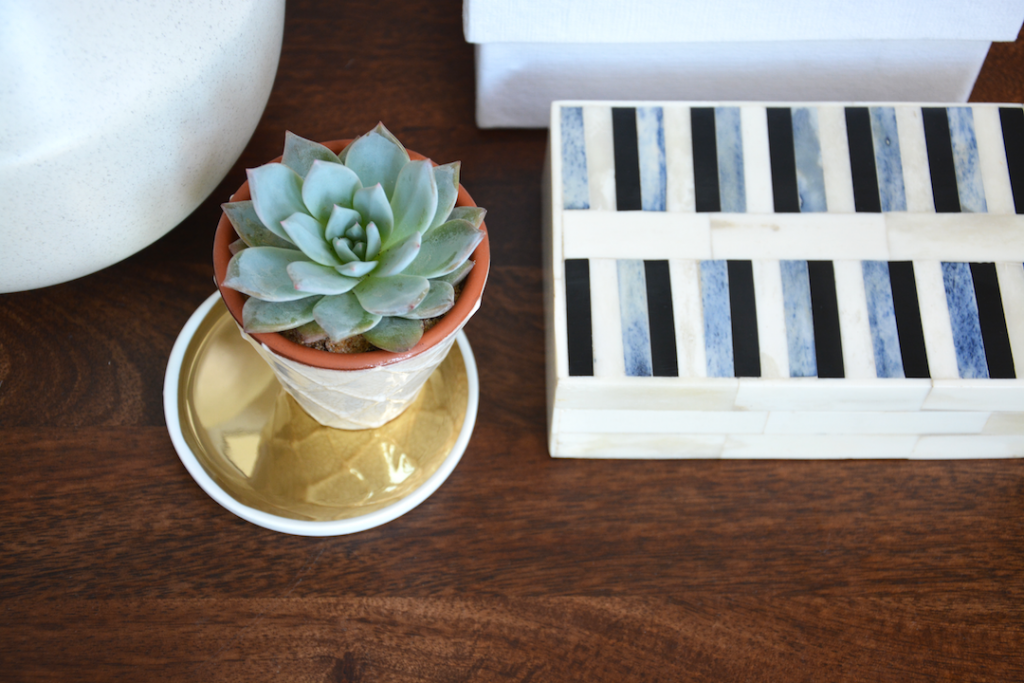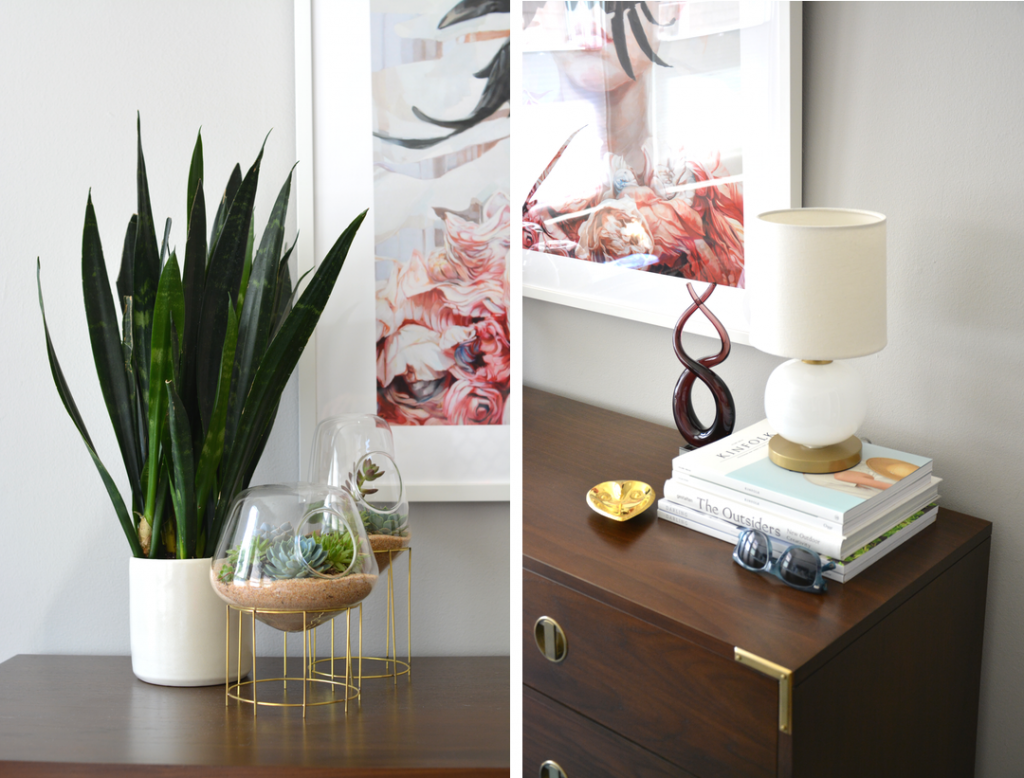 These succulent terrariums were a bit nerve wracking to assemble and to transport, but they survived the trip just fine and I love how they turned out.  Here's the wall opposite the bed for some more context.  The print adds some drama and mystery.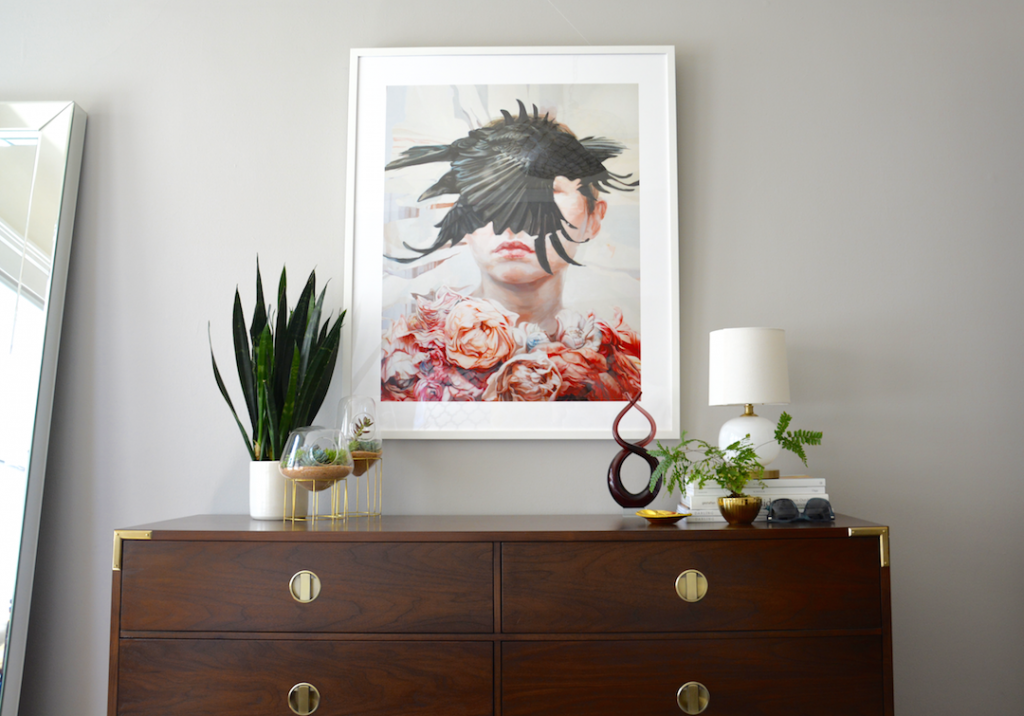 Here's the one wide shot I managed of the room.  (I find that I'm trying to become one with the walls when I shoot rooms… how do people do it?  Even with a wider angle lens I'm having trouble… Anyway.)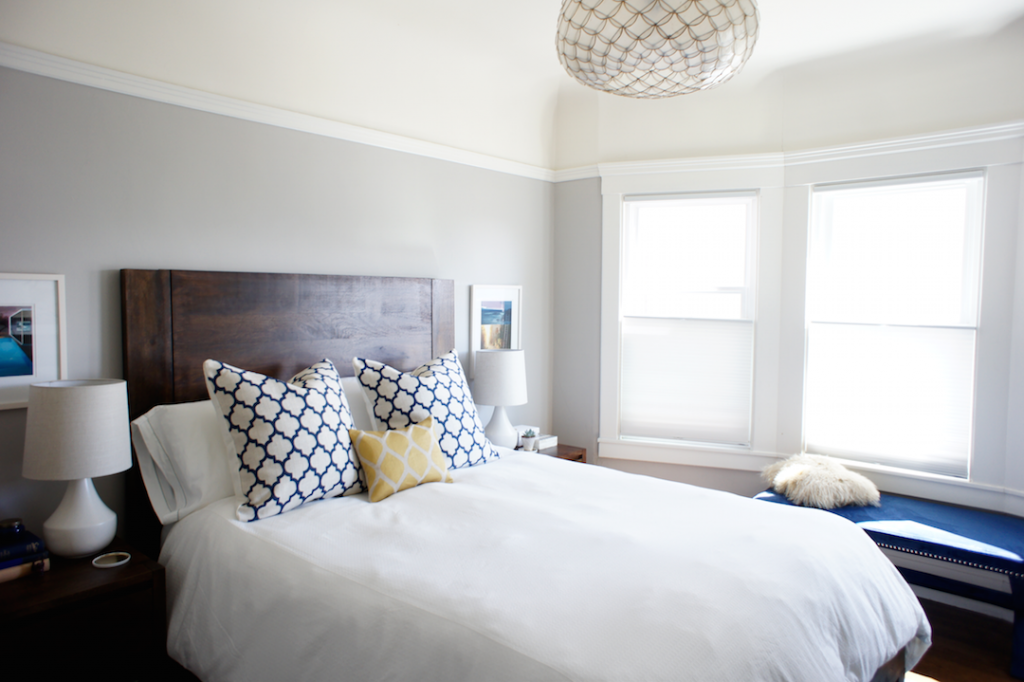 Perhaps I could stand to be more bold with my choices (and do more styling), but in a small space I didn't want to overwhelm the room with stuff.  It's been tricky working in this house:  even though the high ceilings make the rooms feel quite substantial, they are actually on the small side.  I ended up scaling down a few things like the bench and leaning mirror after measuring the space carefully.
Sources:  blue velvet bench from Zincdoor; dresser, bedding, sheepskin pillow cover, mirror and small accent lamp all from West Elm; bedside lamps from Target; terarrium stands from Shop Pigment; owl dish from Jonathan Adler; capiz shell chandelier from Serena & Lily; 'Chasm' and 'Collectors' prints by Jeremy Miranda; 'Merge' print by Meghan Howland via Tappan Collective; small gold pillow cover from Chanee Vijay Textiles; huge blue trellis pillow covers from Yiasyias.
Bonus:  self-portrait with my clients' sweet pug.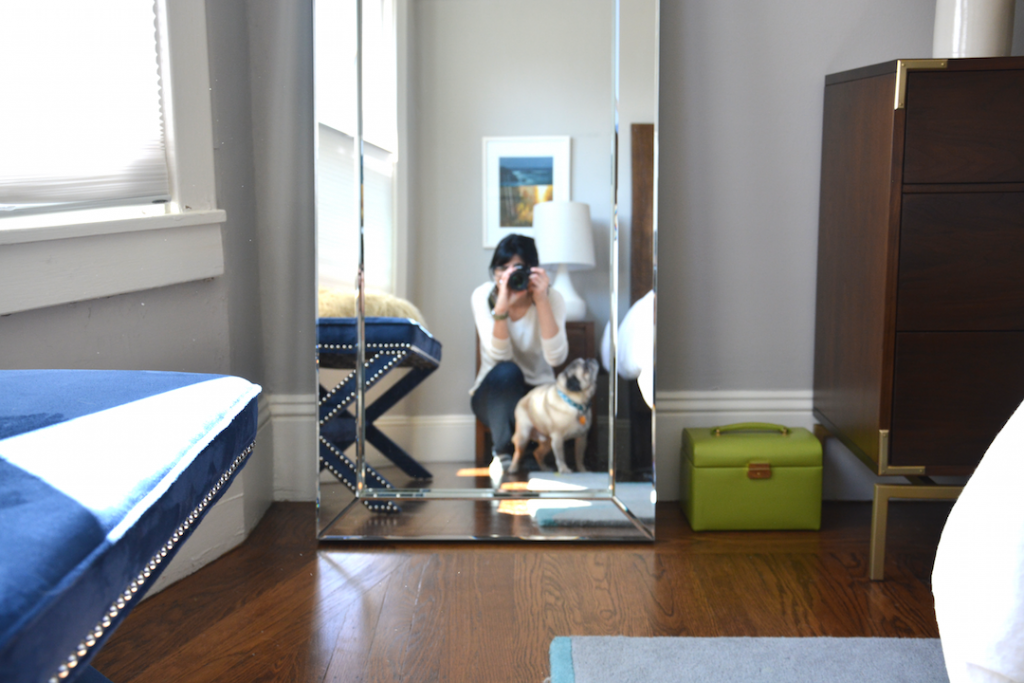 This may be my only decent picture of it, but that bench is probably my favourite thing in the room.  So fun.  Just like my clients.
I'll be back with more of my usual Eichler updates next.  Cheers!