Dear friends, I have to confess that part of this goal of posting about Paris every day this week was meant to help me overcome my jet lag by forcing myself to stay up in the evenings. And boy, is it ever kicking my butt right now. I am determined to power through it because today's post is about the much-anticipated (for me) Merci! Let's do this.
As I mentioned in yesterday's post, Merci is acclaimed as a must-see shop for Design*Sponge readers, and I set a goal to make sure and visit it while in Paris. I had also read about Merci and the recent launch of their online shop, greeted with much enthusiasm, on sfgirlbybay. So, I had some high expectations and this place did not disappoint!
The store has a much different vibe than Fleux: more organic, airy, and at the same time a bit industrial. The goods at Merci include utilitarian but beautiful household products, like rubber gloves and pails, as well as cosmetics, clothing, kitchen ware, furniture, and lighting. Upon entering the store, we were greeted by an installation of what seemed like about a hundred straw brooms suspended from the ceiling.
While browsing through the furniture displays, I spotted these delicate ceramic pieces:
Of course these beauties could never survive the trip home in my suitcase, so I had to pass on them.
Most of the vignettes throughout the store had really nice balance of the hand made, organic shapes, and more industrial modern furniture. I was particularly taken with the one on the right here, which included a marble-topped, screw-base table and rough hewn wood stools: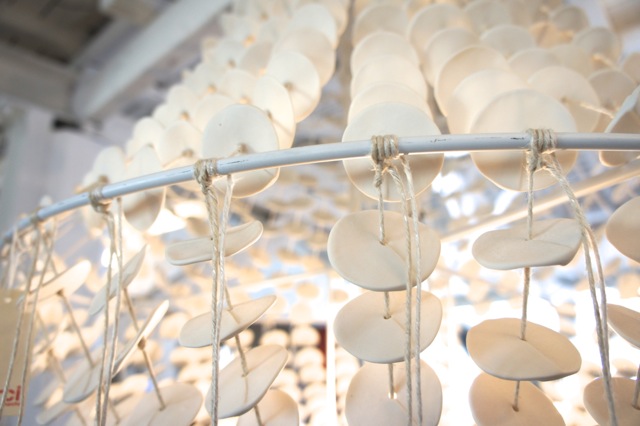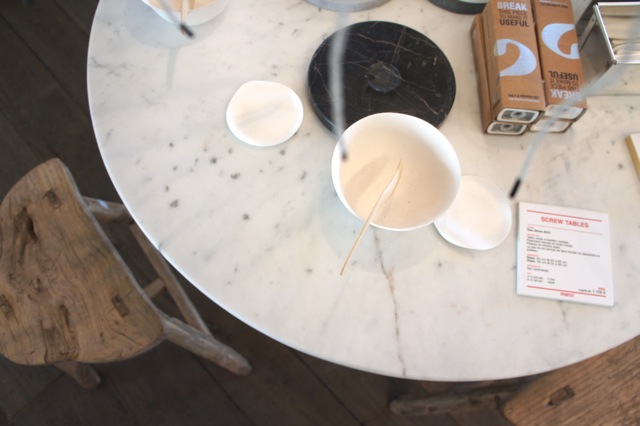 Taking a closer look, the dishes on the table were made of paper-like fibres. Lovely, subtle, and made in Japan. But of course. These would make for some kick-ass picnic dishes.
Merci has multiple cafes integrated in the store which was really handy. After Dave lost track of me for a while, we managed to find each other on the bottom level. Since we were famished from our trek through the Marais and one of the cafes was right there, we decided to have a snack of fruit crumble and their house lemonade, which was flavoured with ginger and mint, and paired nicely with a view of the cafe's courtyard. A courtyard complete with birds chirping away. It was almost too much charm. Almost.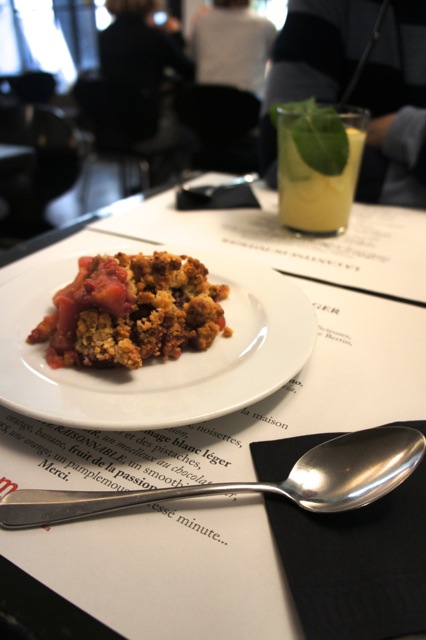 (yum!)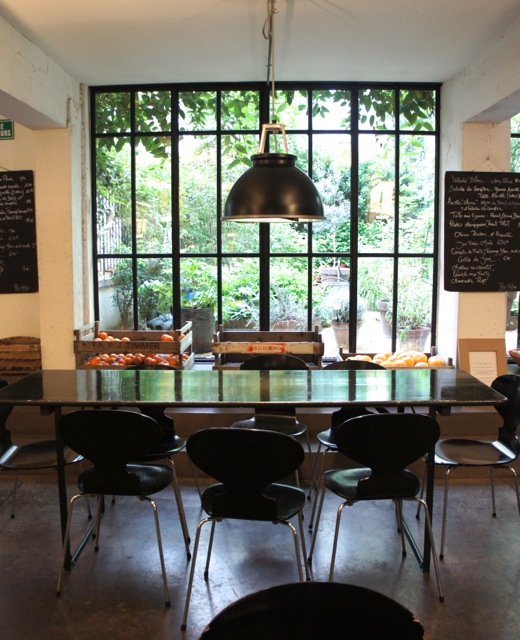 I decided to treat myself to a little something to remember this place by: a pair of these sleek tumblers in black. They're ceramic with a silicone layer that makes me think of a finely pleated skirt. So elegant.
Here's where you can find Merci:
Merci
111 Boulevard Beaumarchais
73003 Paris
And they are also online at merci-merci.com, which I just might have to browse more of this weekend. Enjoy!