Hello all [four readers]! You're probably wondering what I was up to this weekend. Dying to know! I get it!
Before I get to the pretty below, it must be noted that the major time-suck this weekend was due to my abrupt realization that we absolutely need to power-wash our concrete patio slabs. Which we did. For a number of hours on Saturday. To not entirely satisfying effect.
Our concrete is the original and it's looking rough these days. After a winter under a layer of algae, the concrete in the atrium is now pock-marked with black spots that refuse to be removed. Now that I have grossed you out, let's move on!
So:
Yeah!
I FINALLY got around to mounting my staghorn fern. It's been growing like crazy, but sadly still in its original green plastic pot from the nursery. This meant I needed to built a mount for it. Fun times!
A week or so ago I picked up a scrap of plywood from the hardware store and decided to sacrifice one of our tomato stakes for this project. After some sawing and drilling, I had a simple mounting board assembled. Last weekend I picked up a fancy package of sphagnum moss at Paxton Gate (we happened to be in the city, and everything at Paxton Gate is so delightfully weird that I couldn't resist.) I later found that a very similar sphagnum moss is available at our local Ace (which I love!) for about half the price.
To mount the fern onto the board, I followed Apartment Therapy's how-to but was not entirely convinced about having fishing line and a few nails supporting the fern. After packing the moss and wrapping it with fishing line, I grabbed a square of burlap and stapled a skirt on this guy, to add more support. It even has a little fringe. Hey, maybe this fern likes skirts. And fringes. Don't judge.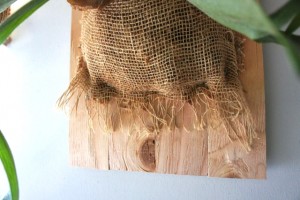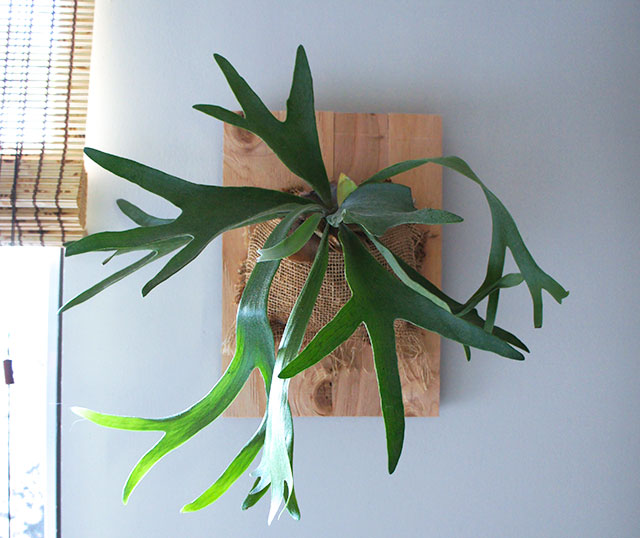 It's looking much more dignified than it was in its plastic pot, sitting on my bathroom floor, occasionally being kicked over, and spilling its dirt. Oh!
I'm happy with how it turned out, even with the extra burlap. And the fern looks happy too. Awww.